Probe Metals Continues Land Consolidation at Val-d'Or East; Acquires Courvan Property from Monarques Gold
TORONTO, Sept. 11, 2017 (GLOBE NEWSWIRE) -- Probe Metals Inc. (TSX-V:PRB) (OTCQB:PROBF) ("Probe" or the "Company") is pleased to announce that it has executed a binding letter of intent to acquire a 100%-interest in the Courvan property ("Courvan" or the "Property") from Monarques Gold Corporation ("Monarques") in exchange for an aggregate cash payment of $400,000. Courvan is comprised of 30 mining claims and two mining concessions totaling approximately 11 square kilometres and hosts the past-producing Bussiere Gold Mine. The Property acquisition extends the Company's land package immediately to the west of the Company's Val-d'Or East Project ("Val-d'Or East") (see figure 1) and increases Probe's landholdings in Val-d'Or to 327 square kilometres. The acquisition of Courvan is conditional on regulatory approval and closing.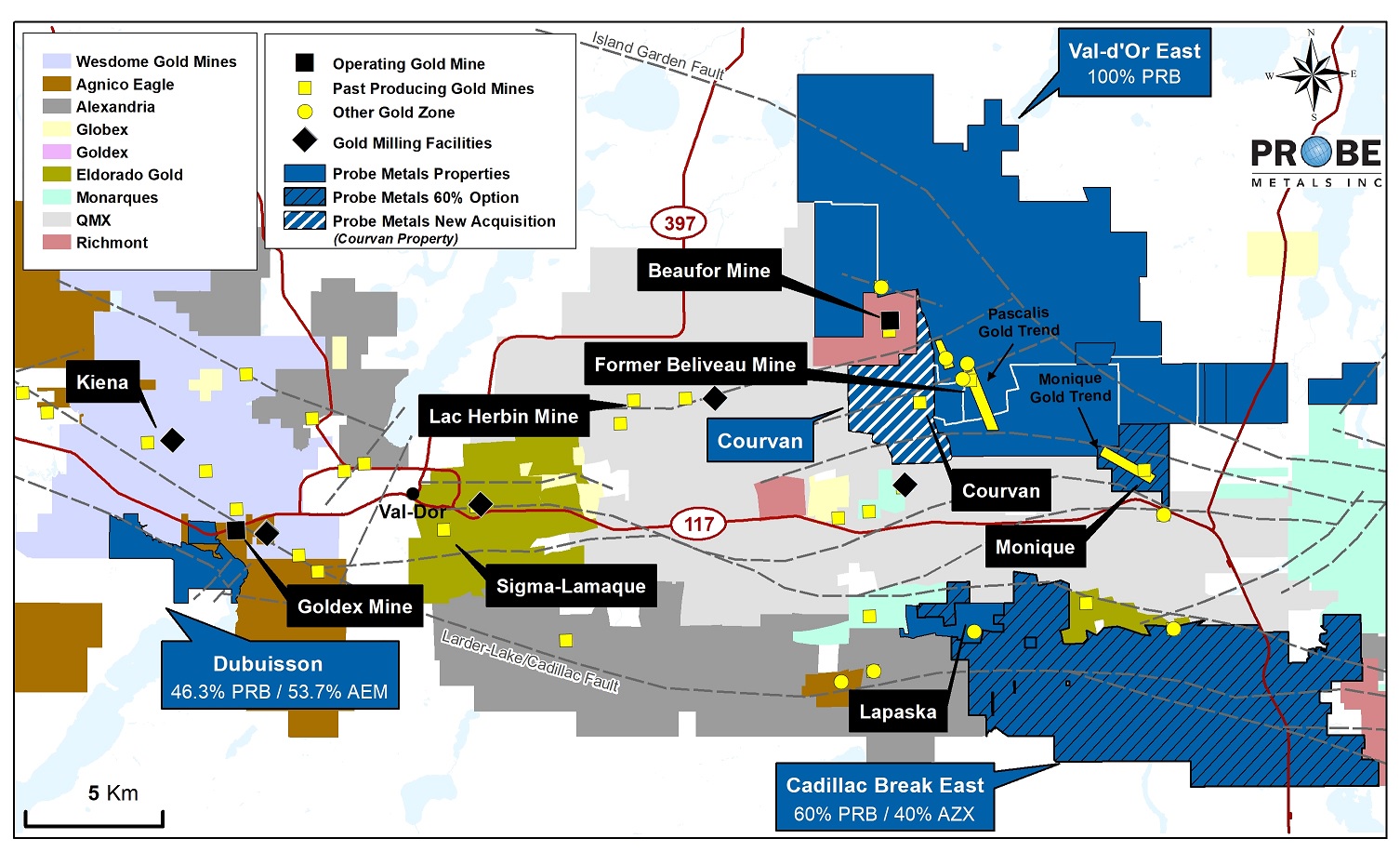 Courvan Property
The Courvan Property is adjacent to the Company's New Beliveau deposit and unlocks significant exploration potential to the west of the New Beliveau mineralized system. The Property land package is largely unexplored, with limited historic diamond drilling surrounding the past-producing Bussiere Mine. Gold-bearing veins historically mined on the property consisted of quartz-tourmaline-pyrite veins associated with shear zones and diorite dykes, similar to what is found in the New Beliveau deposit, approximately 1.5 kilometers to the east. The Bussiere Mine produced 42,000 ounces at a grade of 5.8 g/t Au between 1932 and 1942.
Equity Investment in Monarques Gold Corporation (TSX-V:MQR)
The Company also announces that it has entered into a share purchase agreement with Monarques whereby Probe will make a $600,000 investment in Monarques by way of a private placement (the "Private Placement"). Probe has agreed to purchase 1,714,285 common shares at $0.35 per share. As a result of the Private Placement, Probe will hold approximately 1.0% of Monarques's issued and outstanding common shares on an undiluted basis. Closing of the Private Placement is subject to regulatory approval and the securities issued will have a hold period of four months and one day from closing.
Work is continuing on the Company's 75,000 metre drill program at Val-d'Or East, with five rigs currently testing resource expansion potential, including follow-up drilling on the new discovery areas. As of today, and before the acquisition of Courvan, the Company has approximately $33 million in cash and marketable securities.
Qualified Persons
The scientific and technical content of this press release has been reviewed, prepared and approved by Mr. Marco Gagnon, P.Geo, Executive Vice President of the Company, who is a "Qualified Person" as defined by National Instrument 43-101 - Standards of Disclosure for Mineral Projects ("NI 43-101").
About Probe Metals:
Probe Metals Inc. is a leading Canadian gold exploration company focused on the acquisition, exploration and development of highly prospective gold properties. The Company is well-funded and controls a strategic land package of over 1,000-square-kilometres of exploration ground within some of the most prolific gold belts in Ontario and Quebec: Val d'Or, West Timmins, Casa-Berardi and Detour Quebec. The Company is committed to discovering and developing high-quality gold projects, including its key asset the Val-d'Or East Gold Project. The Company was formed as a result of the sale of Probe Mines Limited to Goldcorp Inc. in 2015. Goldcorp currently owns a 13.8% stake in the Company.