Amex Commences Exploration Program on Pusticamica and Madeleine Gold Properties in Lebel-Sur-Quevillon
MONTREAL, QUEBEC--(Marketwired - Sept. 13, 2017) - Amex Exploration Inc. ("Amex or the Company") (TSX VENTURE:AMX) is pleased to announce that it has initiated an exploration program on the Pusticamica and Madeleine West and East properties which are part of the "Cameron Project" and are located 65 and 40 km north of town of Lebel-sur-Quévillon. This camp is in the north-western part of the province of Quebec and 150 kilometres to the North East of Val D'Or. The Pusticamica property consist of 146 claims covering an area of 8,180 ha. The Madeleine West and East consist of 30 claims totalling 1,682 ha and 74 claims totalling 4,150 ha respectively (see fig.1).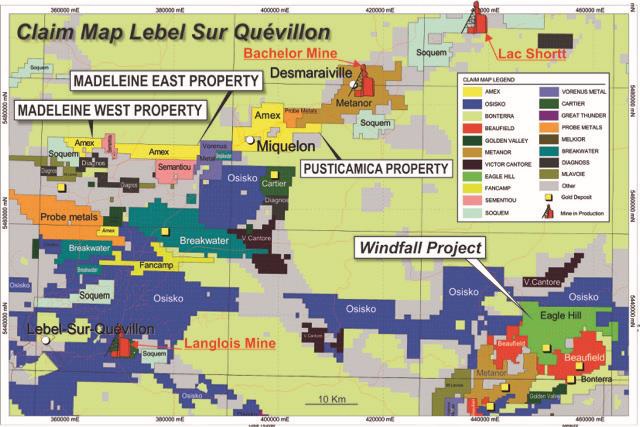 All three properties are surrounded by several significant and major gold discoveries including the Osisko Windfall Gold project, the Benoist Gold Property of Cartier Resources and the operating Metanor Bachelor Gold mine. There are historical gold showings on the properties, which given the proximity to the above mentioned gold deposits, warrants additional exploration. The Amex exploration program consists of geological mapping, prospecting and rock sampling with a budget of approximately $60,000.
Geologically, the properties are covered mostly by basaltic units with a few rhyolitic interflows. This volcanic package is sometime intersected by gabbroic intrusion and is variably deformed and altered.
The gold mineralisation occurrences between the town of Lebel-Sur-Quévillion and Lac Short Gold Mines are mainly controlled by structural features such as shear zones, veins and fractures. Almost 65% of the mineralisation is typically hosted in quartz-carbonate gold bearing of archean vein-type deposits (see fig.2).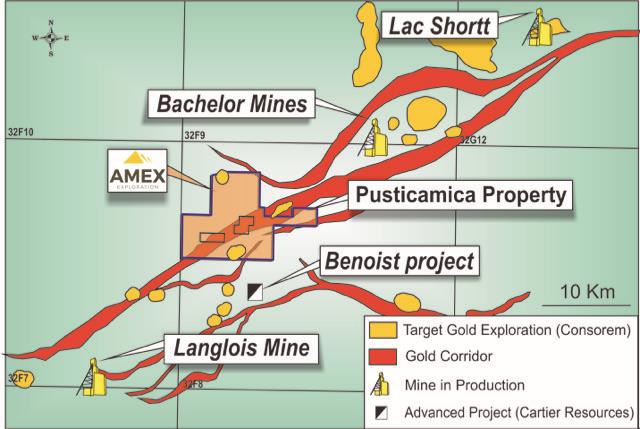 The results obtained on these 3 properties from previous work are quite limited. To date the geological structural complexity has not been significantly studied and additional work will allow for better identification of drill targets.
Victor Cantore, President and CEO of Amex commented, "With a relatively modest exploration budget, I believe we can add significant value to our properties in this highly prospective area. Once we complete this program we will be actively engaging potential JV partners to develop the potential without shareholder dilution. We have cash in the back for exploration and our goal is to spend it judicially getting the most value for every dollar spent."
About Amex
Amex Exploration Inc. is a junior mining exploration company, the primary objective of which is to develop and bring into production viable gold and base metals deposits in mining-friendly jurisdictions. Amex has multiple highly prospective projects: the 100% owned Perron gold project located 110 kilometres north of Rouyn Noranda, Quebec, consisting of 116 adjacent claims covering 4518 hectares; the 100% owned Eastmain River gold properties consisting of 135 claims covering 7,102 hectares and the 100% owned Cameron project located in Lebel-sur-Quévillon, Quebec, comprising 263 claims covering 14,743 hectares. In addition, Amex has an option agreement to acquire a 100% interest in the Gowan Property located near the Kidd Creek Mine.