VANCOUVER, BC, April 4, 2023 /CNW/ - Megawatt Lithium and Battery Metals Corp. (CSE: MEGA) (FSE: WR20) (OTCQB: WALRF) (the "Company" or "Megawatt") is pleased to announce the results of the soil sampling program at the Mistumis project in the James Bay Region, Quebec. During late 2022 the company collected 1,918 soil geochemistry samples. The samples were analyzed for lithium and for correlations with lithium Pathfinder elements, Li-Cs-Rb & Mg-Fe-Co association. The expansive Mistumis project consists of 229 mineral exploration claims prospective for lithium covering an area of 12,116 hectares or 121 square kms in the prolific James Bay Region. The purpose of the 2022-2023 program was to explore the potential for lithium mineralization under cover and near surface by building a soil geochemical data base in conjunction with an airborne geophysical program within the project boundaries.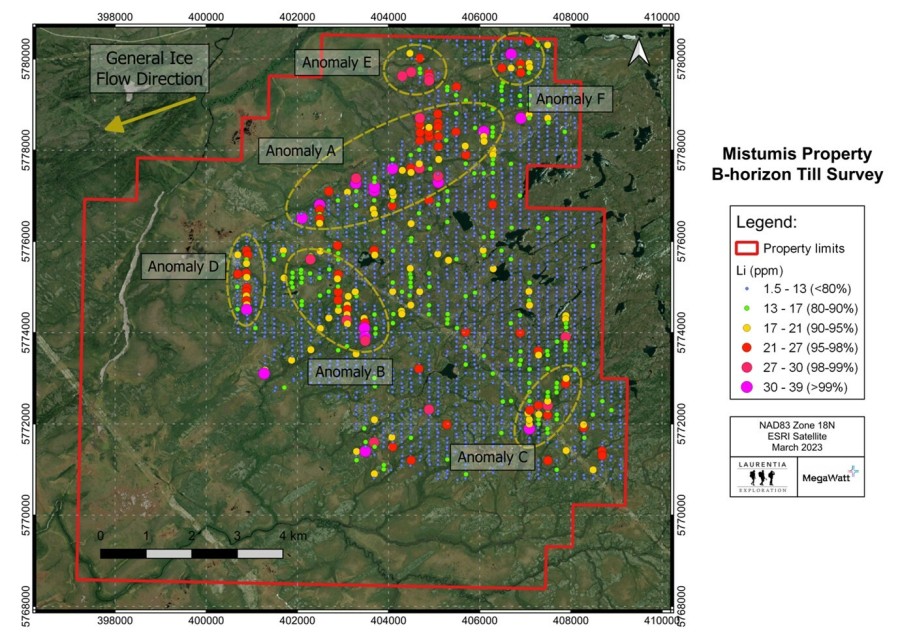 Numerous general and broad areas of anomalism for lithium were identified within the boundaries of the project. Strong lithium pathfinder correlation was also identified, particularly at Anomaly A, with Caesium and Rubidium.
Anomaly A has strong correlation with Cs and Rb

Some correlation is noted with mafic elements (Mg, Fe, Co) which may suggest the presence of Li-bearing amphibole Holmquisite (Li2(Mg,Fe)3Al2Si8O22(OH)2)
Holmquisite has been used as an exploration vector in other LCT pegmatite regions (i.e., Tanco)
The Company notes encouraging till / soil sampling results in relation to the similar exploration strategy undertaken at Lift Power's (CSE: LIFT) Pontax and Moyenne projects in the region. The Mistumis Property is located in the southern region of the Middle and Lower Eastmain Greenstone Belt (MLEGB), approximately 10 km to the northwest of the Rose Lithium-Tantalum Project (Critical Elements Lithium Corporation; 34.2 Mt @ 0.9% Li2O). Similar to the Rose Lithium-Tantalum Project, the Mistumis Property is mainly comprised of felsic intrusive lithologies (i.e., monzogranite, granodiorite, tonalite) with crosscutting diabase intrusions. Irregular pegmatite showings in contact with the felsic intrusives on the Mistumis Property were previously identified through regional-scale government mapping.
The below image with soil sampling information has been overlain with the magnetic survey data results from Megawatt's airborne survey conducted late 2022. This combined data provides an excellent basis for the follow up program for the upcoming season. The Company is recommending the following exploration program to be carried out for the upcoming season:
Additional prospecting and mapping of potential mafic units in the northern area of the property.
A phase 2 soil survey to expand grid and provide infill sampling data.
A rock sampling program in areas of lichen cover where outcrop may be exposed including a selective trenching program for geological mapping and rock sampling.
A Phase 1 Drill Program where coincident geological data, structural data and geochemical data outlines significant anomalous targets.
Qualified Person
Mr. Patricio Varas (P. Geo.), Consultant for the Company, is a Qualified Person as defined by National Instrument 43-101 – Standards of Disclosure or Mineral Projects and has reviewed and approved the scientific and technical information in this press release.
About MegaWatt Lithium and Battery Metals Corp.
MegaWatt is a British Columbia based company involved in the acquisition and exploration of mineral properties in Canada. The Company holds a 100% undivided interest, subject to a 1.5% NSR on all base, rare earth elements and precious metals, in the Cobalt Hill Property, consisting of eight mineral claims covering an area of approximately 1,727.43 hectares located in the Trail Creek Mining Division in the Province of British Columbia, Canada.
Additionally, the Company has acquired an 80% interest in a company that indirectly holds a 100% interest (subject to a 2% NSR) in two prospective silver-zinc projects in Australia, being the Tyr Silver Project and the Century South Silver-Zinc Project (see press release dated August 13, 2020), an indirect 100% interest (subject to a 1% NSR) in and to certain mining tenements in Northern Territory and New South Wales, Australia prospective for nickel-cobalt-scandium and rare earth elements. 
The Company holds a 100% interest (subject to a 2% NSR) in and to the Route 381 Lithium Property, comprised of 40 mineral claims located in James Bay Territory, north of Matagami in the Province of Quebec, covering 2,126 hectares (see press release dated February 3, 2021) and a 100% interest in 229 additional mineral exploration claims prospective for lithium, also in the James Bay area of Quebec covering an area of 12,116 hectares or 121 square kms.
Investors can learn more about the Company and team at https://megawattmetals.com.
The CSE does not accept responsibility for the adequacy or accuracy of this release. This press release includes "forward-looking information" that is subject to a number of assumptions, risks and uncertainties, many of which are beyond the control of the Company. Forward-looking statements may include but are not limited to, statements relating to the trading of the Company's common shares on the Exchange and the Company's use of proceeds and are subject to all of the risks and uncertainties normally incident to such events. Investors are cautioned that any such statements are not guarantees of future events and that actual events or developments may differ materially from those projected in the forward- looking statements. Such forward-looking statements represent management's best judgment based on information currently available. No securities regulatory authority has either approved or disapproved of the contents of this news release.
Related Links
https://megawattmetals.com