Ground IP geophysics planned along the T4 to T9 footwall anomalies.
Footwall Platinum Group Mineralization (3EPGM, Pd+Pt+Au) mineralization is a new and additional source of PGM mineralization which will be included in the resource model.
Drilling from 2015 to 2017 has confirmed footwall mineralization in the Pine Zone with mineralization extending ~140m east of the original mineralized zone of the River Valley PGM Deposit.
Updated NI 43-101 resource calculations with WSP Canada have commenced and will include all the new data on the deposit and the deposits southern extension. This is expected to be completed in Q1-2018.
River Valley is the Largest Undeveloped Primary PGM resource in Canada, with 3.9Moz PdEq in Measured Plus Indicated including an additional 1.2Moz PdEq in Inferred.
Vancouver, Canada / TheNewswire / December 15, 2017 - New Age Metals Inc. (TSX.V: NAM; OTCQB: PAWEF; FSE: P7J.F) is pleased to announce it has engaged Abitibi Geophysics of Thunder Bay, Ontario to carry out a ground IP Geophysical Survey over selected portions of the River Valley PGM Project in the Sudbury mining region of Ontario.
Ground IP Geophysics
Approximately 50 kilometres of grid lines are to be tested in this geophysical survey. The area to be surveyed is the region of the T4 to T9 footwall anomalies (Figure 1). This will focus on the footwall mineralization and additional resource potential. Geophysics and drilling during 2017 confirmed the presence of PGM footwall mineralization (see News Release - Nov 28th, 2017). The geophysical survey being used is a high-resolution OreVision(R) IP survey performed by Abitibi Geophysics. OreVision IP can reveal targets at four times the depth of conventional IP without compromising near-surface resolution. The OreVision IP survey carried out by Abitibi Geophysics during the summer of 2017 (see News Release - June 19th, 2017) was used to guide the 2017 summer drill program. Once the line cutting of the grid is complete, the geophysics will begin. Commencement of the IP geophysical Survey is planned for the later part of 2017 or early 2018. The survey results will be used as a guide in drill targeting planned for early 2018.
Figure 1: The River Valley PGM Deposit - approximately 16 kilometres of Mineralization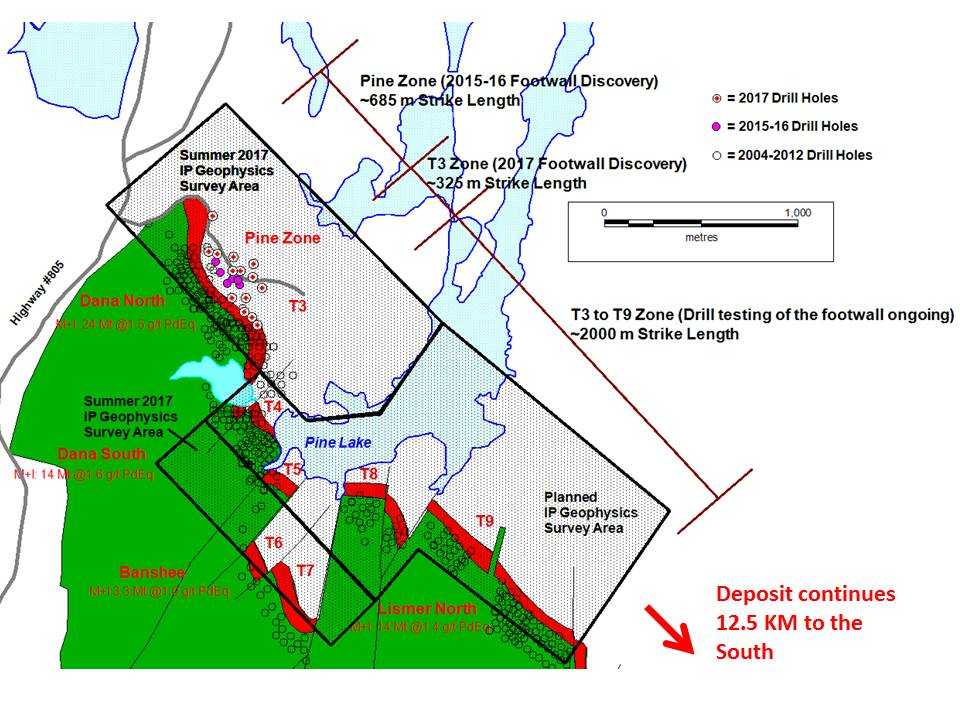 New Resource Model
The new NI 43-101 resource calculation has commenced with WSP Canada. This work will be under the supervision of Todd McCracken. The new resource will incorporate the recent Pine Zone and T3 drill results, drill results from 2015 and 2016, as well as the summer 2017 IP geophysical work at the River Valley Deposit. In 2016, the company obtained the Mustang Minerals' southern portion of the River Valley PGM Deposit (River Valley Extension, News Release - Oct 5th, 2016 and Dec 6th, 2016). This added 4 kilometres of mineralized strike length to the company's River Valley PGM Deposit. This additional mineralization will be a part of the new resource model presently being developed by WSP Canada.
Mineralogy
In preparation for the upcoming Preliminary Economic Assessment (PEA) Report (to commence in 2018) and any development work, XPS has been engaged to perform mineralogical studies of the ore. XPS Expert Process Solutions is based in Falconbridge, Ontario and provides world class quantitative mineralogy for ore body characterization and metallurgical technology services for operational support, growth initiatives and project development and has extensive experience in many commodities including PGM. The company believes that a better understanding and characterization of the River Valley PGM mineralization will be a guide in future endeavors and development work including improved flowsheet and processing options.
River Valley PGM Exploration Going Forward
To date an approximate 140,659 meters (461,480 feet) in 628 drill holes have been conducted by the company and its past major joint venture partners to test the PGM mineralization of the River Valley PGM Deposit. Several independent 43-101 compliant resource estimates have previously been generated for the deposit through the exploration and development phases. The River Valley Deposit's present resource, with approximately 3.9M PdEq ounces in Measured Plus Indicated mineral resources and near-surface mineralization covers over 16 kilometres of continuous strike length. The company continues to explore and enhance the River Valley PGM Deposit.
During the next year the company's goals are:
Complete ground IP Geophysics
Obtain a new resource calculation
Continue with drilling
Explore more target areas
Complete mineralogical studies
Initiate a PEA on the River Valley PGM Deposit
Financing
The Company further announces a non-brokered private placement of up to a combined 4,666,667 non-flow-through and flow-through units ("Units") of the Company, both at a price of $0.075 per Unit for gross proceeds of up to $350,000. Each Unit will consist of one common share and one half of one share purchase warrant, where each whole warrant will entitle the holder to purchase one additional common share at a purchase price of $0.15 for a period of eighteen (18) months from the date of closing, subject to the acceptance of the TSX Venture Exchange.
The proceeds of the private placement will be used for the above mentioned continued exploration and development of NAM's flagship River Valley PGM project near Sudbury Ontario.
The securities to be issued in connection with the private placement will be subject to a four-month plus one-day hold period from the date of closing in accordance with applicable Canadian Securities Laws. Completion of the private placement and any finder's fees payable are subject to regulatory approval.
Warrant and Accelerator Clause
The Warrants will be subject to an acceleration clause. If the closing price of the Company's shares on the TSX Venture Exchange is at or above $0.35 per share for a period of ten (10) consecutive trading days during the exercise period, the Company may accelerate the expiry date of the Warrants to 30 calendar days from the date express written notice is given by the Company to the holder.
ABOUT NAM'S PGM DIVISION
NAM's flagship project is its 100% owned River Valley PGM Project (NAM Website - River Valley Project) in the Sudbury Mining District of Northern Ontario (100 km east of Sudbury, Ontario). Presently the River Valley Project is Canada's largest primary undeveloped PGM deposit with Measured + Indicated resources of 91 million tonnes @ 0.58 g/t Palladium, 0.22 g/t Platinum, 0.04 g/t Gold, at a cut-off grade of 0.8 g/t PdEq for 2,463,000 ounces PGM plus Gold. This equates to 3,942,910 PdEq ounces. The River Valley PGM-Copper-Nickel Sulphide mineralized zones remains open to expansion. The company has recently completed a drill program on the Pine and T3 Zones and has initiated an IP survey on the T4 to T9 footwall mineralization targets. .
ABOUT NAM'S LITHIUM DIVISION
The Company has five pegmatite hosted Lithium Projects in the Winnipeg River Pegmatite Field, located in SE Manitoba. Three of the projects are drill ready. This Pegmatite Field hosts the world class Tanco Pegmatite that has been mined for Tantalum, Cesium and Spodumene (one of the primary Lithium ore minerals) in varying capacities, since 1969. NAM's Lithium Projects are strategically situated in this prolific Pegmatite Field. Presently, NAM is the largest mineral claim holder of Lithium based projects in the Winnipeg River Pegmatite Field. Recently it has been announced (see News Release - Dec 12th, 2017) that Azincourt Energy has signed a Letter of Intent with New Age Metals to option or joint venture the Manitoba Lithium Projects. The Company continues to explore new opportunities in the Green Metals sector.
QUALIFIED PERSON
The contents contained herein that relate to Exploration Results or Mineral Resources is based on information compiled, reviewed or prepared by Carey Galeschuk, a consulting geoscientist for New Age Metals. Mr. Galeschuk is the Qualified Person as defined by National Instrument 43-101 and has reviewed and approved the technical content of this news release.