Palamina Corp. Completes Preliminary Review of Gaban and Coasa Gold Projects
Toronto, Ontario--(Newsfile Corp. - October 23, 2017) - Palamina Corp. (TSXV: PA) has completed a preliminary review of five prospective gold project areas in the department of Puno, Peru, staked by the Company in January of 2017. Palamina's primary focus has been to acquire land positions in the Puno Orogenic Gold Belt (POGB), as identified by small-scale and informal hard-rock mining operations. The targeted projects have never been subject to systematic exploration or drill testing. In order to execute on its plan, Palamina has also assembled an experienced geological team with collectively over 27 years of experience in the POGB.
Palamina applied for 24,100 hectares in the POGB. The Company has completed initial geological reconnaissance site visits on each targeted area and decided to focus on the Gaban and Coasa gold projects in the belief that these areas host the potential to discover important orogenic gold deposits.
Andrew Thomson, President and C.E.O. of Palamina Corp. stated, "Preliminary exploration has led to the prioritization of the Gaban and Coasa gold properties. At Gaban, Palamina is exploring for the source of numerous alluvial gold deposits within the application rights area. At Coasa, Palamina has uncovered the north-western extension of the shear zone hosting the Crucero gold deposit. Palamina is positioning itself to fill the demand for new projects with multi-million ounce gold potential."
GABAN GOLD PROJECT: Palamina has a total of 5,900 hectares on nine mining concessions under application that make up the Gaban Gold Project. A total of five campaigns, or 75 days, have been spent on geological reconnaissance mapping and geochemical stream and rock outcrop sampling programs with as many as three field crews operating at times. The Gaban concession application boundary is less than one kilometer from the town of San Gaban at an elevation of 550 meters, located on the new Interoceanic Highway connecting the Pacific and Atlantic Oceans. Local power is supplied by the 206 MW San Gaban hydroelectric facility and a new bridge, scheduled to be completed in February 2018, is currently being completed across the San Gaban River which will provide easy year-round access to the project.
Artisanal gold mining in streams traversing the concessions has been observed at more than ten locations. Palamina believes Gaban hosts the source of the alluvial gold. Initial stream sediment sampling within the drainages sieved to -60# (0.250 mm), have returned values of up to 4.9 g/t gold. Subsequent follow-up rock sampling bordering the drainage system has returned anomalous gold and important pathfinder element values where detailed follow-up geological mapping and geochemical rock sampling is warranted.
Members of Palamina's geological team formed part of the exploration discovery team at the Ollachea gold deposit located 40 km to the south-southwest. Principal controls on orogenic gold mineralization within the POGB are mineralogical, lithological and structural in nature. Geological reconnaissance activities within the Gaban Project boundaries have shown that each of these important components are present. The Gaban Project additionally hosts at least two intrusive events, at least one of which is mineralized. Up to three quartz vein/veinlet-sulphide mineralizing events have been recognized to date, with associated structural deformation evident in both sediments as well as mineralized intrusive bodies.
At Gaban, field activities for 2017 are expected to resume in April of 2018 after the Andean rainy season ends. During the rainy season, field crews will focus on Palamina's Coasa Gold Project.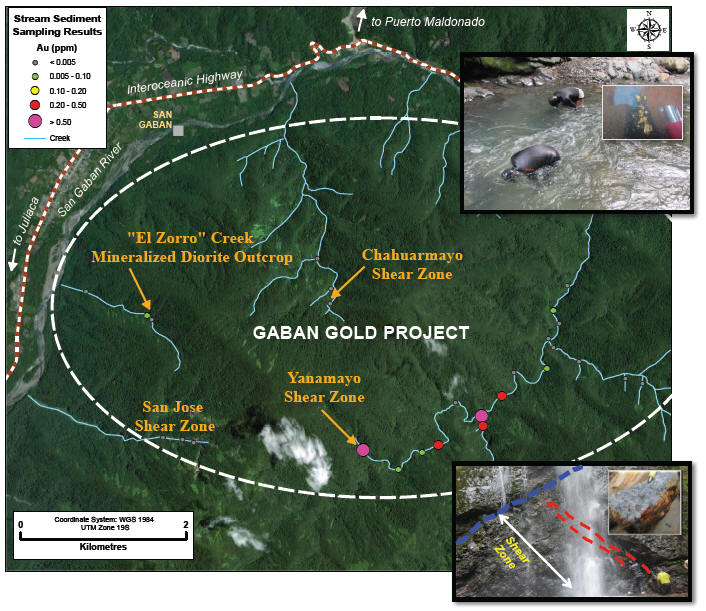 COASA GOLD PROJECT: In January 2017, Palamina applied for 8,800 hectares near the town of Usicayos to explore a geologic environment interpreted to be similar to that of the Ollachea orogenic gold deposit located some 65 km to the northwest. Members of Palamina's geological team formed part of the exploration discovery team at Ollachea. The Ollachea deposits are focused along an east-west trend, analogous to that at Coasa, at surface elevations ranging from 3,000 to 3,600 metres.
Palamina field crews have completed four geochemical sampling and reconnaissance mapping campaigns, or 70 days, in the area, which have revealed numerous historic, as well as recent artisanal diggings. In addition, on the Coasa concessions, geochemically prospective areas have been identified. These are intimately associated with the northern extension of the structure controlling the Crucero gold deposit.
On September 19, 2017, GoldMining Inc. acquired the Crucero deposit and has reported a pit constrained Indicated Resource of 30.9 million tonnes averaging 1.01 g/t gold containing 1.00 million ounces of gold and an Inferred Resource of 31.2 million tonnes averating 1.03 g/t gold containing 1.03 million ounces of gold at a 0.4 g/t gold cut-off (September 20/2017 GoldMining Inc. news release).
Palamina plans to advance its geological reconnaissance and surface sampling activities of prospective and anomalous structures in the eastern sector of the Coasa Gold Project during upcoming field campaigns.
Sample location maps and photo's of Gaban and Coasa may be viewed at:
http://www.palamina.com/wp-content/uploads/2017/10/NR12map.pdf
Mr. Donald Mc Iver, M.Sc. Exploration and Economic Geology, a Fellow of the Australian Institute of Mining and Metallurgy (FAusIMM), as well as the Society of Economic Geologists (FSEG), is Vice President Exploration for Palamina Corp. He is a Qualified Person as defined by National Instrument 43-101 and he has reviewed the geological contents of this press release.
About Palamina Corp.:
Palamina is directed by a group of proven mine finders focused on securing mining assets with the potential to host significant gold deposits. Palamina has acquired the application rights to five projects in the Puno gold belt and one project in the coastal I.O.C.G. belt in Southern Peru and holds 100% interest to one exploration project in Mexico. Palamina has 22,574,713 shares outstanding and trades on the TSX Venture Exchange under the symbol PA.