Berkwood Resources Mobilizes to Lac Gueret Graphite Property, Quebec to undertake Misa a la Masse Electromagnetic Program
August 21, 2018 / TheNewswire / VANCOUVER, B.C. - Berkwood Resources Ltd. (TSX-V: BKR, FSE: BK2, WKN: A110N3) ("Berkwood" or the "Company") is pleased to announce that Abitibi Geophysics, domiciled in Quebec, has mobilized its geophysics crew to the Zone 1 Graphite target at the Company's 100% owned Lac Gueret South Project. The Mise a la Masse ("MALM") electromagnetic ("EM") program is intended to further define the distribution and structure of the Zone 1 Graphite discovery, where 27 HQ diamond drill holes have been drilled over 3 drill programs. Every hole has intersected visible Graphite, and the MALM program is configured to assist with identifying continuity trends between drill holes and along strike from the existing drilling.
Three separate drill programs have been executed on Berkwood's Zone 1 Graphite Body for a total of over 4,000m completed. All 27 holes are mineralized and 26 holes intersected significant graphite. These intercepts support an evolving structural model of multiple recumbently folded graphitic horizons hosting thick and apparently continuous graphitic intervals of compelling grade and true thickness has previously been reported. Working from airborne and ground-based EM data, the Company has drill tested an area covering about 300m by 300m, leaving a significant strike extent of the conductive anomaly as yet untested by drilling. It is expected that the MALM work will help inform plans for further drilling. All the graphite intersected so far is shallow; the Company is focussed on defining open-pit mineable, low strip and high value (coarser flake and most readily recoverable) graphite. All work is being targeted to a depth similar to that undertaken by Mason Graphite for its planned open pit development.
The Zone 1 discovery lies eight kilometers southwest of Mason Graphite's deposit, which is the subject of a current Feasibility Study. Berkwood believes the deposit has a similar structure to the Lac Gueret deposit, which hosts one of the highest-grade graphite deposits in the world. Mason is concluding its permitting process to start development in 2018. This benefits Berkwood's project, as the commissioning of an adjacent mine will ensure the development of area infrastructure.
The Mise a la Masse program consists of establishing electronic sensors in selected drill holes (5 holes presently selected) and at surface at variable distances along conductive strike from selected drill holes: selected down hole intercepts of graphite will then be charged, and the cross-hole and surface expression of the highly conductive graphite charted and mapped. It is expected that the MALM results will improve the resolution of our existing EM data and will improve the correlation of graphitic intervals between drill holes.
The Company is using Longford Exploration Services (Longford) of LaMotte Quebec, headed by Olivier Lemieux, in support of Abitibi Geophysics of Val-d'Or, Quebec, the mise a la masse geophysical contractor. Both Longford and Abitibi are highly experienced operators in the region.
Tom Yingling, President and CEO of Berkwood: "We look forward to receiving the results and furthering the understanding of our Zone 1 graphite discovery. We are also very honoured to welcome the SIDEX fund and Fonds de Solidarite FTQ as new shareholders; we are thrilled that SIDEX has financed the work programs proposed at the Lac Gueret Graphite and the Ford Cobalt project and that the Fonds de Solidarite FTQ has provided working capital as part of their common Field-Action 2018 program".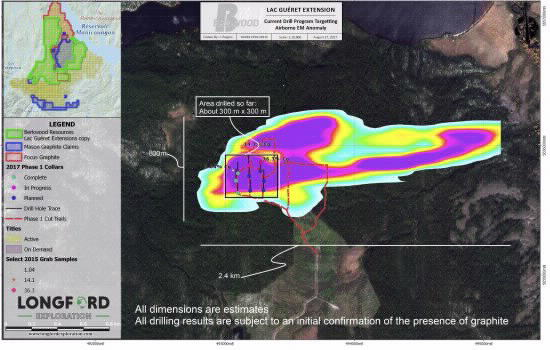 Edward Lyons PGeo (BC, QC, NL) is a Qualified Person under the definition of Canadian National Instrument 43-101, and has approved the technical information in this news release. Ed has worked extensively on the Lac Gueret Property, now owned by Mason, and neighbouring graphite properties since 2000.
About the Company: Berkwood is engaged in exploration for the commodities that enable the modern revolution in essential technologies. These technologies are dependent upon the ethical mining and supply of naturally occurring elements and minerals that enhance the performance of energy storage systems and permit the development and miniaturization of new electronics and structural components for the new suite of innovative tools. The Company is led by a team with collectively over 100 years experience and whose members have been involved with the discovery of several producing mines.
Disclaimer for Forward-Looking Information:
Certain statements in this release are forward-looking statements, which reflect the expectations of management. Forward-looking statements consist of statements that are not purely historical, including any statements regarding beliefs, plans, expectations or intentions regarding the future. Such statements are subject to risks and uncertainties that may cause actual results, performance or developments to differ materially from those contained in the statements. No assurance can be given that any of the events anticipated by the forward-looking statements will occur or, if they do occur, what benefits the Company will obtain from them. These forward-looking statements reflect management's current views and are based on certain expectations, estimates and assumptions, which may prove to be incorrect.
On Behalf of the Board of Directors
Berkwood Resources Ltd.
'Thomas Yingling'
President, CEO & Director
FOR MORE INFORMATION, PLEASE CONTACT:
Investor Relations:
This email address is being protected from spambots. You need JavaScript enabled to view it. or 1-778-945-2935 www.berkwoodresources.com