NioBay Metals Announces Option to Acquire 65% in La Peltrie Gold Project From Midland Exploration
MONTREAL, QUEBEC--(Marketwired - Sept. 6, 2017) - Niobay Metals Inc. ("NioBay" or the "Company") (TSX VENTURE:NBY) is pleased to announce it has entered into an option agreement with Midland Exploration Inc. ("Midland") to acquire up to a 65% interest in its La Peltrie gold property.
This project with strong gold potential is wholly owned by Midland and is located approximately 25 kilometers southeast of Zone 58N, a high-grade gold zone in the Lower Detour area held by Detour Gold Corp. ("Detour Gold"). Best results obtained so far in drilling in Zone 58N in the Lower Detour area include values of 11.82 g/t Au over 32.40 meters, 12.74 g/t Au over 28.0 meters (source: press release by Detour Gold dated June 2, 2014). Phase II drilling results includes 14.22 g/t Au over 13.0 meters and 28.14 g/t Au over 9.0 meters (source: Detour Gold website). (Note that assays are reported as core lengths and that true thicknesses cannot be determined at this time with the information currently available).
The La Peltrie project is also located about 25 kilometers northwest of the former Selbaie mine, which historically produced 56.5 million tonnes grading 1.9% Zn, 0.9% Cu, 38.0 g/t Ag and 0.6 g/t Au and next to the B26 deposit currently held by SOQUEM. Recent drilling by SOQUEM on this deposit returned new Zn-Ag and Cu-Au zones yielding up to 21.2% Zn, 526.6 g/t Ag, 3.8% Pb and 0.7% Cu over 3.4 metres (drill hole 1274-16-228) and 12.2% Cu, 1.3 g/t Au and 14.0 g/t Ag over 2.0 metres (drill hole 1274-16-236) (source: SOQUEM website). (Niobay cautions that the mineralization at the Selbaie Mine may not be indicative of the mineralization that may be identified on the La Peltrie property.)
The La Peltrie project consists of 511 claims totaling approximately 285 square kilometers and covers, over 25 kilometers, a series of interpreted NW-SE-trending subsidiary faults to the south of the regional Lower Detour Fault.
Under the terms of the option agreement, NioBay can earn up to 65% of Midland's interest in the project over a period of six (6) years, by fulfilling the following conditions:
First, to earn a 50% interest, Niobay has to:
Pay in cash or in common shares:

$30,000 promptly after Niobay receives the approval of the TSX Venture Exchange, and $30,000 on or before August 31, 2018;
$50,000, $70,000 and $70,000 on or before respectively August 31, 2019, 2020 & 2021; and

Incur exploration expenditures totaling $3,000,000 by August 31, 2021, including a firm commitment of $500,000 to be invested by December 31, 2017.
Following the initial earn-in of its 50% interest, Niobay will be entitled to earn an additional 15% interest in the project by completing a preliminary economic assessment by August 31, 2023.
Midland and NioBay intends to begin shortly a diamond drilling campaign totaling more than 1,500 meters aiming to test the best geophysical targets identified by the OreVision® IP (« OreVision ») surveys completed in 2016 and 2017 (see Midland's press release dated April 19 2017). Midland will be project operator during the initial option period.
Figure 1. Maps showing the location of the La Peltrie property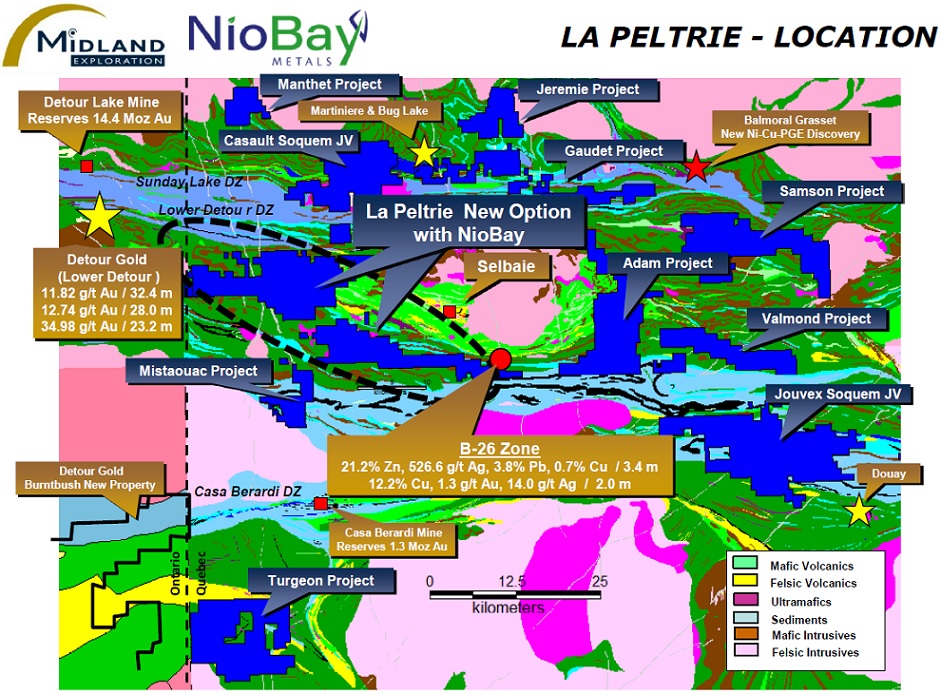 Claude Dufresne, President, and CEO commented that "NioBay is very pleased to have the opportunity to acquire an interest in the La Peltrie gold project. The project is located in a highly prospective geological area with known gold mineralized trend. Excellent drilling results have been reported recently by companies exploring in the area. We are looking forward to partner with Midland's team in advancing the exploration of the project". Mr. Dufresne added "The James Bay Niobium project remains our core project and we continue to hold discussions with the local community members, government officials and will maintain ours efforts to engage with the MCFN leadership."
This press release was prepared by Claude Dufresne, P. Eng., mining engineer and Qualified Person as defined by NI 43-101. The transaction is subject to TSX Venture Exchange acceptance.
About NioBay Metals Inc.
NioBay Metals Inc. is a mining exploration company holding a 100% interest in the James Bay Niobium property in Ontario, Canada and a 72.5% interest in the Crevier niobium/tantalum resource in Québec, Canada. The Company is also actively reviewing the potential of other mineral properties, including the La Peltrie property, and properties in Quebec jointly held with SOQUEM.