Talon Metals Announces Initial NI 43-101 Technical Report for the Tamarack South Project
The drilling at the Tamarack South Project has shown that the magmatic layering of the FGO (Fine Grain Olivine) intrusive (original sulphide bearing peridotite) is consistent with the magmatic layering at the Tamarack North Project.
Massive sulphide intersections proximal to the FGO footwall contact, similar to the Tamarack North Project, have been encountered in three of seven drill holes spaced 300 m and 200 m apart within the Neck Zone (see Figure 3).
Five of seven holes within the Neck Zone have shown between 15.2 m and up to 520.8 m of trace to blebby sulphides within the FGO intrusive (see Figure 3).
Only limited drilling (27 holes) has been completed over a 7,400 acre (30 km2) area comprising the Tamarack South Project.
"With respect to the Tamarack South Project, the zone of entry of the FGO into the Bowl becomes highly prospective for sulphides that have settled out of the FGO magma as its rate of intrusion likely slowed on entering into the wider chamber. The Eastern Deeps ore body at Voisey's Bay occurs precisely along the zone within which a feeder dyke enters the upper chamber," said Dr. Anthony J. Naldrett[1], University Professor Emeritus, University of Toronto and author of the book Magmatic Sulphide Deposits, Geology, Geochemistry and Exploration.
Road Town, British Virgin Islands--(Newsfile Corp. - November 29, 2018) - Talon Metals Corp. (TSX:TLO) ("Talon" or the "Company") is pleased to announce the results of the National Instrument 43-101 technical report (the "Technical Report") in respect to the Tamarack South Nickel-Copper-Cobalt (the "Tamarack South Project") located in Minnesota, USA.
Tamarack South Technical Report Summary
Located within Aitkin and Carlton Counties, Minnesota, USA (see Figure 1) the Tamarack South Project represents the southern part of the extensive Tamarack Intrusive Complex (the "TIC"), an ultramafic to mafic intrusive complex that hosts Ni-Cu sulphide mineralization with associated Co, Pt, Pd (PGEs) and Au (see Figure 2). The Tamarack South Project contains extensive portions of the TIC intrusion, however, to date, most of the exploration and activity has been focused and reported for the Tamarack North Project. The limited drilling that has been conducted has demonstrated the future potential at the Tamarack South Project.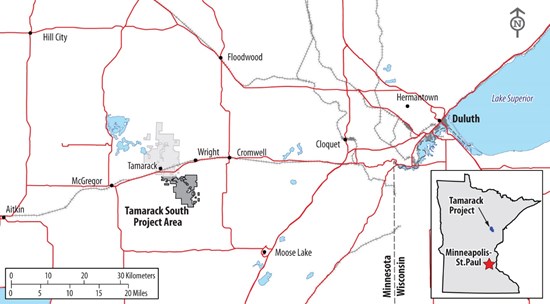 Figure 1: Location of Tamarack South Project (Talon, 2018)
The geometry of the TIC, as outlined by a well-defined aeromagnetic anomaly, consists of a curved, elongated intrusion striking NS to SE over 18 km and is related to the early evolution of the approximately 1.1 Ga Midcontinent Rift (MCR).
To date, exploration by Kennecott Exploration Company ("Kennecott") has included a wide range of geophysical surveys including: airborne magnetic and electromagnetic (EM-MEGATEM and AeroTEM), ground magnetic, surface EM and MT, IP, gravity, seismic, MALM and DHEM. Kennecott has conducted limited reconnaissance style drilling at the Tamarack South Project since 2002. This drilling is comprised of 27 diamond drill holes totalling 17,314 m with drill holes between 97.5 m and over 1,230 m depth. The Tamarack South Project has been divided into the Neck and Bowl Zones, reflecting analogous shapes of the intrusive geology (see Figure 2).
The Tamarack South Project drill hole geochemical data indicates that the FGO intrusive is consistent with the mineral bearing FGO found within the Tamarack North Project. As well, the magmatic layering found in the Tamarack North Project appears to continue into the Tamarack South Project (see Figure 2). Limited exploration drilling in the Bowl portion of the intrusion has also confirmed the presence of Norite and Dunite layering.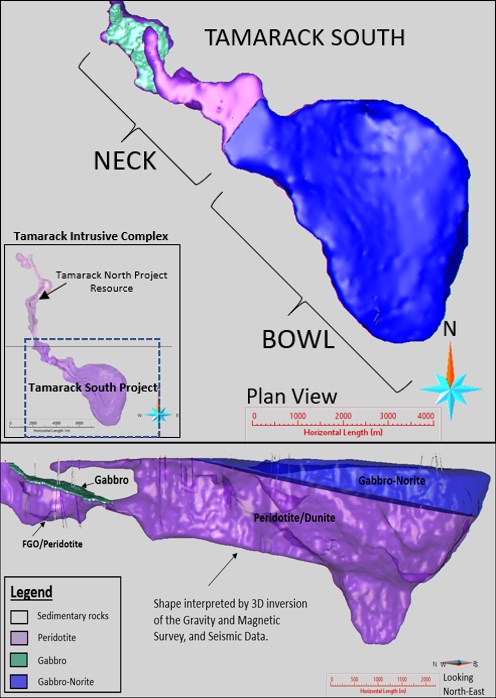 Figure 2: Geology of Tamarack Intrusive Complex (Tamarack South Project Portion) based on Geologic logs and 3d Inversion of Gravity and Mag data (Talon, 2018)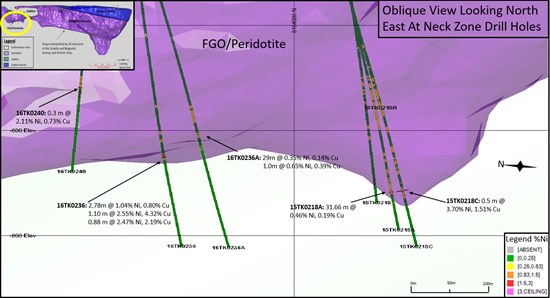 Figure 3: Section looking North-East summarizing drill hole results in the Neck Zone. (modified from Talon Press Release dated Dec 13, 2016)
Currently, at the Tamarack South Project there are two prospective exploration areas at:
1) The Neck Zone, which has demonstrated widespread, anomalous, low grade Ni-Cu-Co sulphide mineralization at depth and also provided three massive sulphide intersections within the lower FGO layers (see Figure 3) (See Annex A for drill intercept details). Evidently, a result of the winnowing out of droplets of dense sulphide liquid from an overlying flow of sulphide-bearing silicate magma, the conceptual analogous model would be typical of a Norilsk style deposit (i.e. Talnakh).

2) The drill results from the Neck Zone have also established that the FGO plunges to the south and potentially underlies the Bowl as a possible feeder (see Figure 2). This presents the potential for future exploration targeting based on Talon's current conceptual model proposed by Professor Naldrett (see Figure 4) and analogous to his previous work at Voisey's Bay (Eastern Deeps) (see Figure 5).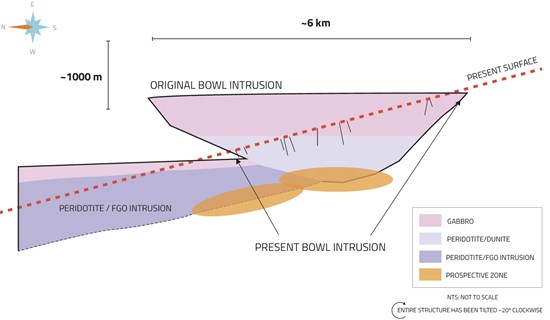 Figure 4: Prospective Mineralization Zones in the FGO Neck - Bowl Geologic Model
(Modified from Naldrett 2014)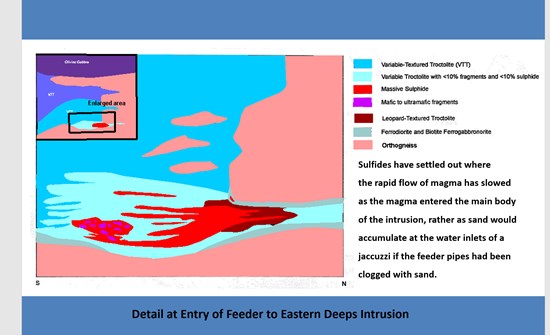 Figure 5: Schematic demonstrating Voisey's Bay Eastern Deeps Depositional Model (from Naldrett, 2004)
Next Steps
The Tamarack South Project, given its size and favourable geologic environment, has the potential for hosting Ni-Cu-Co massive sulphide deposit(s). Talon intends to further investigate these prospective areas using ground geophysics as a means of leveraging low cost high value targeting information prior to any drilling program.
Quality Assurance, Quality Control and Qualified Persons
The Tamarack South Project has a consistent QA/QC program of analysing duplicates of pulps, coarse rejects, and core, as well as the routine insertion of quality control reference standards and blanks.
The Technical Report and the technical information contained in this press release was prepared by or under the supervision of Mr. James McDonald (B.Sc, P.Geo,) who is the Vice President, Resource Geology at Talon. Mr. McDonald is a "Qualified Person" pursuant to NI 43-101. Mr. McDonald has visited the site, reviewed the drilling, logging, and sampling and is satisfied that the analytical and testing procedures used are standard industry operating procedures and methodologies
The Technical report entitled "First Technical Report on the Tamarack South Project" will be available under the company's profile at www.sedar.com and on the company's website at www.talonmetals.com within 45 days of the publication date of this press release.
Drill intersections have been individually selected by Talon. Drill composites have been calculated by Talon. The geological interpretations in this news release are solely those of the Company
About Talon
Talon is a TSX-listed company focused on the exploration and development of the Tamarack Nickel-Copper-Cobalt Project in Minnesota, USA (which comprises the Tamarack North Project and the Tamarack South Project). The Company has a well-qualified exploration and mine management team with extensive experience in project management.
For additional information on Talon, please visit the Company's website at www.talonmetals.com or contact:
Sean Werger
President
Talon Metals Corp.
Tel: (416) 361-9636 x102
Email: This email address is being protected from spambots. You need JavaScript enabled to view it.
[1] Dr. Anthony J. Naldrett is a Talon Metals Corp. Board Member
Forward-Looking Statements
This news release contains certain "forward-looking statements". All statements, other than statements of historical fact that address activities, events or developments that the Company believes, expects or anticipates will or may occur in the future are forward-looking statements. These forward-looking statements reflect the current expectations or beliefs of the Company based on information currently available to the Company. Such forward-looking statements include, among other things, statements relating to the Tamarack South Project with respect to potential deposit types, similarities to the Tamarack North Project, analogies to other projects such as Norilsk (Talnakh) and Voisey's Bay (Eastern Deeps), the future exploration potential of the Tamarack South Project, including to potentially host Ni-Cu-Co sulphide deposits, the form and extent of any mineralization, targets, goals, objectives and plans, including plans for follow-up exploration work and the timing thereof at the Tamarack South Project. Forward-looking statements are subject to significant risks and uncertainties and other factors that could cause the actual results to differ materially from those discussed in the forward-looking statements, and even if such actual results are realized or substantially realized, there can be no assurance that they will have the expected consequences to, or effects on the Company. Factors that could cause actual results or events to differ materially from current expectations include, but are not limited to: failure to establish estimated mineral resources, the grade, quality and recovery of mineral resources varying from estimates, the uncertainties involved in interpreting drilling results and other geological data, inaccurate geological and metallurgical assumptions (including with respect to the size, grade and recoverability) uncertainties relating to the financing needed to further explore and develop the properties.
Any forward-looking statement speaks only as of the date on which it is made and, except as may be required by applicable securities laws, the Company disclaims any intent or obligation to update any forward-looking statement, whether as a result of new information, future events or results or otherwise. Although the Company believes that the assumptions inherent in the forward-looking statements are reasonable, forward-looking statements are not guarantees of future performance and accordingly undue reliance should not be put on such statements due to the inherent uncertainty therein.
Annex 1
Table 1: Collar Locations for Drill Holes in Neck Zone
HOLE ID

Easting


(m)

Northing


(m)

Elevation


(masl)

Wedge depth


(m)

Azm

Dip

End Depth

15TK0218

492028.0

5164542.1

388.4

127.5

-86.2

1134.0

15TK0218A

492028.0

5164542.1

388.4

495.0

184.7

-78.0

1195.7

15TK0218B

492028.0

5164542.1

388.4

705.0

174.9

-75.6

959.5

15TK0218C

492028.0

5164542.1

388.4

800.0

172.0

-76.2

1230.5

16TK0236

491856.4

5164785.3

388.0

178.3

-83.7

1216.8

16TK0236A

491856.4

5164785.3

388.0

486.0

174.4

-75.6

1236.0

16TK0240

491614.0

5164531.0

388.0

40.0

-80.0

1080.0
Collar coordinates are UTM Zone 15N, NAD83.
Azimith and Dip are downhole survey averages for the hole.
For daughter holes; collar coordinates and elevations are same as mother hole; approximate wedge depth given; azimith and dip are the survey averages below the wedge.
Table 2: Assay Results for Drill Holes in Neck Zone
ZONE
BHID
Host Min
FROM (m)
To (m)
LENGTH (m)
% Ni
% Cu
% Co
Pt g/t
Pd g/t
Au g/t
Neck

15TK0218

FGO

NSM

NSM

NSM

NSM

NSM

NSM

15TK0218A

FGO

1095.34

1127.00

31.66

0.46

0.19

0.02

0.27

0.17

0.11

including
FGO
1095.34
1096.33
0.99
0.73
0.19
0.02
0.33
0.19
0.11
including
FGO
1115.50
1123.49
7.99
0.70
0.33
0.02
0.38
0.25
0.18

15TK0218B

NSM

NSM

NSM

NSM

NSM

NSM

15TK0218C

FGO

1121.25

1121.75

0.50

3.70

1.51

0.07

0.49

0.62

0.11

16TK0236

FGO-METASED

1039.50

1042.28

2.78

1.04

0.80

0.01

0.56

0.38

0.42

16TK0236

METASED

1044.45

1045.55

1.10

2.55

4.32

0.04

2.72

0.87

0.82

16TK0236

METASED

1053.85

1054.73

0.88

2.47

2.19

0.02

2.34

1.43

0.64

16TK0236A

FGO

958.00

987.00

29.00

0.35

0.14

0.02

0.08

0.05

0.04

16TK0236A

METASED

1037.00

1038.00

1.00

0.65

0.39

0.02

0.03

0.02

0.02

16TK0240

MI

919.63

919.93

0.3

2.11

0.73

0.07

0.0818

0.05

0.03

Length: refers to borehole length and not True Width. True Width is unknown at the time of Publication.

NSM: No Significant Mineralization

All samples were analysed by ALS Minerals. Nickel, copper, and cobalt grades were first analysed by a 4 acid digestion and ICP AES (ME-MS61).Grades reporting greater than 0.25% Ni and/or 0.1% Cu, using ME-MS61, trigger a sodium peroxide fusion with ICP-AES finish (ICP81). Platinum, palladium and gold are initially analyzed by a 50g fire assay with an ICP-MS finish (PGM-MS24). Any samples reporting >1g/t Pt or Pd trigger an over-limit analysis by ICP-AES finish (PGM-ICP27) and any samples reporting >1g/t Au trigger an over-limit analysis by AAS (Au-AA26).