Aurcana Drills 18 Feet of 10.47 opt Silver at Shafter Project
VANCOUVER, British Columbia, Sept. 08, 2017 (GLOBE NEWSWIRE) -- Aurcana Corporation (TSX:AUN) ("Aurcana" or the Company") is pleased to provide an update of the exploration drilling programme at Shafter, Texas.
Figure 1. Cross Section Shafter Drilling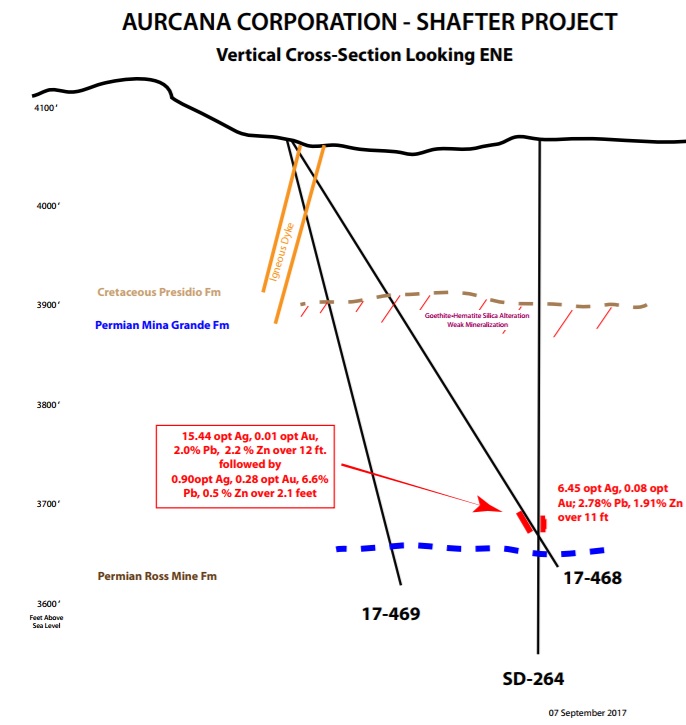 Figure 2. Drill Hole Locations at Shafter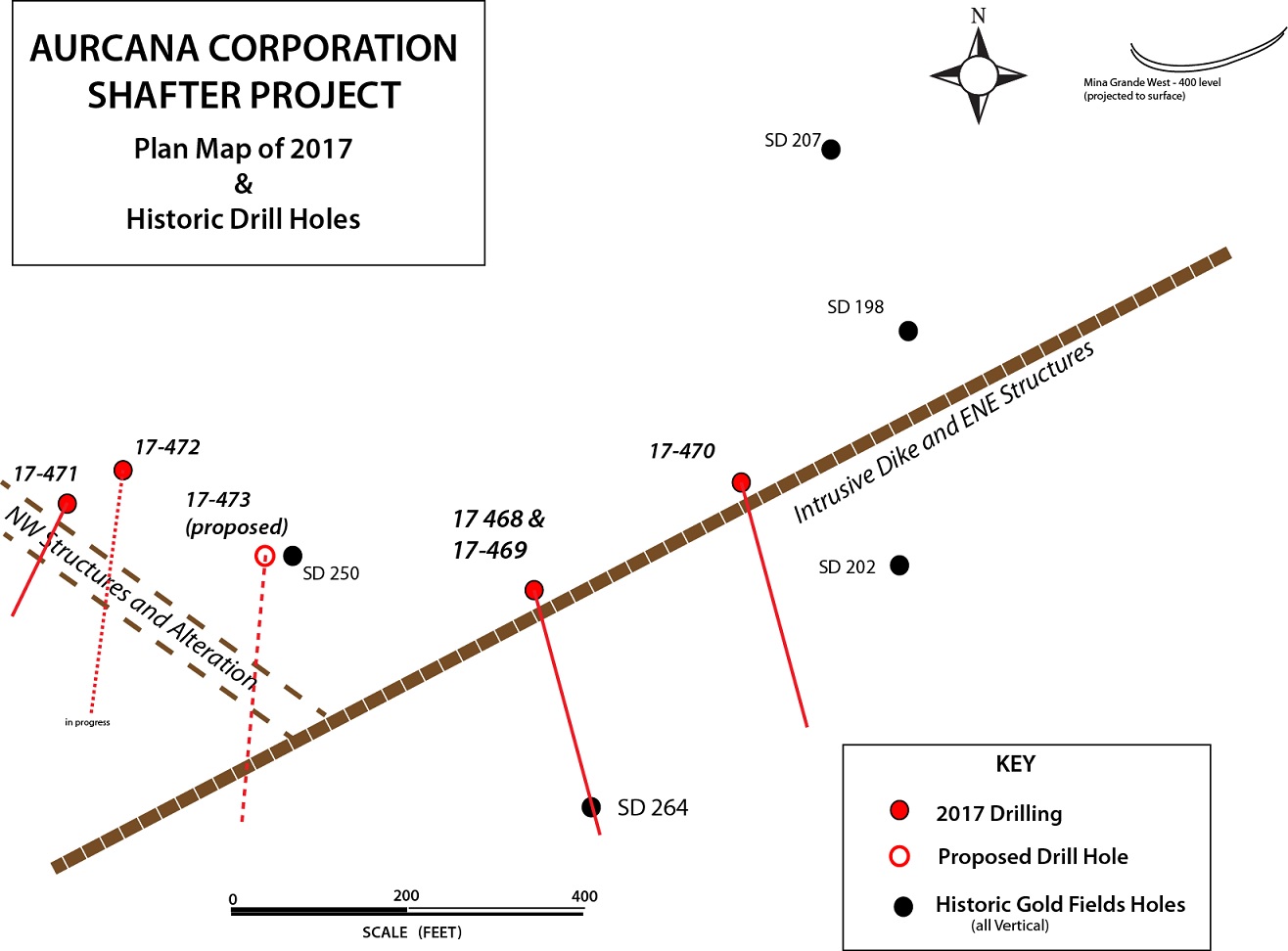 Four core holes have been completed at Shafter, another is in progress and a sixth is planned. Drilling has focused on the western portion of the property, approximately 1.4 miles west-southwest of the current mineral resource area and 900 feet from the 400 level of the historical Mina Grande West underground workings of the Presidio Mine. The exploration objective is to follow-up a drill hole (SD 264) completed by Gold Fields in 1980 that encountered strong alteration at both the base and top of the Permian Mina Grande Formation.
The upper zone is geochemically anomalous and may be a distal expression of the same mineralization found in the Presidio Mine. The lower zone is unusual with evidence of strong brecciation, "jasperoid" and specular hematite-quartz mineralization. The exact location of drill hole SD 264 is uncertain but it is believed that 17-468 is collared 250 feet north and passed within 20 feet of the lower zone intercept. At this stage of exploration results are considered to be comparable, including:
Interval
From … to (feet)
Core
Length
(feet)
Silver
(ounces per ton)
Gold
(ounces per ton)
Lead
(%)
Zinc
(%)
Drill Hole 17-468 (drilled at -580S)
452 to 470
18
10.47
0.02
1.6
1.9
including
458 to 470
12
15.44
0.01
2.0
2.2
including
458 to 466.8
8.8
19.16
0.02
2.6
1.9
and
471.1 to 473.2
2.1
0.90
0.28
6.6
0.5
Historic Drill Hole SD 264 (drilled at -900)
388 to 399
11
6.45
0.08
2.78
1.91
including
395 to 399
4
17.2
0.10
7.10
3.03
Note that the assay results for SD 264 are historic in nature, have not been verified, and should not be relied upon. There has not been enough drilling to define the orientation of mineralized structures and true thicknesses are not known.
Lower zone mineralization is unusual for the district and its significance and potential are unknown. It may represent a second, stratigraphically deeper target for Shafter-style stratabound mineralization or a new target type. The working model notes that there is a spatial association of mineralization with an east-northeast trending igneous dyke and fault zone that is intersected by a cross-cutting zone of northwest fracturing marked by hematite – calcite veins (creating a "hockey stick"-shaped target area approximately 800 feet by 600 feet in size starting 250 to 500 feet beneath un-mineralized Cretaceous cover).
Drill hole 17-469 was drilled from the same set-up as 17-468 but at -750S and 17-470 was drilled at -580S and collared 290 feet east of 17-468/469. Both holes intersected alteration and weak mineralization. Drill hole 17-471 was a short, shallower hole collared 600 feet northwest of 17-468, designed to confirm the northwest-trending cross-structures. Currently the drill is completing a second, nearby hole that will test the target at a minimum depth of 500 feet below surface.
Results to date indicate more work is necessary, including additional drilling to define the orientation, nature and significance of the gold-bearing structures. Geological mapping, sampling and geophysical surveys may precede the next phase of drilling. The current exploration programme is anticipated to include at least six drill holes.
Aurcana has implemented a programme of QA/QC procedures to insure sample integrity and reliable results. Core samples are logged on site at Shafter and sent to ALS Global's Mineral Division laboratory in Tucson, Arizona for sample preparation. Final analyses and assays are done at ASL Global's North Vancouver, BC facilities.
Jerry Blackwell, P.Geo., Director of Aurcana, a Qualified Person as defined by NI 43-101, reviewed and approved the technical information in this news release.
The Shafter Silver Project is located in Presidio County, Southwestern Texas, centered upon the historical Presidio Mine and the un-mined Shafter Deposit. Mineralization at Shafter is found as sheets and tabular lenses of silver-rich iron oxide lodes within laterally extensive mantos in Permian-aged limestone. For more information, including a current Preliminary Economic Assessment go to the website at www.aurcana.com or the company's disclosure documents housed at www.sedar.com.
ABOUT AURCANA CORPORATION
Aurcana Corporation owns the Shafter Silver Project in Texas, US. The Shafter Silver Project was put on care and maintenance in December 2013.