Teuton Resources: Long Zone of Copper Mineralization Found
VANCOUVER, British Columbia, Aug. 21, 2017 (GLOBE NEWSWIRE) -- Teuton Resources Corp. ("Teuton" or "the Company") (TSX-V:TUO) (Frankfurt:TFE1) is pleased to announce that its reconnaissance crew has discovered a kilometer long zone of copper mineralization located on its Pearson claims situated 20km south-southwest of Seabridge Gold's prolific KSM property (host to the world's largest reserves of copper and gold), in the Golden Triangle region of northwestern British Columbia. Teuton holds a 100% interest in the property.
Prospecting began in early August investigating the area of a large airborne geophysical anomaly, the source of which is interpreted as being beneath surface. Chalcopyrite and chalcopyrite-magnetite float was found in the vicinity of the anomaly and numerous samples were taken. The crew then explored sporadic outcrops of previously identified, copper stained cliffs located to the west of the anomaly. Proceeding further north, the crew discovered a new, 1km long stretch in which abundant green and blue, malachite and azurite stained rocks were observed.
Teuton geologist Dirk Meckert said: "It is very encouraging that the malachite and azurite is found on the cliff faces for a straight distance of about 1km, ending at an ice field in the NW and a glacier in the SW. These are not only a few occurrences, but staining shows in many places. Sometimes only small spots, but also large patches that can be seen from 200m away. Mineralization is tied to fracture fillings and disseminations in wall rock as well as quartz veining."
Theories as to the origin of the copper staining are speculative at this time. Samples have been taken and sent in for assay and results will be announced when received. Mineralization observed in samples includes pyrite, galena, chalcopyrite, magnetite and possibly sphalerite. Photographs of some of the individual occurrences can be seen on the Company's website which also includes a claim map (see end of release for URL).
D. Cremonese, P.Eng., President of Teuton commented as follows: "The discovery is likely the result of the ongoing meltback of snow and ice that has been accelerating throughout the region in the past twenty years. Once assays have been received, the next step will be further sampling and geological mapping followed by a drill program if conditions warrant (the Pearson property is already permitted for drilling). All told, it is quite gratifying to find this much mineralization at such an early stage of exploration."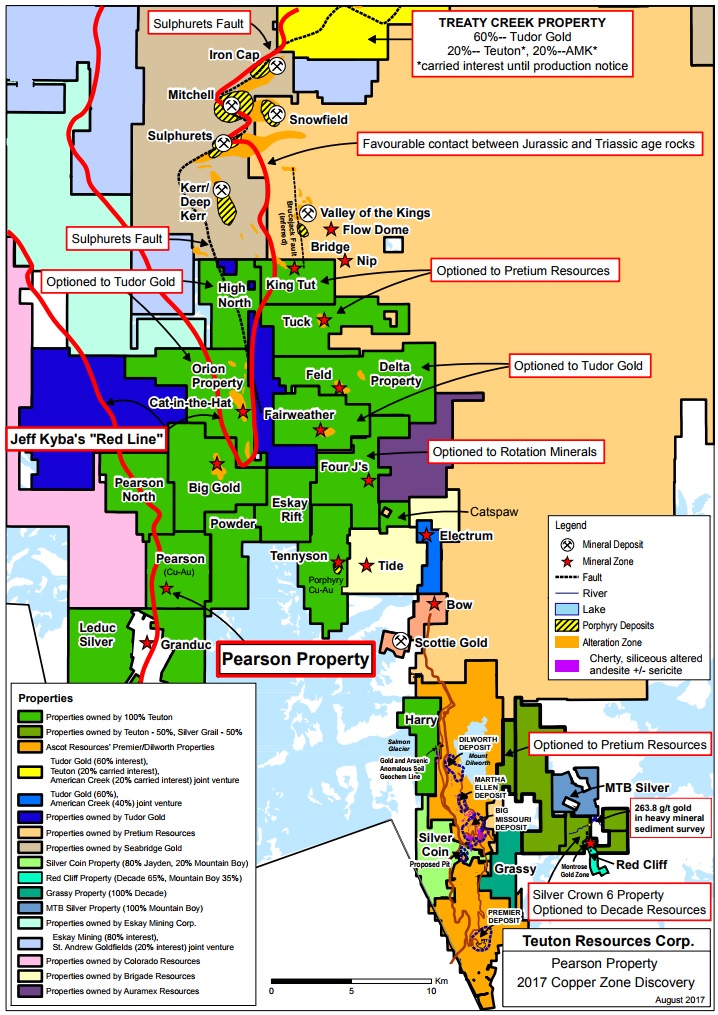 The Qualified Person for this news release is Dino Cremonese, P.Eng., who as President of Teuton is not independent of the Company.
About Teuton
Teuton owns interests in more than thirty properties in the prolific "Golden Triangle" area of northwestern British Columbia and was one of the first companies to adopt what has since become known as the "prospect generator" model. Ten of its properties are currently under option and cash proceeds from these options have exceeded $1.45 million in the past two years, not including the value of shares received from the optioning companies. Shareholders and other interested parties can access information about Teuton at the Company's website, www.teuton.com.