GoldQuest Mining Identifies New Drill Targets in Tireo Gold Trend, Dominican Republic
VANCOUVER, BC--(Marketwired - September 12, 2017) - GoldQuest Mining Corp. (TSX VENTURE: GQC) (FRANKFURT: M1W) (BERLIN: M1W) ("GoldQuest" or the "Company") is pleased to provide an update on the Company's regional exploration program. Recently the Company completed approximately 100-line kilometres of gradient induced polarization (IP) geophysics to the south-east of the Cachimbo Discovery which identified six new exploration targets. All the targets occur along the mineralization trend which host the Cachimbo Discovery and the Romero and Romero South deposits.
The company continues to drill and expand the mineralization at the Cachimbo Discovery and is also performing detailed target definition mapping and deep IP sections on the newly identified target areas. The Company is currently completing deep-looking IP sections on the sixth and most eastern target. In tandem with the IP survey, the Company's field geology crews are performing detailed mapping and soil sampling and refining targets for drilling in due course.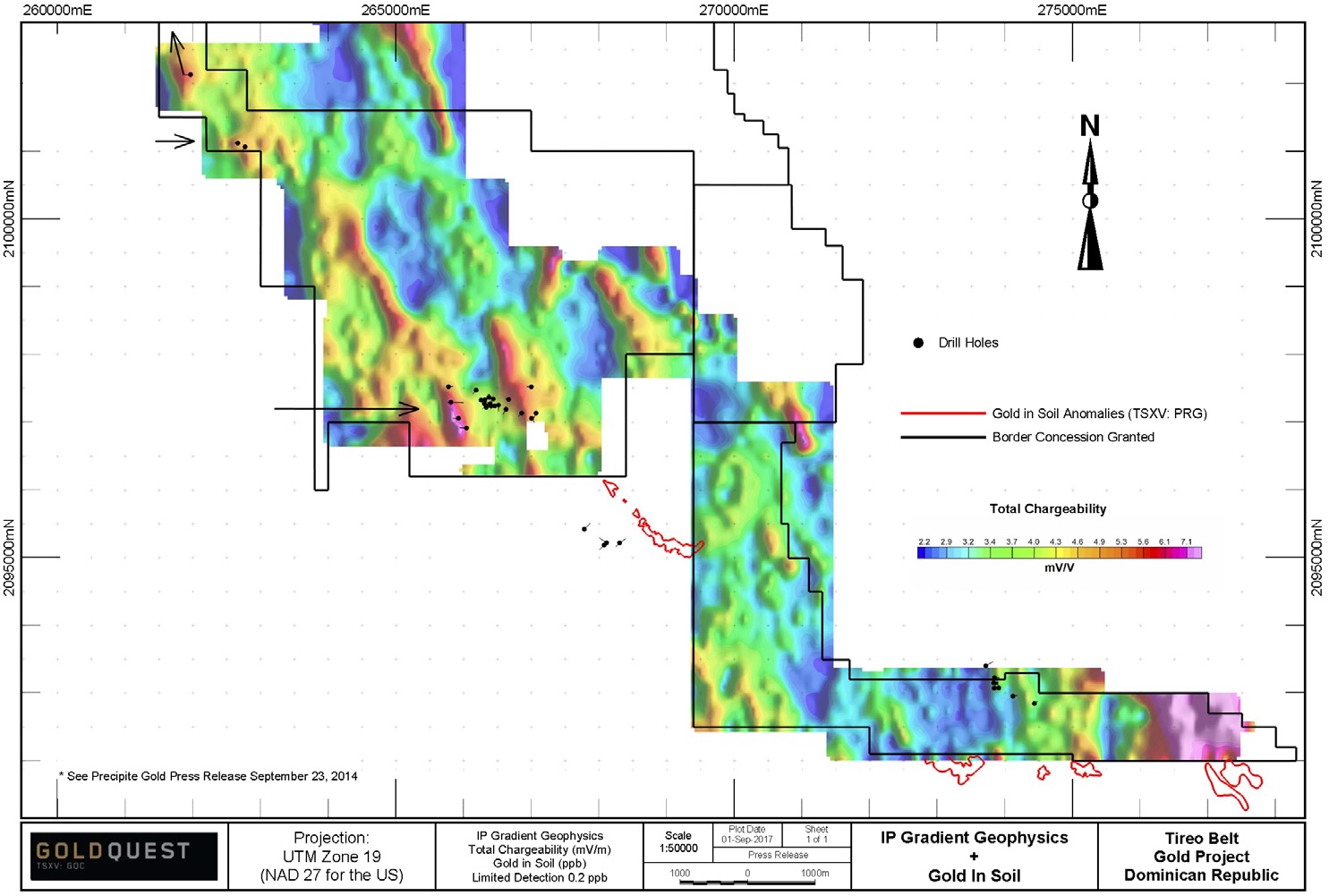 "As we continue to expand the limits of the Cachimbo discovery through drilling, it is very encouraging to have new targets emerging along the trend, opening up another ten kilometres of prospective ground," exclaimed GoldQuest Chairman, Bill Fisher.
Drilling at Cachimbo is focused on expanding the extent and volume of mineralization and to explore for a potential high-grade gold-copper core, similar to the Romero deposit. The mineralization at Cachimbo remains open in all directions. Twenty-four holes have been completed in the Cachimbo area and assays from 4 holes are pending.
The information in this press release has been reviewed and approved by Mr. Jeremy Niemi, P. Geo., Vice President, Exploration of GoldQuest and a Qualified Person for the technical information in this press release under NI 43‐101 standards.
About GoldQuest
GoldQuest is a Canadian based mineral exploration company with projects in the Dominican Republic. GoldQuest is traded on the TSX‐V under the symbol GQC and in Frankfurt/Berlin with symbol M1W. The Company is well funded to carry out the exploration programs reported on in this release and to advance the development of its Romero gold/copper discovery, also located in the Tireo Formation of the Dominican Republic.