Vancouver, British Columbia--(Newsfile Corp. - July 7, 2023) - MYRIAD URANIUM CORP. (CSE: M) (OTCQB: MYRUF) (FSE: C3Q) ("Myriad" or the "Company") announces that in order to constrain structures and identify possible uranium traps ahead of upcoming drilling, the Company has initiated geophysical surveys at key target areas within the Сompany's Agebout and Afouday licenses. Drones carrying high-resolution magnetometers have already started flying a planned 5,942 line-km pattern at 50m line spacing 35m flying height (Figure 1).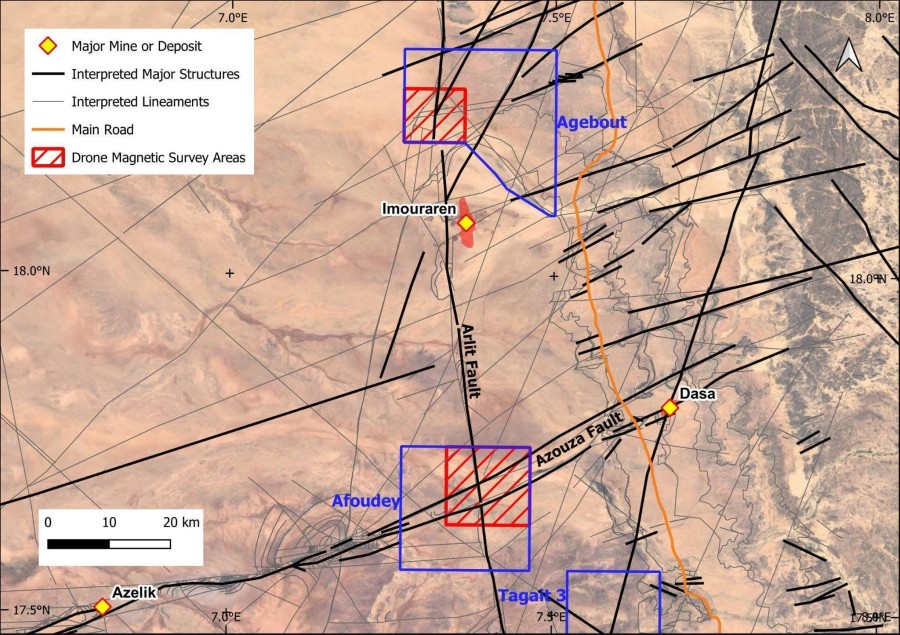 Figure 1: Geophysical Survey Areas
Early indications from the field are that the drone survey is successfully detecting very low amplitude features that would otherwise be difficult or impossible to detect using traditional fixed wing or helicopter-based surveys. Data acquisition is expected to be completed within 6 to 8 weeks, with processing and interpretation following within 4 weeks after that.
Thomas Lamb, Myriad's CEO states "Areva (now called Orano), the previous owner of the Agebout and Afouday properties, developed ambitious exploration plans for these survey areas, which are on-structure and literally surrounded on all sides by five of the world's most significant uranium deposits, including Imouraren (384 Mlbs eU3O8), Dasa (250 Mlbs eU3O8), Madaouela (150 Mlbs eU3O8), Somair (154 Mlbs eU3O8), and Cominak (164 Mlbs eU3O8). All are located on the same structures, as you can easily see on a map (see Figure 2 below). For example, Areva had developed a 65-hole drill program for the 'Imouraren North' area, which is located inside our Agebout licence just north of Imouraren, the world's second-largest uranium deposit. Areva was unable to commence the program due to their insolvency and restructuring, which followed the Fukushima disaster. Now the area is ours, and uranium is over $56 per pound instead of $19 per pound.
Not only is it a new paradigm in terms of the price of uranium, but now, thanks to Global Atomic's nearby Dasa discovery, we know that Athabasca-like uranium grades may lie just a bit deeper than Orano ever drilled. This could change everything. In 2016 Orano geologist Dr. M. Mamane wrote in his PhD thesis: "Especially at Imouraren, it would be interesting to drill from the Jurassic (Tchirezrine 2) to the Carboniferous (Tarat and Guezouman). This last hypothesis is supported by the discovery of the Dasa deposit by Global Atomic." Myriad now has the chance to do this. We are all very excited."
Figure 2: Agebout's World-Class Neighbours Global Atomic's Dasa is off the map just to the south-east.
Early analysis of seismic data has already confirmed that previous regional drilling by Areva, while promising, still missed key fault structures and traps that may contain Dasa-like uranium mineralization.
What follows is a discussion of Myriad's current geophysics program by senior economic geologist George van der Walt, who leads the Company's exploration.
Introduction
One of the challenges of targeting uranium mineralization in the Tim Mersoï Basin is accurately locating the fault structures that control mineralization. In the past, mainly roll front type mineralization has been targeted by Orano in proximity to the main Arlit Fault. However, more recent work by the likes of Global Atomic and GoviEx has shown that significant mineralization can be found in, or associated with, secondary fault structures away from the Arlit Fault. This strategy requires a more focused approach to locating the position of fault structures, which will reduce the need for the type of grid-style drilling that has been employed previously.
Existing geophysical data, flown at 200m line spacing, while useful for the interpretation of larger scale structures, is unable to accurately resolve the position of smaller scale structures. Myriad's strategy currently involves the use of high-resolution geophysical methods for fault identification, including drone-based magnetic surveys and trials of either Induced Polarisation (IP) or Audio-Magneto Tellurics (NS-AMT).
DRONE-BASED MAGNETIC SURVEYS
Myriad has recently appointed AeroPhysX Survey Limited to conduct high-resolution drone-based magnetic surveys over two high-priority areas inside Myriad's Agebout and Afouday licenses. The purpose of these surveys is to accurately resolve the position of fault structures on surface. We are only a few days into the program, but our geophysicists advise us that success so far in resolving low amplitude features has been very impressive.
AeroPhysX uses a UAV Magnetic System carrying the MagArrow magnetometer. The MagArrow magnetometer is light-weight, self-contained, and has a high sampling frequency, which allows for faster flying and closer sampling. The data collected by the system has been demonstrated to be of superb quality when compared to other traditional airborne methods like fixed-wing or helicopter (Figure 3).
Figure 3: The AeroPhysX UAV Magnetic System carrying the MagArrow magnetometer.
The survey specifications are to fly 5,942 line-km at 50m line spacing at a flying height of 35m. The data acquisition phase is expected to take 6 to 8 weeks, with data processing and interpretation following within 4 weeks after that. In due course, the survey areas may be expanded to cover the remaining extents of the Myriad license areas.
GROUND-BASED ELECTRICAL METHOD SURVEYS
As a follow-up to the high-resolution magnetic surveys, which will identify fault structures at surface, the Company plans to detect and model the sub-surface trend of the faults using Audio Magneto Tellurics (AMT), which can penetrate as deep as 1000m. It is anticipated that this AMT survey will commence within the next two weeks. Together with the magnetic survey, the AMT will lay the groundwork for a targeted drilling program to commence later this year.
Qualified Person
George van der Walt (MSc. Economic Geology, Pr.Sci.Nat.), a "Qualified Person" for the purpose of National Instrument 43-101, has reviewed and approved the scientific and technical information included in this news release.
About Myriad
Myriad Uranium Corp. is a Canadian mineral exploration company with 100% option interest in over 1,800 km2 of uranium exploration licenses in the Tim Mersoï Basin, Niger. These licenses are surrounded by many of the most significant uranium deposits in Africa, including Orano's 384 Mlbs eU3O8 Imouraren, Global Atomic's 236 Mlbs Dasa, and Goviex's 100 Mlbs Madaouela, and on the same fault structures. Myriad also has a 50% interest in the Millen Mountain Property in Nova Scotia, Canada, with the other 50% held by Probe Metals Inc. For further information, please refer to the Company's disclosure record on SEDAR (www.sedar.com), contact the Company by telephone at +1.604.418.2877, or refer to the Company website at www.myriaduranium.com.
Myriad's factsheet is here. A CEO interview with Crux Investor which may be of interest is here. A recent detailed interview with Uptrend Finance is here.
Myriad Contacts:
Thomas Lamb
President and CEO
This email address is being protected from spambots. You need JavaScript enabled to view it.
Forward-Looking Statements
Mineralization hosted on adjacent or nearby properties is not necessarily indicative of mineralization hosted on the Company's properties. This news release contains "forward-looking information" that is based on the Company's current expectations, estimates, forecasts and projections. This forward-looking information includes, among other things, the Company's business, plans, outlook and business strategy. The words "may", "would", "could", "should", "will", "likely", "expect," "anticipate," "intend", "estimate", "plan", "forecast", "project" and "believe" or other similar words and phrases are intended to identify forward-looking information. The reader is cautioned that assumptions used in the preparation of any forward-looking information may prove to be incorrect, including with respect to the Company's business plans respecting the exploration and development of the Company's mineral properties, the proposed work program on the Company's mineral properties and the potential and economic viability of the Company's mineral properties. Forward-looking information is subject to known and unknown risks, uncertainties and other factors that may cause the Company's actual results, level of activity, performance or achievements to be materially different from those expressed or implied by such forward-looking information. Such factors include, but are not limited to: changes in economic conditions or financial markets; increases in costs; litigation; legislative, environmental and other judicial, regulatory, political and competitive developments; and technological or operational difficulties. This list is not exhaustive of the factors that may affect our forward-looking information. These and other factors should be considered carefully, and readers should not place undue reliance on such forward-looking information. The Company does not intend, and expressly disclaims any intention or obligation to, update or revise any forward-looking information whether as a result of new information, future events or otherwise, except as required by applicable law.
The CSE has not reviewed, approved or disapproved the contents of this news release.