Xanadu Mines: First Pass Drilling Intersects Wide Zones of Shallow Oxide Gold at Kharmagtai
TORONTO, Aug. 14, 2019 (GLOBE NEWSWIRE) -- Xanadu Mines Ltd (ASX: XAM, TSX: XAM) ("Xanadu" or "the Company") is pleased to announce the first batch of assay results from its oxide gold drilling program at its flagship Kharmagtai Project in southern Mongolia (Figures 1 and 2). These results form part of the Company's current 2019 drilling program, with significant progress made towards defining a shallow oxide gold resource.
HIGHLIGHTS
Significant shallow oxide gold intersects include:

Drill hole KHDDH491 returns 40m at 2.30g/t Au from surface

including 19m @ 2.83g/t Au from 5m

Drill hole KHDDH490 returns 40m at 0.81g/t Au from surface

including 7m @ 1.21g/t Au from 6m
Results are very encouraging and demonstrate excellent potential for a shallow oxide resource


Assay results from a further six diamond holes drilled as part of the program are pending


Follow-up drilling is underway.
The new results have significantly increased the Company's confidence in the emerging oxide gold opportunity at Kharmagtai. Stockwork Hill is the first prospect to be drilled outside and above the Kharmagtai copper-gold deposit, highlighting the under-explored nature of the broader project. The first-pass diamond drill program is designed to extend the both strike and depth to the significant shallow oxide gold mineralisation at Kharmagtai.
Xanadu's Chief Executive Officer, Dr Andrew Stewart, said "We are very pleased by these initial drill results from the mineralised oxide zone above the Stockwork Hill deposit. Assays from the first two drill holes in the eight-hole program confirm our belief that previous drilling within the oxide zone above the sulphide deposits has underestimated the gold contained. These outstanding gold intercepts generated at Stockwork Hill show just how underexplored the broader Kharmagtai Project is for oxide gold mineralisation and validates the current plan of developing a low-cost, high-value gold starter project at Kharmagtai.
Our long running objective is to develop Mongolia's next large-scale open pit copper and gold deposit. However, given Kharmagtai sits on a granted mining lease with a registered water resource and an established power supply nearby, we have the ability to move quickly on an oxide gold project and our current strategy of seeking high-return options via an oxide gold project is focused on providing the capital needed to advance that larger scale copper and gold project."
HIGH-GRADE OXIDE RESULTS FROM STOCKWORK HILL
An eight-hole drill program is underway to quickly and economically test one of the main oxide gold targets at Kharmagtai to confirm the expected gold grades and characterise the gold deportment. The eight vertical PQ drill holes have been designed to test several sections across the oxide cap and several holes to test beneath extremely high-grade gold at surface along strike (Figure 3).
Drill results from the first two drill holes have been received, returning results either in line with expectations or better than expected (Figure 3).
KHDDH490 has returned 40m @ 0.81g/t Au from surface
including 7m @ 1.21g/t Au from 6m
and 5m @ 1.01g/t Au from 16m
KHDDH491 has returned 40m @ 2.30g/t Au from surface
including 19m @ 2.83g/t Au from 5m
and 10m @ 2.37g/t Au from 30m
Table 1 contains the calculated assay intervals and Table 2 contains the drill hole collar locations.
ABOUT THE STOCKWORK HILL OXIDE ZONE
Previous drilling at Stockwork Hill has been focused on the sulphide copper and gold mineralisation. The oxide gold potential was highlighted in the recently completed scoping study (refer to Xanadu's ASX/TSX announcement dated 11 April 2019). The initial development of an oxide gold operation would be focused exclusively on mining and processing near-surface resources. The low-cost drill program is the first step towards this goal. Subject to further technical, environmental and social studies, the development of Kharmagtai's extensive, deeper copper-gold resources is expected to take place in the future.
Surface data at Stockwork Hill, combined with the stepped off drilling data suggests the zone of oxide gold mineralisation is between 200 to 400m in length, 75 to 100m in width and will extend to between 30 and 40m in depth. This zone is open in all directions and only includes material above the Southern Stockwork Zone. The Northern Stockwork Zone is yet to be assessed.
OXIDE GOLD METALLURGICAL RESULTS FROM KHARMAGTAI
Excellent gold recoveries up to 92.56% achieved in gravity and leach tests on composite samples from Golden Eagle (refer to Xanadu's ASX/TSX announcement dated 20 March 2019) have provided the Company with metallurgical confidence, with drilling underway to expand the resource by targeting shallow gold mineralisation above the current copper and gold resources. Standard crushing, grinding and leaching is all that will be required to extract gold from the oxide cap mineralisation at Golden Eagle.
While further drilling is required across the resource as the project advances, previous intersections of significant widths of shallow oxide mineralisation in bedrock drilling highlight the potential and show that Xanadu has literally just scratched the surface in terms of the broader resource potential. Further, it represents the opportunity for a low cost, high-value gold leach operation that could be run early in the development life of Kharmagtai, injecting significant cash into the project to offset the cost of developing a large-scale copper-gold mine.
Additional metallurgical work is planned for each of the oxide gold zones at Kharmagtai to optimise these results and assess the potential for heap leach processing, rather that carbon-in-pulp (CIP).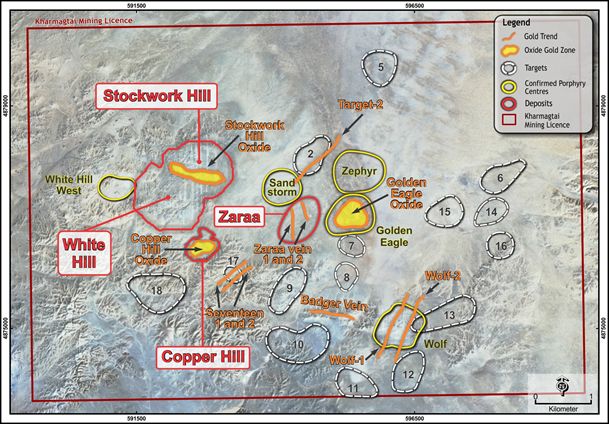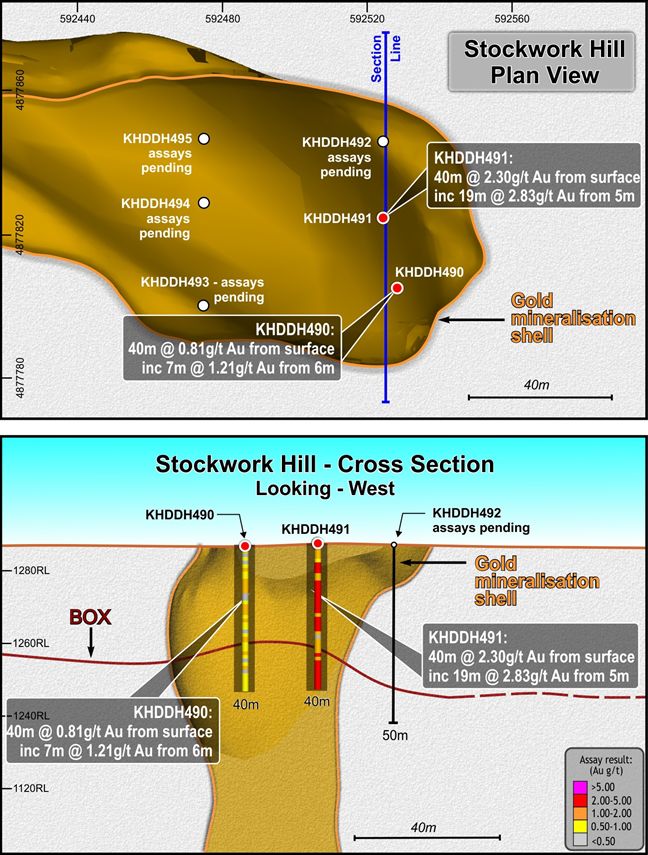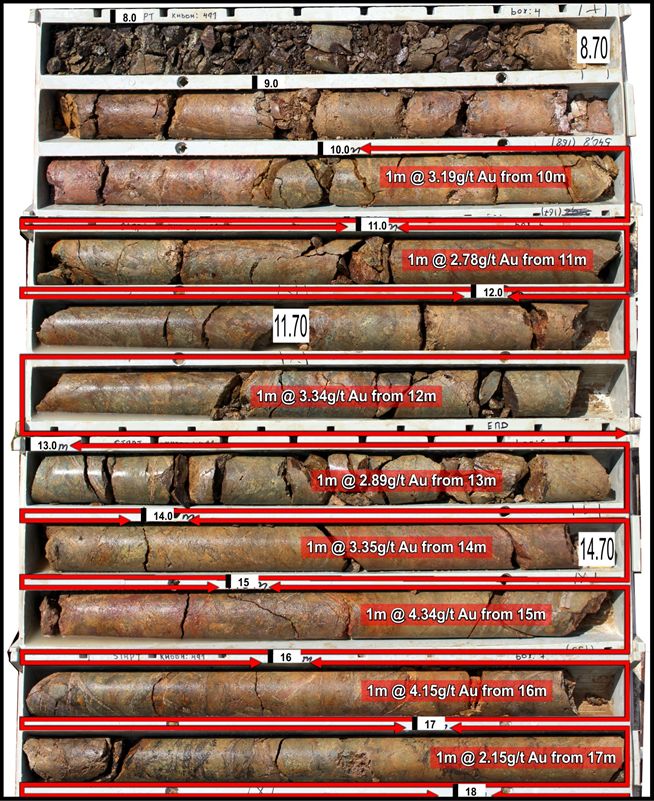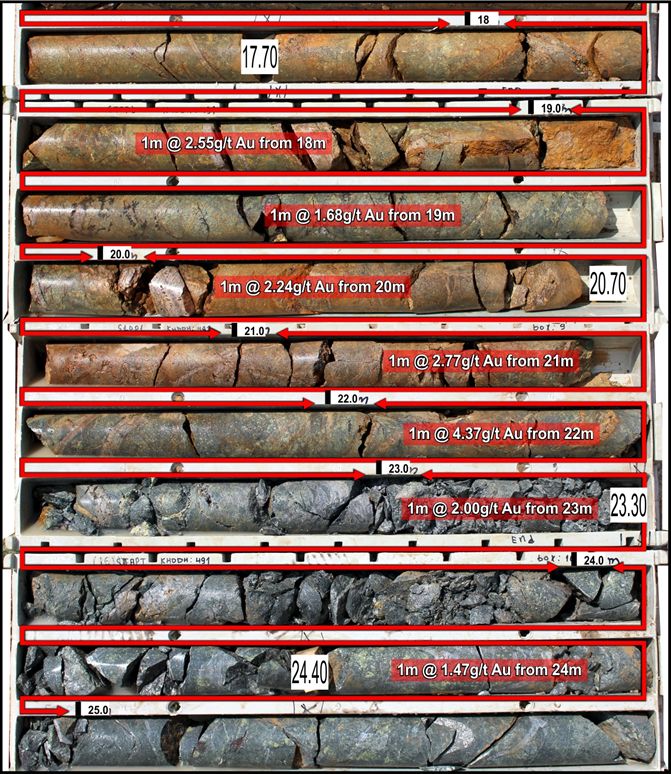 COMPETENT-QUALIFIED PERSON STATEMENT
The information in this announcement that relates to exploration results is based on information compiled by Dr Andrew Stewart who is responsible for the exploration data, comments on exploration target sizes, QA/QC and geological interpretation and information. Dr Stewart, who is an employee of Xanadu and is a Member of the Australasian Institute of Geoscientists, has sufficient experience relevant to the style of mineralisation and type of deposit under consideration and to the activity he is undertaking to qualify as the "Competent Person" as defined in the 2012 Edition of the "Australasian Code for Reporting Exploration Results, Mineral Resources and Ore Reserves" and the National Instrument 43-101. Dr Stewart consents to the inclusion in the report of the matters based on this information in the form and context in which it appears.
COPPER EQUIVALENT CALCULATIONS
The copper equivalent (CuEq) calculation represents the total metal value for each metal, multiplied by the conversion factor, summed and expressed in equivalent copper percentage. Grades have not been adjusted for metallurgical or refining recoveries and the copper equivalent grades are of an exploration nature only and intended for summarising grade. The copper equivalent calculation is intended as an indicative value only. The following copper equivalent conversion factors and long-term price assumptions have been adopted: Copper Equivalent Formula (CuEq) = Cu% + (Au (ppm) x 0.6378). Based on a copper price of $2.60/lb and a gold price of $1,300/oz.
Table 2: Currently returned assay intercepts for Stockwork Hill
Hole ID
Prospect
From (m)
To (m)
Interval (m)
Au (g/t)
Cu (%)
CuEq
(%)
AuEq
(g/t)
KHDDH490
Stockwork Hill
0
40
40
0.81
0.39
0.91
1.4
including
4
13
9
1.04
0.56
1.22
1.9
including
25
38
13
0.87
0.41
0.96
1.5
KHDDH491
Stockwork Hill
0
40
40
2.30
0.65
2.11
3.3
Table 3: Drill hole collar location
| | | | | | | | |
| --- | --- | --- | --- | --- | --- | --- | --- |
| Hole ID | Prospect | East | North | RL | Azimuth (°) | Inc (°) | Depth (m) |
| KHDDH490 | Stockwork Hill | 592529 | 4877805 | 1287 | 0 | -90 | 40.0 |
| KHDDH491 | Stockwork Hill | 592525 | 4877825 | 1287 | 0 | -90 | 40.0 |
For further information, please contact:
Andrew Stewart
Chief Executive Officer
T: +612 8280 7497
M: +976 9999 9211
This email address is being protected from spambots. You need JavaScript enabled to view it.
www.xanadumines.com