Kenadyr Mining Intersects 50 Meters of 8.15 g/t Gold at East Zone Hole EZ-1-17
VANCOUVER, BRITISH COLUMBIA--(Marketwired - June 19, 2017) - Kenadyr Mining (Holdings) Corp. (TSX VENTURE:KEN) (OTCQB:KNDYF) (FRANKFURT:KM0) (the "Corporation" or "Kenadyr") is pleased to announce that the second drill hole of the 2017 season, collared at the East Zone on Kenadyr's 100% owned Borubai License, Kyrgyz Republic, has intersected 50 meters at 8.15 g/t Au, from a downhole depth of 151 m to 201m.
The East Zone, as is the case with the previously drilled South Zone (40m @ 6.17 g/t Au in drill hole SZ-1-17), is directly adjacent to Zijin Mining Group Co Ltd.'s ("Zijin") Taldy Bulak Levoberejnyi (TBL) Mine, currently in production. The East Zone intersection, from drill hole EZ-1-17, is approximately 1 km from drill hole SZ-1-17, which was drilled in the South Zone. Zijin's TBL Deposit occurs directly between these two drill holes. Both drill holes encountered identical mineralization consisting of pervasive quartz-tourmaline-pyrite stockwork veining. This mineralization is consistent with the mineralization being mined at the TBL Deposit.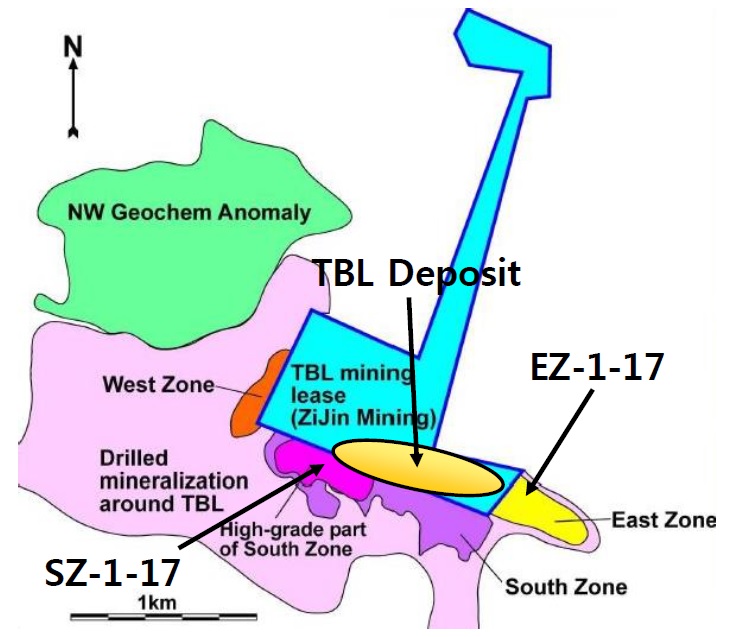 Kenadyr's initial drilling was designed to intersect the various areas surrounding the TBL Mining Lease, which were previously drilled by the Soviets between 1970 and 1990, and where significant gold mineralization was reported. Subject to additional drilling results, Kenadyr's initial drill holes SZ-1-17 and EZ-1-17 confirm the presence of highly significant widespread gold mineralization reported historically by the Soviets, however these drill holes also encountered stronger and thicker mineralization than was previously reported from both the South Zone and the East Zone. These intersections confirm that significant widespread gold mineralization exists on Kenadyr's license directly adjacent to the TBL Mine, and that this mineralization continues in both directions along strike from the TBL Deposit.
The East Zone is open in two directions and to depth, and appears to directly connect to the TBL deposit. Core recovery for drill hole EZ-1-17 is > 99% and all intervals have been assayed using fire assay methods at an internationally accredited laboratory (ALS Global).
Drill Hole EZ-1-17 Assay Results are listed in the table below:
| | | | |
| --- | --- | --- | --- |
| From | To | Intervals (meters) | Grade Au g/t |
| 151 m | 201 m | 50 meters | 8.15 g/t Au |
| including | | | |
| 161 m | 179 m | 18 meters | 12.8 g/t Au |
The Corporation is confident that these intersections are approximate 'true widths'.
Kenadyr is in a strong position having a robust balance sheet, no debt nor significant payments owing, and a supportive institutional shareholder base. The management team has extensive in-country operational experience, and merger and acquisition expertise.
Dr. Alexander Becker, Kenadyr Chief Executive Officer, states, "These results from our second 2017 drill hole at Borubai have again exceeded our expectations. This latest drill hole, located on Kenadyr's license and drilled at the East Zone, demonstrates that highly significant gold mineralization also continues strongly to the East of the TBL Deposit, onto Kenadyr's License. Technical staff believe, based on the strength of the mineralization encountered in our first two 2017 drill holes that the mineralization being mined at the adjacent TBL Mine continues strongly in two directions along strike onto Kenadyr's Borubai License. As well, based on the geometry of the TBL deposit, the Corporation is confident that these intersections are approximate 'true widths'."
Kenadyr's Borubai project comprises a 100-per-cent-owned exploration license covering a contiguous 164-square-kilometre land package that encircles the Zijin/Kyrgyzaltyn newly constructed and operational TBL mine, in northern Kyrgyz Republic.
Zijin, the majority owner of the TBL mine, is one of China's largest gold producers, second-largest copper and zinc producer, as well as a major producer of tungsten and iron ore (source: Zijin website). According to a news release published by Zijin on Aug. 15, 2011, the national resources table of Kyrgyz Republic stated that the TBL field contains (C1 plus C2) 8,906,100 tonnes of gold ore (the average grade is 7.23 grams per tonne). The TBL mine is designed to produce 125,000 ounces of gold per annum. The TBL mine deposit is directly adjacent to Kenadyr's initial drill targets, the South Zone and East Zone, which were previously drilled by the Soviets, with drilling on the Borubai License exceeding 98,000 meters.
Readers are cautioned that the historical resource and reserve estimates relating to the TBL mine do not extend to the Borubai project. Kenadyr has not independently verified the information with respect to the TBL mine provided in this news release and it is not necessarily indicative of the mineralization on the Borubai project. Kenadyr is not aware of the resource and reserve categories, or the key assumptions, parameters and methods used to prepare the estimates on Zijin's TBL mine. The historical estimates on the TBL mine are not current mineral resources or mineral reserves as defined in National Instrument 43-101. Kenadyr considers the historical estimates on the TBL mine disclosed in this news release to be relevant to investors for the purpose of understanding Kenadyr's current drill program and exploration strategy.
Kenadyr's Borubai project, which surrounds the TBL mine, has been the subject of extensive historic exploration including drilling (98,200 metres in 184 diamond drill holes), trenching (13,800 cumulative metres), bulldozer cuts (33,400 cumulative metres), geologic mapping at 1:25,000 and 1:50,000 scales, ridge, spur and grid soil geochemistry for multi-elements (14,200 samples), rock geochemical sampling (2,320 samples), pan concentrate sampling (790 samples), 100 metres of adits, and 184 metres of underground raises. Additionally, the entire area has been subject to airborne magnetic, radiometric and gravity surveys, as well as ground-based resistivity and induced polarization surveys. Additional high grade gold targets exist throughout the Borubai license. The entire license has been subject to extensive geochemical and geophysical surveys, with follow up trenching and drilling on only a few of the identified anomalies.
Additional information in respect of the Corporation's business and the Borubai project is available in the Corporation's Annual Information Form dated April 28, 2017, available under the Corporation's profile on SEDAR.
Kenadyr has an expert team of mine developers with considerable local and regulatory knowledge, led by Chief Executive Officer Dr. Alex Becker, who has operated successfully in the country for much of the past 20 years. The board and management team includes; R. Stuart (Tookie) Angus (Chairman), Alexander Becker (Chief Executive Officer), Bryan Slusarchuk (President), Douglas J. Kirwin (Director), Brian Lueck (Director) and Kevin Ma (Chief Financial Officer). Mark Eaton will act as an adviser to the Corporation.
Brian Lueck, P. Geo, a director of Kenadyr and a qualified person as defined by National Instrument 43-101, has reviewed and approved the technical information in this news release.