Noble Mineral Exploration: Lucas Gold Deposit Twinned Holes Assay Comparison & Exploration Potential
Toronto, Ontario / TheNewswire / July 5, 2018 - Noble Mineral Exploration Inc. ("Noble" or the "Company") (TSX-V:NOB, FRANKFURT: NB7, OTC.PK:NLPXF) is pleased to publish the twinned holes assay results comparison from its recently completed 2018 Winter Drill Program. As reported in previous News Releases, Noble completed 15 NQ size diamond drill holes totalling 3,183.93m covering approximately 650m strike length (Figure-1) of the 1700m Gold Mineralized structure/trend identified from Airborne EM and Differential Mag Surveys.
Noble also discovered a total of 37 historical drillhole collars (Figure-2) during this field program and twinned 3 (three) historical drill holes, namely holes L80-04 with LUC 18-21, L80-13 with LUC18-19 and L81-36 with LUC 18-20, see Table-1. Twinned holes were within a 5m to 15m radius of the historical drill collars.
The interpreted nature of the gold mineralization in the Lucas Gold Deposit, as discrete lenses stacked within the pyrite + gold mineralized tuff unit lends itself to vary in gold tenure and gold content within each discrete lens and subsequently throughout the mineralized tuff unit, and as such exact gold grades would be impossible to duplicate even if the same lens were intersected, in any new drilling campaign.
Interpretation:
The Noble exploration team has interpreted the gold mineralization within the mineralized tuff+/-pyrite+/-chert+/-quartz to occur as discrete "eye shaped lens like openings", analogous to "rounds" of a ladder stacked within the mineralized unit. The initial pyrite alteration of the tuff unit made it very brittle and the subsequent extensive regional ductile deformation and shearing within the general area caused this brittle mineralized tuff unit to develop multiple "Griffiths Cracks" oblique to the general shearing directions. These eye- shaped lens like openings were subsequently infilled with gold, pyrite, chert and/or quartz and facilitated the concentrating of gold within these structural "cracks". Wider spread gold mineralization and gold concentration also occurred within the larger mineralized tuff unit that were being altered during this contemporaneous mineralizing event. Drilling for gold grades and gold mineralized intercepts in the Lucas Gold Project is very sensitive to drill holes dip angle.
Exploration Potential:
The Lucas Gold Project has the potential to host economic gold grades throughout the 1700m strike length of this mineralized structure identified from recently completed Airborne EM and Differential Mag Surveys.
A Ground Induced Potential (IP) survey carried out for Noble in 2012 over a limited gridded area of the Lucas Gold Project had identified 6 (six) discrete parallel conductors spaced approximately 50m to 150m apart, of which only 2 (two) have been drill tested - Figure 3 & Figure 4.
A complete exploration potential compilation of all available data of the Lucas Gold Project will be made available for Option and Joint Venture opportunity to potential partners.
Randy S.C. Singh P.Geo (ON), PEng (ON) VP- Exploration & Project Development a "qualified person" as such term is defined by National Instrument 43-101 has verified the data disclosed in this news release, and has otherwise reviewed and approved the technical information in this news release on behalf of Noble.
FIGURE 1- Plan Map of Noble Minerals 2018 Diamond Drilling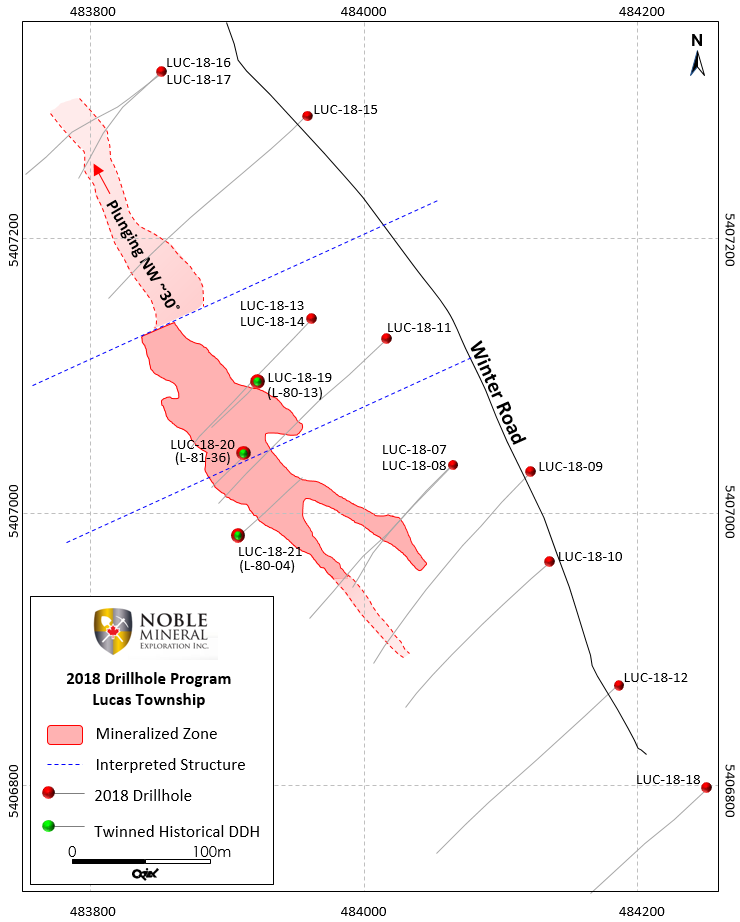 FIGURE 2- Plan Map of Noble Minerals 2018 Diamond Drilling & Historical Drill Collars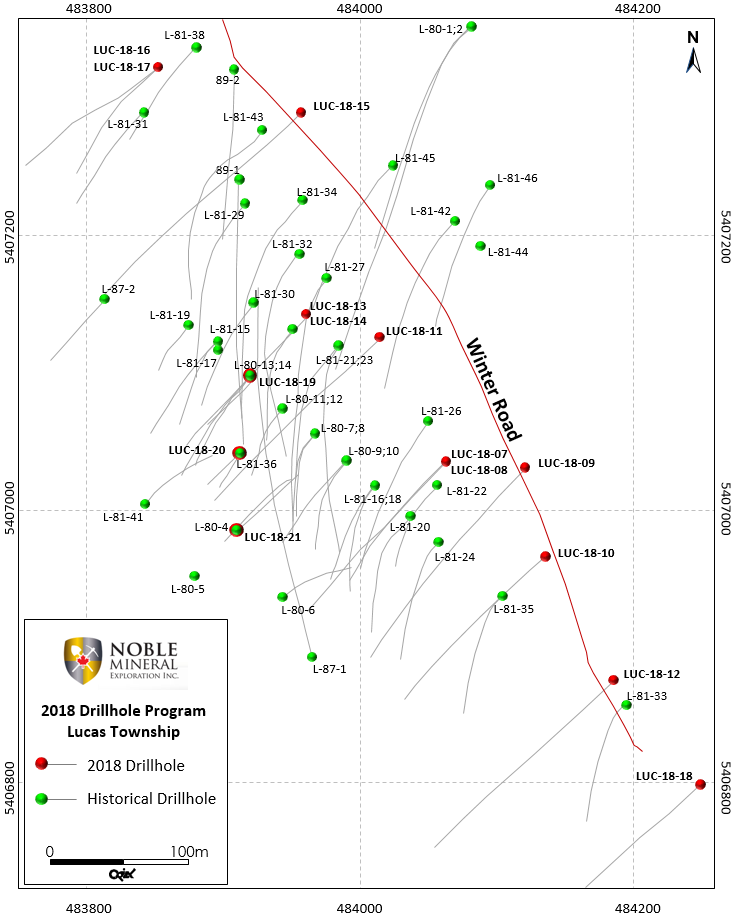 Table 1
Twinned Holes Comparison Table
Noble's 2018 Drilling
Historical 1980's Drilling
DDH
GOLD
(g/t)
Interval
(meters)
From
(meters)
To
(meters)
DDH
GOLD
(g/t)*
Interval
(meters)
From
(meters)
To
(meters)
LUC-18-19
1.22
36.50
101.50
138.00
L-80-13
1.42
33.46
99.06
131.06
Incl.
2.69
9.30
128.00
137.30
Incl.
3.52
9.12
120.40
129.54
LUC-18-20
1.42
5.00
57.50
62.50
L-81-36
1.66
5.18
54.25
59.44
And
2.03
15.00
76.00
91.00
And
2.17
15.52
75.9
91.44
Incl.
2.64
11.00
80.00
91.00
Incl.
3.08
9.74
80.16
89.92
LUC-18-21
1.45
37.50
98.50
136.00
L-80-04
2.77
35.89
98.45
134.42
Incl.
2.08
16.90
100.60
117.50
Incl.
3.73
13.38
99.97
113.39
Incl.
1.21
13.50
118.00
131.50
Incl.
3.26
13.54
117.96
131.52
*Gold Assay results are historical and not NI43-101 compliant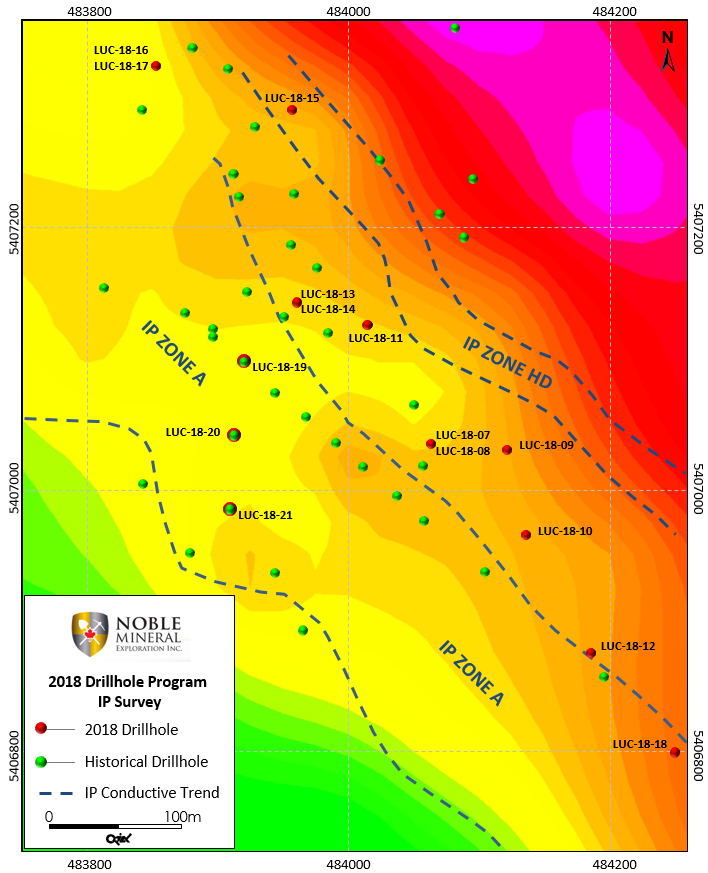 Figure 3 - Map Showing IP Anomaly Zone 'A' & 'HD' with Historical & Noble 2018 Drill Holes
Locations.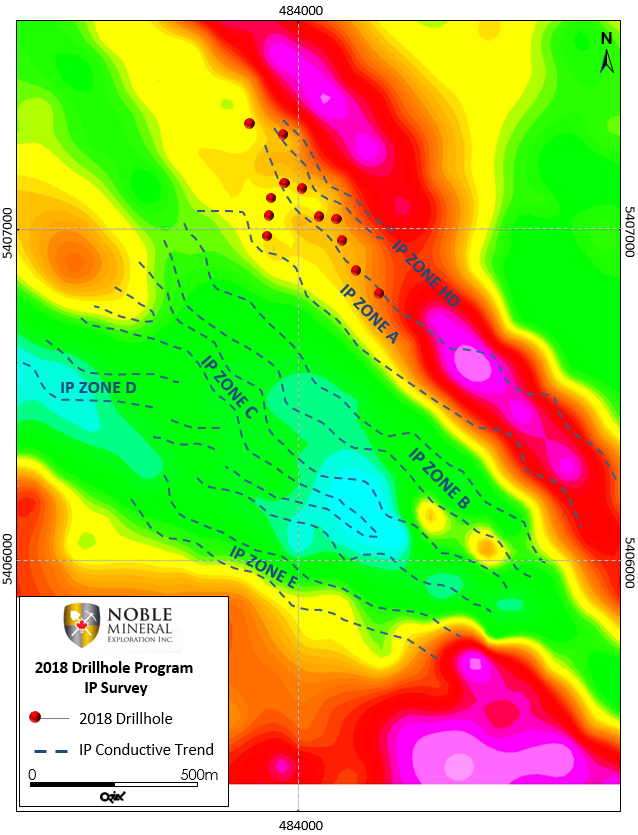 Figure 4 - Map showing Lucas Zone Potential - multiple IP Anomalous Zones & Noble 2018 Drill
Holes Locations
About Noble Mineral Exploration Inc.:
Noble Mineral Exploration Inc. is a Canadian based junior exploration company which, apart from its shareholdings in MacDonald Mines Exploration Ltd. and its interest in the Wawa-Holdsworth gold exploration property in Wawa, Ontario, has as its flag ship program Project 81, a contiguous land package of approximately ~70,000 hectares covering 12 townships immediately north of the Kidd Creek Mine (celebrating its 51st year of operation). Project 81 which has seen very limited mineral exploration over the last 50 years and has had a number of historical drill indicated Gold, Copper, Lead-Zinc, Silver and Nickel showings. Noble has confirmed the discovery of a very large, low grade Nickel-Cobalt Deposit in Kingsmill Township in 2012, which is within the project area. The Lucas Gold showing was also drill tested by Noble in 2012 with additional follow up drilling carried out during the 2018 winter exploration season. Additional information can be found on our website at www.noblemineralexploration.com.
Cautionary Statement:
Neither TSX Venture Exchange nor its Regulation Services Provider (as that term is defined in the policies of the TSX Venture Exchange) accepts responsibility for the adequacy or accuracy of this release. No stock exchange, securities commission or other regulatory authority has approved or disapproved the information contained herein.
The foregoing information may contain forward-looking statements relating to the future performance of Noble Mineral Exploration Inc. Forward-looking statements, specifically those concerning future performance, are subject to certain risks and uncertainties, and actual results may differ materially from the Company's plans and expectations. These plans, expectations, risks and uncertainties are detailed herein and from time to time in the filings made by the Company with the TSX Venture Exchange and securities regulators. Noble Mineral Exploration Inc. does not assume any obligation to update or revise its forward-looking statements, whether as a result of new information, future events or otherwise.
Contacts:
Noble Mineral Exploration Inc.
H. Vance White, President
Phone: 416-214-2250
Fax: 416-367-1954
Email: This email address is being protected from spambots. You need JavaScript enabled to view it.
Investor Relations
Email: This email address is being protected from spambots. You need JavaScript enabled to view it.