Toronto, Ontario--(Newsfile Corp. - January 29, 2018) - Palamina Corp. (TSXV: PA) has purchased the mining rights to two contiguous concessions within the Gaban Gold Project with a view to locating the source of artisanal coarse alluvial gold being mined along the Yanamayo river. By acquiring 100% of the mining rights to the Minera San Gaban and Aurifera San Gaban claims, Palamina has secured the mining rights to 85 % of an area bound on all sides by four mountain ridges where geochemical stream sediment and rock sampling results would suggest proximity to an orogenic gold source.
Over 10 groups of artisanal miners have been observed intermittently mining alluvial gold along the Yanamayo river. Sedimentary sampling in streams returned highs of up to 4.9 g/t gold at a -60 mesh. Palamina is targeting orogenic gold mineralization as the source of the alluvial gold.
Andrew Thomson, President of Palamina Corp. stated, "Palamina now holds 85% of the mining rights controlling the watersheds which drain into the Yanamayo river. Over ten sets of alluvial miners are mining coarse gold from the river where stream sediment sampling at -60 mesh has returned values up to 4.9 g/t gold. Palamina has identified mineralized intrusives and shear zones in sedimentary rocks hosting quartz veins similar to those that occur at the Ollachea gold deposit located some 35 km south west of the Gaban Gold Project. Future exploration activities are designed to discover orogenic gold sources for the alluvial gold located to date on the Gaban Gold Project."

Figure 1
The town of San Gaban sits at an elevation of 550 metres above sea level and is located on Peru's Pacific-Atlantic interoceanic highway. San Gaban is four hours by highway to the national airport of Puerto Maldonado, is powered by the 206 MW San Gaban hydroelectric complex and two new bridges are being built across the San Gaban river on the outskirts of the town which will provide year round easy access to the Gaban Gold Project. Gaban sits upstream from the Madre de Dios placer gold deposits where illegal mining covers >500 square kilometres.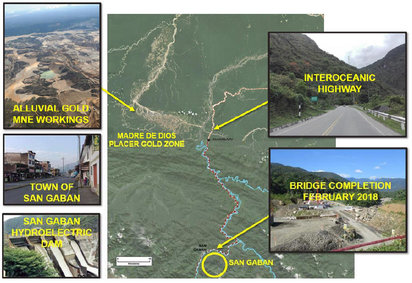 Figure 2
On January 22, 2018, Palamina acquired 100% of the mining rights to a further 1,000 hectares to hold a total 7,100 hectares at the San Gaban Gold Project. The project area comprises a combination of titled claims and claims under application. Palamina paid a total $US 17,500 on signing of 100% transfer of the mining rights to the 300 hectare Minera San Gaban and the 700 hectare Aurifera San Gaban claims. A further US $17,500 is due to the vendors once title to the mining rights has been registered in the name of Palamina. Palamina granted a 1% Net Smelter Return per property whereby Palamina retains the right to purchase one or both of the 1% NSR royalties for US $330,000 per 1% NSR royalty per property.
Mr. Donald McIver, M,Sc Exploration and Economic Geology, a Fellow of the Australian Institute of Mining and Metallurgy (FAusIMM), as well as the Society of Economic Geologists (FSEG), is Vice President Exploration for Palamina Corp. He is a Qualified Person as defined by National Instrument 43-101 and he has reviewed the geological and technical contents of this press release.
About Palamina Corp. Palamina is directed by a group of proven mine finders focused on securing mining assets in the America's with the potential to host significant gold deposits. Palamina has acquired the application rights to six areas in the Puno gold belt and one project in the coastal I.O.C.G. belt in Southern Peru and holds 100% interest in one exploration project in Mexico. Palamina has 22,574,713 shares outstanding and trades on the TSX Venture Exchange under the symbol PA.
FOR FURTHER INFORMATION, PLEASE CONTACT:
Andrew Thomson, President
Phone: (416) 204-7536 or visit www.palamina.com
Neither the TSX Venture Exchange nor its Regulation Services Provider (as that term is defined in the policies of the TSX Venture Exchange) accepts responsibility for the adequacy or accuracy of this release. This communication to shareholders and the public contains certain forward-looking statements. Actual results may differ materially from those indicated by such statements. All statements, other than statements of historical fact, included herein, including, without limitations statements regarding future production, are forward-looking statements that involve various risks and uncertainties. There can be no assurance that such statements will prove to be accurate and actual results and future events could differ materially from those anticipated in such statements.