Vancouver, British Columbia--(Newsfile Corp. - October 30, 2018) - Tudor Gold Corp. (TSXV: TUD) (FSE: TUC) (the "Company" or "Tudor Gold") is pleased to report results from four holes of the nine-hole 2018 drill program on the Copper Belle zone of the Company's Treaty Creek property, in the "Golden Triangle" area of north-western BC.
The deep drilling program is now finished for the season and results of core sampling have been received for six of the nine holes completed. The first two holes were reported in the August 23 news release.
Walter Storm, President and CEO, stated: "As the assay results come in from our deep drilling program at Copper Belle, the gold mineralized zone is really taking shape. We are seeing thick intervals of good gold grades in our northernmost hole reported to date. This indicates to us that the strong Copper Belle mineralization may continue to the north-northeast of our current drilling.
Holes CB-18-34 and 37B were drilled to the northwest at angles of approximately 75 degrees into the central part of a strong magnetic high (see map below) and returned broad intervals of gold mineralization. Holes CB-18-33B and 35B, located approximately 150 m farther to the west, were also drilled northwesterly; however, the gold values were lower in these two holes. The objective of the 2018 drill program was to better define the extent of the Copper Belle zone and the results from these holes have accomplished that. Excellent gold intercepts from our northernmost hole reported to date and moderately strong magnetic intensity extending north-northeasterly from the north end of the drill grid, indicate that the zone has good potential to continue in that direction.
Gold, silver and copper results for holes CB-18-33B, CB-18-34, CB-18-35B and CB-18-37B , as well as hole 37, which was lost at 131.2 m, but re-drilled as 37B, are summarized in the table below.
CB-18-34 had two wide intervals of gold mineralization; 0.554 g/t Au over 178.5 m, which included 0.830 g/t Au over 75.0 m and a lower zone of 0.344 g/t Au over 94.5 m. The gold mineralized intervals are primarily hosted by andesitic tuff and fragmental rocks that are moderately silicified, chlorite and sericite altered, and cut by abundant fine quartz-carbonate veins. Pyrite content averages about 10%, occurring as disseminations and local coarse masses in the host rocks, as well as within some of the quartz-carbonate veins, with rare chalcopyrite and arsenopyrite.
CB-18-37B also intersected two zones of mineralization over impressive widths; the upper zone averaged 0.772 g/t gold over 43.5 meters and the lower zone returned 0.486 g/t Au over 482.0 m, which included intervals of stronger alteration and mineralization, such as 0.790 g/t gold over 175.5 meters. The host rocks are similar to those in hole CB-18-34 and higher gold grades are associated with increased silicification, potassic alteration and pyrite content.
Hole ID
From (m)
To (m)
Interval (m)
Au (g/t)
Ag (g/t)
Cu (%)
CB-18-33B
548.00
564.50
16.50
0.502
1.6
0.006
611.00
623.00
12.00
0.547
9.4
0.003
EOH 743.0
CB-18-34
417.50
596.00
178.50
0.554
2.8
0.008
includes
417.50
492.50
75.00
0.830
1.8
0.013
and
578.00
596.00
18.00
0.790
7.5
0.003
603.50
698.00
94.50
0.344
2.1
0.004
includes
603.50
617.00
13.50
0.712
7.1
0.002
and
644.00
648.50
4.50
0.807
0.9
0.010
EOH 902.0
CB-18-35B
No significant results
EOH 612.0
CB-18-37
69.50
99.50
30.00
0.612
1.9
0.009
107.00
131.20
24.20
1.062
1.3
0.007
EOH 131.2
Hole was lost and restarted as 37B
CB-18-37B
59.00
74.00
15.00
0.650
3.7
0.008
125.00
168.50
43.50
0.772
1.6
0.019
182.00
192.50
10.50
0.575
1.9
0.004
207.50
689.50
482.00
0.486
1.2
0.0001
includes
207.50
222.50
15.00
0.772
2.0
0.021
and
300.50
476.00
175.50
0.790
2.1
0.025
and
482.00
498.50
16.50
0.688
0.6
0.001
and
507.60
612.50
104.90
0.437
0.9
0.014
and
648.50
689.50
41.00
0.351
0.7
0.042
EOH 912.5
* All assay values are uncut and intervals reflect drilled intercept lengths.
* True widths of the mineralization have not been determined.
The nine holes drilled in 2018 covered an area measuring approximately 370 meters by 250 meters, to depths of 600 to 900 meters. Based on the wide gold intervals received to date, the results are expected to considerably increase the range of potential ounces of gold from the 1.8 to 1.9 million ounces contained within 50 to 45 million tonnes grading 1.12 to 1.35 g/t Au determined from the drill results prior to 2018. A new range of gold ounces and grades will be determined, incorporating all drill results to the end of 2018 drilling, once the final assays are received and compiled.
The 2018 drilling has now extended the known length of the porphyry-style mineralized system for over 1100 meters. For locations of the 2018 and other holes in the Copper Belle area that are overlain on Total Magnetics contours, please view the map below. The Copper Belle zone has an elongate north-northeast trend, dipping at a relatively flat angle to the northwest. Mineralization may be related to an extensive north-northeast trending tectonic zone, similar to the distribution of the four KSM deposits on Seabridge's property that are located along a ten kilometer length of the Sulphurets Thrust Fault zone.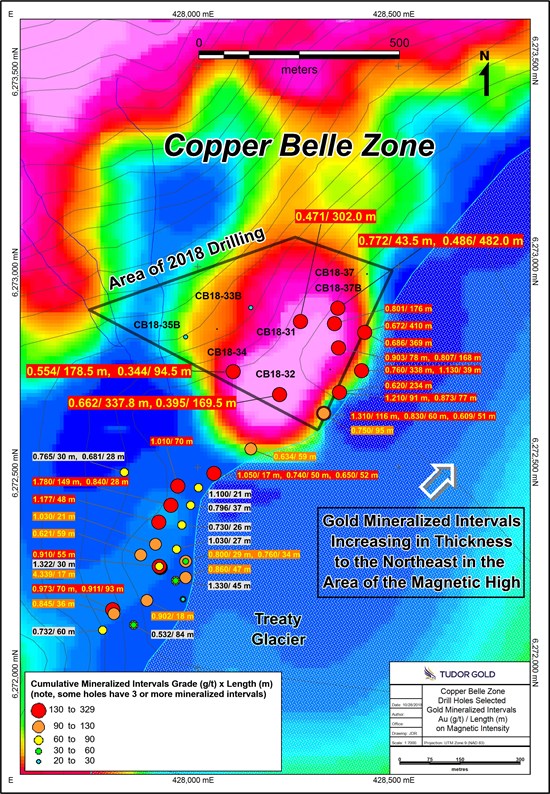 Copper Belle Drill Hole Locations on Total Magnetic Intensity
("Warmer" Colours Indicate Higher Magnetic Intensity)
QAQC
Drill core samples were prepared at ALS Global's Preparation Laboratory in Terrace, BC and assayed at ALS Global's Geochemical Laboratory in North Vancouver, BC. Analytical accuracy and precision are monitored by the submission of blanks, certified standards and duplicate samples inserted at regular intervals into the sample stream by Tudor Gold personnel. ALS Global Laboratories quality system complies with the requirements for the International Standards ISO 17025: 2005.
QP
The Qualified Person for the Treaty Creek results in this new release is James A. McCrea, P.Geo., for the purposes of National Instrument 43-101. He has read and approved the scientific and technical information that forms the basis for the disclosure contained in this news release.
About Tudor Gold
Tudor Gold is a precious and base metals explorer in British Columbia's Golden Triangle, an area that hosts multiple past-producing mines and several large world-class deposits that are approaching potential development. The Company has a 60% interest in both the Electrum and Treaty Creek properties, and a 100% interest in the 18,300 hectare Crown project, all of which are located in the Golden Triangle area.
"Walter Storm"
Walter Storm
President and Chief Executive Officer
For further information, please visit the Company's website at www.tudor-gold.com or contact:
CHF Capital Markets
Cathy Hume
CEO
Tel: 416-868-1079 x 231
Email: This email address is being protected from spambots. You need JavaScript enabled to view it.
Cautionary Statements regarding Forward-Looking Information
Certain statements contained in this press release constitute forward-looking information. These statements relate to future events or future performance. The use of any of the words "could", "intend", "expect", "believe", "will", "projected", "estimated" and similar expressions and statements relating to matters that are not historical facts are intended to identify forward-looking information and are based on the Company's current belief or assumptions as to the outcome and timing of such future events. Actual future results may differ materially.
All statements other than statements of historical fact included in this release, including, without limitation, statements regarding potential mineralization and geological merits of the Treaty Creek Project and other future plans, objectives or expectations of the Company are forward-looking statements that involve various risks and uncertainties. There can be no assurance that such statements will prove to be accurate and actual results and future events could differ materially from those anticipated in such statements. Forward-looking statements are based on a number of material factors and assumptions. Important factors that could cause actual results to differ materially from Company's expectations include actual exploration results, changes in project parameters as plans continue to be refined, results of future resource estimates, future metal prices, availability of capital and financing on acceptable terms, general economic, market or business conditions, uninsured risks, regulatory changes, defects in title, availability of personnel, materials and equipment on a timely basis, accidents or equipment breakdowns, delays in receiving government approvals, unanticipated environmental impacts on operations and costs to remedy same, and other exploration or other risks detailed herein and from time to time in the filings made by the Company with securities regulators. Although the Company has attempted to identify important factors that could cause actual actions, events or results to differ from those described in forward-looking statements, there may be other factors that cause such actions, events or results to differ materially from those anticipated. There can be no assurance that forward-looking statements will prove to be accurate and accordingly readers are cautioned not to place undue reliance on forward-looking statements.
Neither TSX Venture Exchange nor its Regulation Services Provider (as that term is defined in the policies of the TSX Venture Exchange) accepts responsibility for the adequacy or accuracy of this release.