Magna Terra Minerals Reports Encouraging Sample Results on Newly Discovered Piedra Negra Project
TORONTO, ONTARIO--(Marketwired - June 29, 2017) - Magna Terra Minerals Inc. ("Magna Terra" or the "Company") (TSX VENTURE:MTT) is pleased to announce that generative efforts have resulted in the discovery of encouraging surface gold mineralization on a new low sulphidation epithermal vein style project in the Deseado Massif region of Santa Cruz Province, Argentina.
The Piedra Negra Project ("Piedra Negra" or the "Project") is located approximately 30 km N-NE of the Cerro Vanguardia gold mine (Anglo-Ashanti). The Project is accessible by a good unpaved road, from Tres Cerros, 32 km to the east, (see figure 1).
The Project is characterized by gold bearing, low sulphidation veins and stockworks, hosted in andesitic tuffs and rhyolitic domes of the Bajo Pobre and Chon Aike Formations respectively. The 356 select rock chip samples reported so far are distributed across an area measuring 2 km from north to south and between 200 and 700 m from east to west (see figure 2). Gold grade ranges up to 13.35 ppm with an average grade of 0.397 ppm. There are 250 samples equal to or above detection for gold, 150 of which are greater than or equal to 0.1 ppm. Note that samples on this project are selected samples, with spacing being determined by availability of outcrop and sub-crop, and are not necessarily representative of the mineralization hosted on the property.
There are four mineralized zones which vary significantly in character in terms of geology and mineralization. The Vetas Hermanas zone includes the site of the initial discovery and is characterized by 1,000 meters of low sulphidation, banded, crustiform and cockade texture veins which are hosted in ash tuffs and andesitic tuffs. The veins in this zone vary in strike between 350° to 20°, and are intermittent, with sampling being based on interpolation of outcrops into areas of sub crop and float. Results from 121 samples reported from veins and breccias in the area range from detection to Au 8.23 ppm with an average grade of 0.616 ppm. There are 4 veins of interest in this zone, The Emily Vein, Valentina Vein, Brunella Vein and Jasmin Vein. Emily and Valentina strike N-S whereas Jasmin strikes NNE and Brunella is irregular in strike appearing to skirt the flank of a dome.
The Domo Puyutano Zone, to the north of the Vetas Hermanas, is characterized by low sulphidation veins in a rhyolitic dome complex. The 86 rock chip samples taken in this zone range from detection to 13.35 ppm Au with an average of 0.519 ppm. We note that the high gold values are restricted to a N-S striking vein, the Elizabeth Vein, in the flank of the dome and it strikes towards the Emily Vein to the south.
Table of Vetas Hermanas and Domo Puyutano Veins and Au Grades.
| | | | | | | | | |
| --- | --- | --- | --- | --- | --- | --- | --- | --- |
| Vein Name | | Length meters | | Number of samples | | Range Au ppm | | Average Au ppm |
| Emily | | 360 | | 43 | | Detection - 5.07 | | 0.68 |
| Valentina | | 130 | | 21 | | Detection - 2.60 | | 0.72 |
| Brunella | | 187 | | 17 | | 0.05 - 8.23 | | 1.48 |
| Jasmin | | 320 | | 19 | | Detection - 0.95 | | 0.21 |
| Elizabeth | | 200 | | 34 | | Detection - 13.35 | | 1.15 |
The Vetas Ocultas Zone, to the south of the Vetas Hermanas, is physically and stratigraphically higher than the Vetas Hermanas Zone. Veins occur in the form of float and sub-crop which we interpret as having cut the underlying andesites below the tuffs and volcanic breccias in which they occur. Au grade in this zone is spotty with gold ranging from detection up to 0.97 ppm and an average from 68 rock chip samples of 0.095 ppm.
The Domos de Piedra Negra Zone has grown to an east - west extension of 280 meters of anomalous Au in veins and stockworks hosted in rhyolitic dome material. While the extension of mineralization is generally E-W and N-S in this zone, individual veins strike WNW, which is more typical of the orientation of mineralization in other parts of the Deseado Massif. The 82 samples in this zone have an Au grade from detection to 1.92 ppm and average 0.19 ppm.
Mr. Lew Lawrick, President & CEO of Magna Terra commented: "We are very excited to be enjoying this level of success so early in the program. The veins encountered on the Project have classic low sulphidation textures of the style found at the neighboring Cerro Vanguardia gold mine (see figure 3), which is one of the most important mines in Argentina. The footprint of mineralization is large and with mineralization adjacent to a provincial road, the logistics could not be better."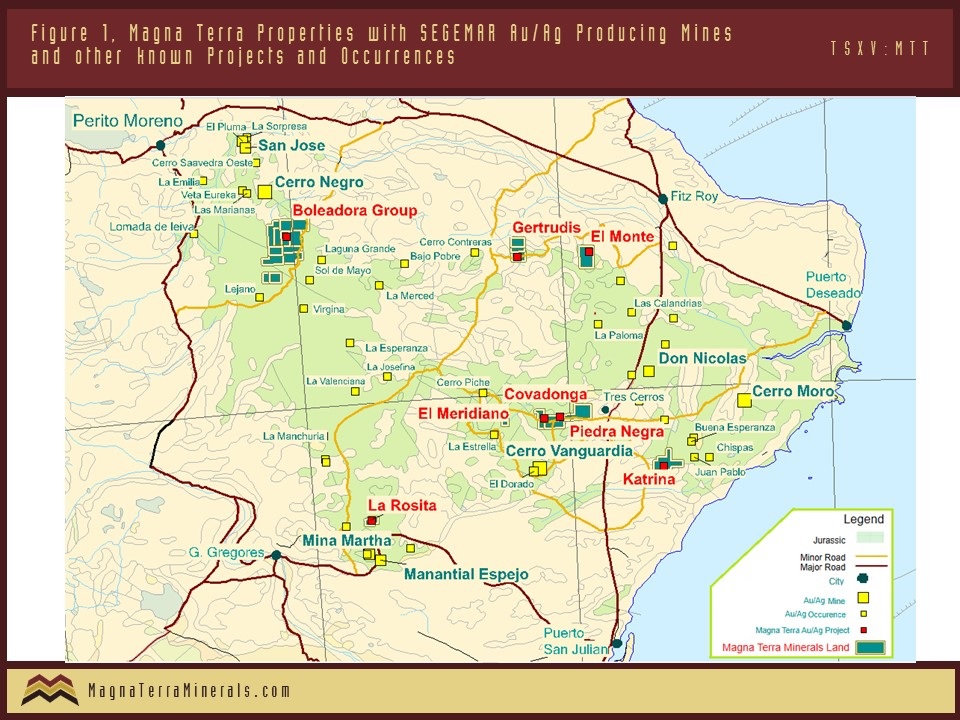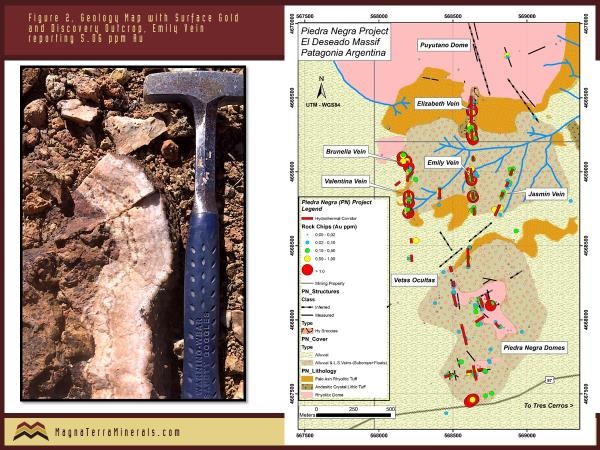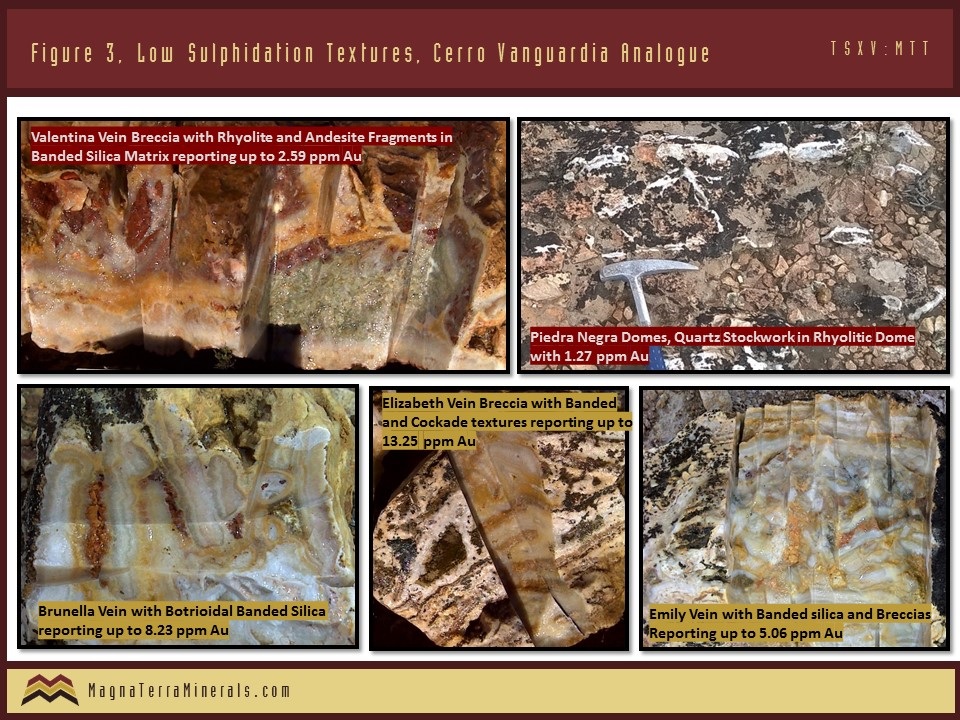 All samples were assayed for gold by Alex Stewart International, Argentina S.A. using 50 gram fire assay.
All results reported so far are from select samples, and now that the extent of anomalism is defined, the next stage of work will include channel sampling for better definition. Further, the Company is currently undertaking geological mapping and planning for ground magnetic and IP geophysical programs over the discovery area.
QAQC
Samples were taken with hammer and chisel or with a diamond saw and placed in sealed bags. Samples were delivered, by Magna Terra staff, directly to Alex Stewart Laboratories in San Julian, Santa Cruz, Argentina, for sample preparation and subsequently shipped to Alex Stewart Laboratories in Mendoza, Argentina, for gold fire assay and multi element analysis. A QAQC program including insertion of blanks and duplicates has been implemented. All exploration on the project was supervised by Dr. Paul David Robinson V.P. of exploration.
Qualified Person
All technical data, as disclosed in this press release, has been verified by Richard L. Bedell Jr. who is a Qualified Person under NI 43-101 and Registered Member as defined by the Society for Mining, Metallurgy and Exploration. Mr. Bedell has reviewed and approved the content of this release.
About Magna Terra
Magna Terra is a junior mining exploration company with a portfolio of exploration projects in Québec, and a large, very prospective exploration project portfolio in in the emerging precious metals Province of Santa Cruz, Argentina. The Santa Cruz project portfolio covers approximately 110,000 hectares in eight distinct projects areas, all with district scale potential in this prolific yet underexplored Province that is host to several of Argentina's most important precious metals mines.