Royal Road Minerals Provides Colombian Exploration Update
Regional reconnaissance and drainage geochemical sampling underway
Toronto, Ontario--(Newsfile Corp. - November 5, 2018) - Royal Road Minerals Limited (TSXV: RYR) ("Royal Road" or the "Company") is pleased to provide an update on its gold and copper exploration activities in Colombia.
Royal Road is the largest application holder in Colombia's Nariño Province with in excess of some 350,000 hectares under Concession Contract application. Nariño is widely considered to be one of the last remaining, highly prospective and under prospected regions of the Andes mountain chain. The province hosts numerous high-grade gold occurrences and a largely unexplored porphyry copper belt, which was identified by the Japanese International Cooperation Agency in the 1980's (Figure 1).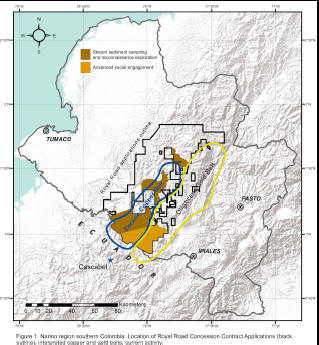 Figure 1: Narino region southern Colombia. Location of Royal Road Concession Contract Applications (black outline), interpreted copper and gold belts, current activity.
Royal Road is a signatory to the British Embassy's Peace and Business Initiative and is committed to aligning its exploration and development activities with the post-conflict aspirations of the Colombian Government and the international community. In December 2017, Royal Road executed a landmark Collaboration Agreement with ECOMUN (see Press Release December 18, 2017), a body established in May 2017 under Presidential Decree and in accordance with the terms of the final peace agreement executed between the Colombian Government and FARC-EP in November of 2016. The Collaboration Agreement establishes the terms and conditions under which ECOMUN will assist the Company in attaining social license for exploration and mining projects which are environmentally responsible and socially sustainable and which contribute to the reincorporation of ex-combatants and the development of local communities.
As anticipated under the terms of the Collaboration Agreement, ECOMUN and Royal Road have established a Management Committee, comprising two representatives from each party and an Independent Chairman. Dr Alvaro Leyva has been appointed to the role of Independent Chairman. Dr Leyva is a lawyer and economic scientist; he was formerly a government minister and Senator in the Colombian Congress and since 1980 he has played a pivotal role in peace negotiations between the Colombian Government and armed guerilla groups including, M-19, FARC-EP and the ELN. The Management Committee has established Community Liaison Committees (CLC's) in each of the eleven municipalities covered by Royal Road's applications in Nariño and the CLC's have in-turn coordinated community and indigenous community consultations in various of these municipalities with a view to securing permissions for the Company to commence regional drainage geochemical exploration and negotiations on existing mine occurrences. In general, Royal Road's current exploration activities in Nariño are focused on reconnaissance exploration and drainage geochemical sampling for porphyry copper and gold targets (see Figure 1) and on joint-venture and acquisition opportunities for gold only targets.
"As we close in on the first anniversary of our Collaboration Agreement with ECOMUN, we are pleased to see that field operations are underway, that the management structure is functioning and that the time invested in attaining social license at this early-stage of our exploration program appears finally to be paying off." Said Tim Coughlin, Royal Road Minerals President and CEO. "It is our view and we believe it is generally well-accepted, that the exploration potential in Nariño speaks for itself, the challenge is primarily on the social side and in order to secure our investment and ultimately realize full potential, we believe that is where our initial efforts must focus."
Neither the TSX Venture Exchange nor its Regulation Services Provider (as that term is defined in the policies of the TSX Venture Exchange) accepts responsibility for the adequacy or accuracy of this release.
The information in this news release was compiled, reviewed and verified by Dr. Tim Coughlin, BSc (Geology), MSc (Exploration and Mining), PhD (Structural Geology), FAusIMM, President and CEO of Royal Road Minerals Ltd and a qualified person as defined by National Instrument 43-101. More information can be found on Royal Road Minerals web site at www.royalroadminerals.com
Cautionary statement:
This news release contains certain statements that constitute forward-looking information and forward-looking statements within the meaning of applicable securities laws (collectively, "forward-looking statements") including statements relating to the ECOMUN agreement and those describing the Company's future plans and the expectations of its management that a stated result or condition will occur. Such forward-looking statements involve known and unknown risks, uncertainties and other factors that may cause the actual results, performance or achievements of the Company, or developments in the Company's business or in the mineral resources industry, or with respect to the ECOMUN agreement, to differ materially from the anticipated results, performance, achievements or developments expressed or implied by such forward-looking statements. Forward-looking statements include all disclosure regarding possible events, conditions or results of operations that is based on assumptions about, among other things, future economic conditions and courses of action, and assumptions related to government approvals, and anticipated costs and expenditures. The words "plans", "prospective", "expect", "intend", "intends to" and similar expressions identify forward looking statements, which may also include, without limitation, any statement relating to future events, conditions or circumstances. Forward-looking statements of the Company contained in this news release, which may prove to be incorrect, include, but are not limited to, those related to the ECOMUN agreement, and the Company's exploration plans.
The Company cautions you not to place undue reliance upon any such forward-looking statements, which speak only as of the date they are made. There is no guarantee that the Company's business plans or operations will be achieved. The risks and uncertainties that may affect forward-looking statements include, among others: economic market conditions, anticipated costs and expenditures, government approvals, and other risks detailed from time to time in the Company's filings with Canadian provincial securities regulators or other applicable regulatory authorities. Forward-looking statements included herein are based on the current plans, estimates, projections, beliefs and opinions of the Company management and, except as required by law, the Company does not undertake any obligation to update forward-looking statements should assumptions related to these plans, estimates, projections, beliefs and opinions change.

For further information please contact:
Dr. Timothy Coughlin
President and Chief Executive Officer
USA-Canada toll free 1800 6389205
+44 (0)1534 887166
+44 (0)7797 742800
This email address is being protected from spambots. You need JavaScript enabled to view it.