Thor Explorations Announces Updated Mineral Resource Estimate for Segilola Gold Project, Nigeria
Thor Explorations Announces an Updated Independent Mineral Resource Estimate and Preliminary Feasibility Study Progress Update at its Segilola Gold Project in Nigeria
VANCOUVER, British Columbia, Sept. 11, 2017 (GLOBE NEWSWIRE) -- Thor Explorations Ltd. (TSX VENTURE:THX) ("Thor" or the "Company") is pleased to announce an updated independent mineral resource estimate following the completion of the current phase of drilling at its 100% owned Segilola Gold Project.
Figure 1: Oblique view of the Segilola resource model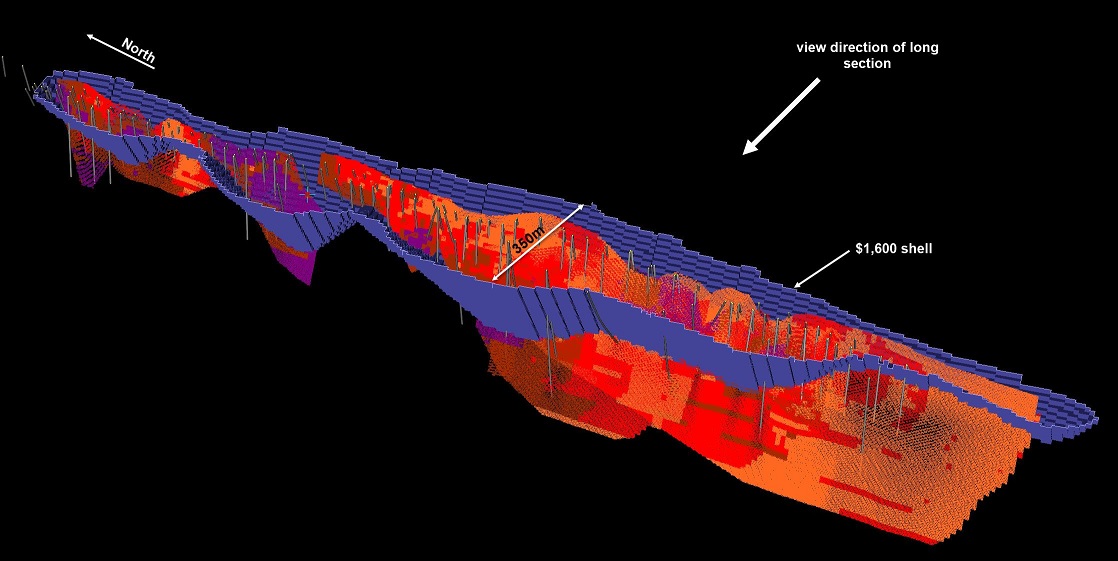 Figure 2: Longitudinal Section showing gram-metre (grade x true thickness) contours with potential extensions of high grade zones


The Company is also pleased to announce that it expects to complete the ongoing Preliminary Feasibility Study ("PFS") on the Segilola Gold Project in October 2017.
Highlights
An increase in average grade of indicated resource from 3.8g/t to 4.3g/tAu.
Addition of inferred resource of 305,000 ounces at 4.7g/tAu
PFS scheduled for completion in October 2017
Segun Lawson, President & CEO, commented "We are working hard to progress the project to implementation. The current drilling program has not only delivered a good indication of the resource potential external to the pit shell being considered in the PFS, but has also enhanced our understanding of the orebody, resulting in a significant uplift in average grade, an expansion of the overall resource base and an improved level of confidence in pit optimisation and mine design parameters. The PFS is well progressed and we look forward to presenting the results of the study along with the maiden reserve for the Segilola project."
Updated Independent Mineral Resource
Table 1: Mineral Resource Statement, Segilola Gold Deposit as at September 11, 2017
Classification
Within Whittle Shell
(Open Pit Resource)
External to Whittle Shell
(Underground Resource)
Total
(0.64g/tAu cut off)
(2.5g/tAu cut off)
Tonnes
(Mt)
Grade
(g/tAu)
Gold
(oz)
Tonnes
(Mt)
Grade
(g/tAu)
Gold
(oz)
Tonnes
(Mt)
Grade
(g/tAu)
Gold
(oz)
Indicated
3,926,000
4.3
539,000
111,000
4.7
17,000
4,037,000
4.3
556,000
Inferred
835,000
5.1
137,000
1,195,000
4.4
169,000
2,030,000
4.7
306,000
For reporting purposes, based on the 'reasonable prospects of economic extraction' test, Mineral Resources are reported within an optimised pit shell, at a cut off grade of 0.64g/t gold, mining recovery of 95%, processing recovery of 96%, gold price of US$1,600/oz, processing costs of $23/t including G&A and grade control. Mineral resources, with potential for economic extraction by underground mining methods, external to the optimised pit shell, are reported at a cut-off grade of 2.5 g/t gold.
The mineral resource estimates have been prepared independently in accordance with the classification criteria of the National Instrument 43-101 Standards of Disclosure for Mineral Projects ("NI 43-101") and in accordance with the CIM Standards on Mineral Resources and Reserves, Definitions, and Guidelines prepared by the CIM Standing Committee on Reserve Definitions and adopted by the CIM Council.
The mineral resource estimates have been prepared by Chris Speedy (MAIG,#5349) of Auralia Mining Consulting Pty Ltd, who is a qualified person under NI 43-101.
Mineral resources which are not ore reserves do not have demonstrated economic viability.
The mineral resource estimate is reported from an ordinary kriged block model.
Unless otherwise noted, the Company's mineral resources are estimated using appropriate lithological interpretations, grade compositing and grade estimation techniques.
The Company has adopted industry-standard procedures for sampling, data verification, compiling, interpreting and processing the data used to estimate ore reserves and mineral resources.
Numbers may not add due to rounding.
A technical report in support of the mineral resource estimate described herein and prepared in accordance with National Instrument 43-101 and Industry Guide 7 will be filed on SEDAR within 45 days.
Alfred Gillman, Group Exploration Manager commented: "With the forthcoming completion of the PFS, together with the demonstrated resource upside as defined by the inferred material within the Whittle shell, we expect to proceed directly towards a Definitive Feasibility Study. We anticipate that a large proportion of the inferred material reported within the Whittle shell will be converted to indicated in preparation for the DFS. In addition, the discovery of several high grade hanging wall lodes has highlighted the potential for down-dip underground operations."
Preliminary Feasibility Study
The Company had previously announced its intention to undertake a Preliminary Economic Assessment ("PEA"). However, following a GAP analysis on the existing project technical and design work and a review of development options, the Company has elected to advance directly to completion of a PFS with pit optimisation and mine design work being undertaken on the updated independent resource (presented above).
In the preparation of the PFS, the Company has drawn on the significant technical studies and processing design that had been undertaken on the project prior to acquisition by the Company. The Company has supplemented this information with further technical work and renewal of cost information where applicable.
The PFS is being compiled by Auralia Mining Consulting Pty Ltd of Perth, Western Australia.
Table 2: Inputs for PFS
Input
Party
Contract Mining
PW Mining / SFTP
Resource and Mining
Auralia Mining Consulting Pty Ltd
Geotechnical
Peter O'Bryan & Associates
Hydrogeology
Peter Clifton & Associates
Metallurgical Testwork
AMMTEC
Engineering
Sedgeman
Tailings Storage Facility
D E Cooper & Associates
Water Supply Dam
D E Cooper & Associates
Environmental and Social


Segilola Resources Operating Limited,
with inputs from the approved project EIA
The project description conforms with the project's existing 25 year Mining License (renewed in September 2016) and Environmental approvals.
Exploration Potential
During August, Thor completed a 15 hole diamond drilling program that was designed to test for potential in the areas external to the existing indicated resource. Results received to date are shown in Table 3 below. Results for the SGD170, the last hole in the program, are pending.
The program was successful in identifying four high grade down-dip trends beneath the indicated resource. Notably, several narrower but higher-grade lodes, locally containing abundant visible gold, were discovered in the hanging wall to the main (footwall) lode. Intersections included 3m true width at 18.7g/tAu, 2.4m true width at 11.4g/tAu and 2.8m true width at 15.6g/tAu. Further work is justified to convert the substantial amount of inferred resource and unclassified (unreported) material.
These lodes appear to have different controls and have a more vertical continuity over shorter strike-lengths (Figure 2). These additional lodes contributed significantly to the inferred resource both within and external to the Whittle shell. The discoveries have provided an exciting opportunity for the potential development of an underground operation.
Table 3: Segilola Gold Project: Drillhole Intersections
HOLE ID
Easting
Northing
RL
Total
Depth
(m)
Azimuth
Dip
From
(m)
To
(m)
Downhole
Interval
(m)
True
Thickness
(m)
Average
Grade
(Aug/t)
SGD155*
701624
831150
370
218
90
-60
171.0
172.8
1.8
1.6
3.2
190.0
208.8
18.8
16.3
4.7
includes
196.8
199.6
2.8
2.4
11.4
and
207.0
208.8
1.8
1.6
22.3
SGD156*
701627
831150
359
268
90
-72
198.7
203.0
4.3
3.0
18.7
includes
198.7
201.9
3.2
2.1
24.9
SGD157*
701626
831150
359
296
90
-80
237.5
241.9
4.4
2.8
15.6
includes
237.5
240.0
2.5
1.6
26.0
and
247.8
249.5
1.7
1.1
4.8
SGD159*
701544
831050
361
288
90
-60
252.0
258.7
6.7
5.6
1.4
includes
254.0
258.7
4.7
4.1
1.7
SGD160*
701540
831050
360
341
90
-75
306.0
307.0
2.0
1.8
2.0
SGD161*
701540
831050
361
302
90
-65
262.8
266.8
4.0
3.1
4.3
SGD162*
701490
830800
351
332
90
-55
299.5
302.0
2.6
2.5
4.9
SGD163
701475
830804
362
290
90
-60
240.0
241.0
1.0
0.8
1.3
and
268.4
270.7
2.3
2.0
6.3
SGD166
701476
830398
300
217
90
-80
186.8
190.3
3.5
2.9
2.6
includes
188.6
189.5
0.9
0.8
4.1
SGD167
701735
831640
324
198
90
-60
147.8
150.2
2.4
2.1
8.5
Includes
149.2
150.2
1.1
0.9
18.7
SGD170
701871
831977
325
136
90
-80
assays pending
*reported previously
Average grades calculated using 0.5g/tAu lower cut off
High-grade included zones calculated at 3g/tAu lower cut off
The following holes had no significant result:
| | | | | | | |
| --- | --- | --- | --- | --- | --- | --- |
| SGD158 | 701604 | 831250 | 362 | 276 | 90 | -66 |
| SGD164 | 701480 | 830750 | 386 | 264 | 90 | -60 |
| SGD165 | 701526 | 830604 | 316 | 243 | 90 | -83 |
| SGD168 | 701304 | 830020 | 293 | 363 | 90 | -80 |
| SGD169 | 702125 | 832869 | 346 | 97 | 90 | -80 |
About the Segilola Gold Project
The Segilola Gold Project is located in Osun State of southwestern Nigeria approximately 120km from Lagos. High grade gold mineralisation is developed within Upper Proterozoic gneissic and schist sequences that are oriented parallel to the boundary between the West African Craton and the Pan African province. At Segilola, gold mineralisation extends from surface to a depth of up to 300m down dip over a strike length of 2km. The project area is served by good infrastructure that includes a sealed road to the proposed development site.
The Segilola Gold Project is 100% owned by Thor. It is fully permitted, with the mining licence renewed in September 2016 for a period of 25 years.
Qualified Person
The above information has been prepared under the supervision of Alfred Gillman (Fellow AusIMM, CP), who is designated as a "qualified person" under National Instrument 43-101 and has reviewed and approves the content of this news release. He has also reviewed QA/QC, sampling, analytical and test data underlying the information.
The Independent Mineral Resource was completed by Mr Chris Speedy (MAIG, #5349), who is designated as a "qualified person" under National Instrument 43-101 and has reviewed and approves the content of this news release. The independent mineral resource estimate was completed using data provided by Thor Explorations Ltd, no issues were found during the review of all supplied data.
About Thor
Thor Explorations Ltd. is a Canadian mineral exploration company engaged in the acquisition, exploration and development of mineral properties located in Nigeria, Senegal and Burkina Faso. Thor holds a 100% interest in the Segilola Gold Project located in Osun State of Nigeria and a 70% interest in the Douta Gold Project located in southeastern Senegal. Thor also holds a 49% interest in the Bongui and Legue gold permits located in Houndé greenstone belt, south west Burkina Faso. Thor trades on the TSX Venture Exchange under the symbol "THX".