TORONTO, Nov. 16, 2017 (GLOBE NEWSWIRE) -- Montero Mining and Exploration Ltd. (TSX-V:MON) has completed an initial channel sampling program at the Soris Lithium Project in central Namibia which returned an average lithium grade of 0.76% Li2O with values up to 3.66% Li2O from all channel samples. The best result from channel sampling returned 14 metres of 1.93% Li2O. The channel sampling program was designed to test lithium bearing spodumene mineralization in a number of pegmatites on the property where prior operators mined for tantalum and tin and did not test the lithium potential of the property.
On October 24, 2017, Montero entered into an agreement and is currently in a legal and technical due diligence period whereby Montero may at any time elect to acquire an 80% interest in the Property by committing to spending C$1 million and completing a feasibility study within 3 years of transfer of the mining rights to Montero. Montero is awaiting mineralogical sample analysis and lithium assay results of RC chips from a prior drill program before electing to acquire an 80% interest.
A total of 4 channel sample traverses were collected as representative sections of the pegmatite mineralization along approximately a 2.4 km strike length. Channel samples were taken every 1 metre across the exposed and accessible portions of the pegmatite with a total of 53 samples submitted for full chemical analysis to SGS Laboratories in Johannesburg, South Africa.
Channel sample results returned lithium values up to 3.66% Li2O, tantalum values up to 1,917ppm Ta2O5 and tin values up to 12,696ppm SnO2. The samples within the selected channels are representative of those channels but may not necessarily be representative of the overall mineralization hosted in the pegmatites on the property. Spodumene has been identified as the major lithium bearing mineral. Results from channel sampling were returned as follows:
RESULTS OF THE CHANNEL SAMPLING PROGRAM
Channel
Width in
Lithium a
Tantalum b
Tin c
Location
Metres
Li2O %
Ta2O5 ppm
SnO2 ppm
NC1
16
0.68
112
3812
CC1
5
0.13
120
1405
MC1
14
1.93
155
689
SC1
6
0.03
793
401
a. Li2O obtained by conversion factor of 2.153
b. Ta2O5 obtained by conversion factor of 1.2211
c. SnO2 obtained by conversion factor of 1.2696
-
Dr. Tony Harwood, President and Chief Executive Officer of Montero commented, "Montero's first channel sampling program has confirmed lithium, tantalum and tin mineralization over a 2.4 km strike length of exposed pegmatite. Channel MC1 returned 14m at an average grade of 1.93% Li2O where the best individual sample assayed 3.66% Li2O. Montero's primary interest at Soris is to test the lithium content of the spodumene bearing pegmatites to establish a lithium resource. Prior operators never tested for lithium. Initial Lithium assay results from prior operator RC drill holes are expected shortly which will provide Montero an understanding of the lithium potential in a third dimension. These, along with mineralogical test results designed to understand metallurgy, will enable Montero to decide whether to proceed with trying to define a lithium resource."
The lithium, tantalum and tin values from Channel MC1 and Channel NC1 returned the best lithium values. The width of exposed pegmatite at Channel MC1 is 24m and Channel NC1 is 16m although all the pegmatite was not necessarily sampled due to surface rubble. Nico Scholtz Pr.Sci.Nat. carried out the channel sampling program for Montero and the locations are outlined below.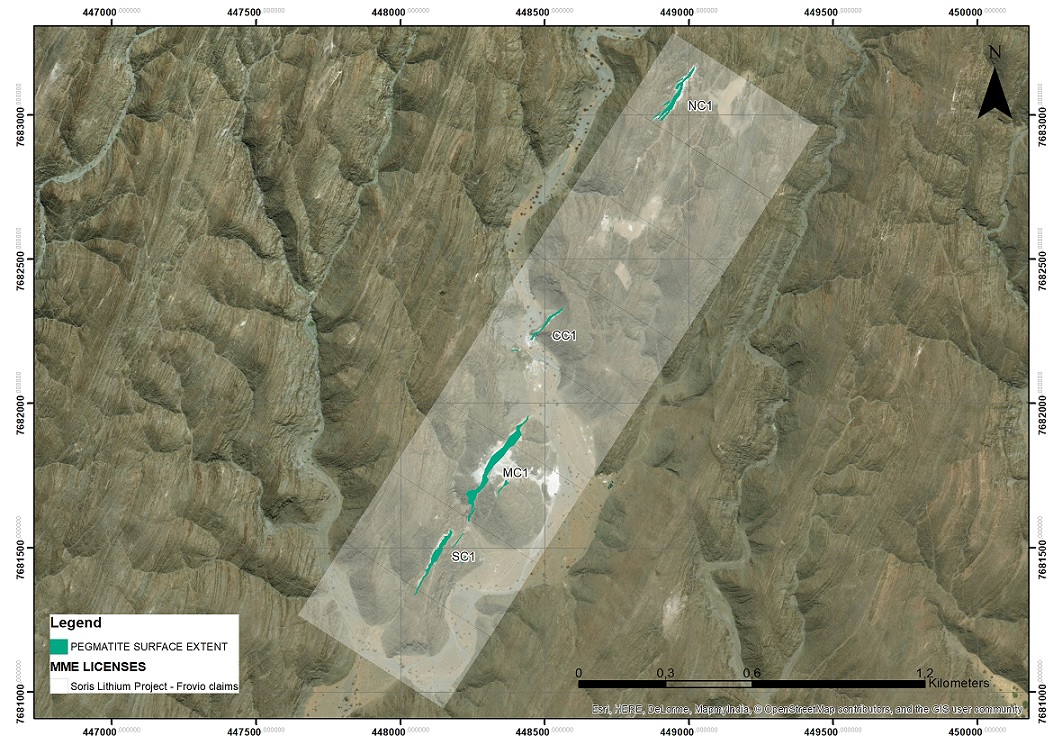 The Soris Lithium Project is in central Namibia, north west of the town Uis which is 220km north of Walvis Bay, Namibia's largest commercial deep-water port. The project is in the Erongo Region and is connected by dirt and asphalt road to the port of Walvis Bay.
The zoned pegmatites at the Soris Lithium Project belong to a group of highly fractionated, tantalite-cassiterite, lithium-rich rare metal pegmatites known as Lithium-Cesium-Tantalum (LCT) pegmatites. The Soris pegmatites were previously mined on a small scale for tin and tantalum (Diehl, 1992). The pegmatite has not been mined or systematically sampled or assayed for lithium.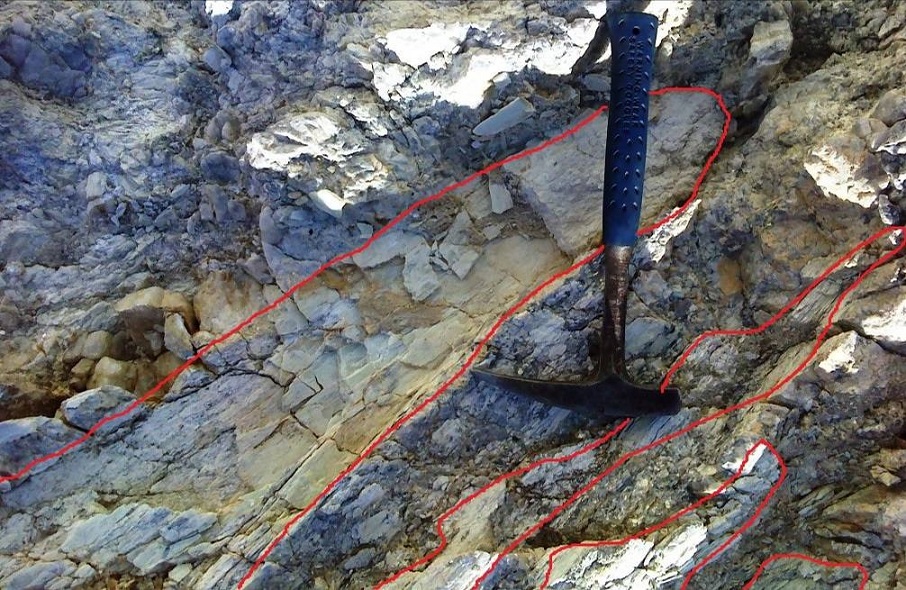 The pegmatites at Soris have narrow border-zone comprised of fine to medium grained feldspar-quartz-muscovite rock, succeeded inwards by a narrow similar wall-zone. Inwards from here, the pegmatite is a mixture of feldspar, quartz, spodumene and green muscovite. The pegmatite contains spodumene throughout this internal zone varying in volume from about 10% to >30% of the pegmatite. The spodumene occurs as coarse-grained large prismatic crystals up to 0.8 m in length and as smaller plate-like crystals 1 cm in length. The crystals are randomly arranged in a matrix of variably coarse-grained microcline and albite feldspars. The spodumene is pale green to white or grey in colour.
Lithium assay results from a previous 31-hole RC drill program as well as mineralogical analysis from samples taken are yet to be received.
Qualified Person's Statement
This press release was reviewed and approved by Mr. Mike Evans, M.Sc. Pr.Sci.Nat., who is a qualified person for the purpose of National Instrument 43-101 and a Consulting Geologist to Montero. A review was also undertaken by Nico Scholtz, Pr.Sci.Nat., a qualified person for the purpose of National Instrument 43-101 and has extensive experience in rare metal pegmatite exploration and Lithium-Cesium-Tantalum (LCT) pegmatites.
About Montero
Montero is a mineral exploration and development company engaged in the identification, acquisition, evaluation and exploration of mineral properties in Africa. Currently these include Lithium, Tantalum and Tin in Namibia, Phosphates in South Africa and Rare Earth Elements (REE) in Tanzania. Montero is reviewing and evaluating other opportunities from its operating base in South Africa. Montero trades on the TSX Venture Exchange under the symbol MON.