MONTREAL, QUEBEC--(Marketwired - July 5, 2017) - Nouveau Monde Graphite Inc. (TSX VENTURE:NOU)(OTCQB:NMGRF)(FRANKFURT:NM9) ("Nouveau Monde") is pleased to announce that the graphite mineralization in the West Zone of its Matawinie graphite Property has been extended by 165 m to the south following the recent expansion of two of its claims. A total of 18 hectares of land, in which exploration is now permitted, was added to these claims after high-level negotiations with Hydro-Quebec and the "Ministère de l'Énergie et des Ressources Naturelles". Importantly, the mineralization intersected in this new area remains open to the south, to the north and at depth. Additional drilling is planned later this Fall to further increase the West Zone Mineral Resource Estimate.
Eric Desaulniers, President and CEO of Nouveau Monde commented, "I am very pleased that we have secured this additional land package as it is the extension of our existing West Zone resource. Our initial drilling in this new area has yielded immediate results and we are seeing the longest mineralized intersection to date in the West Zone at a higher grade than the current resource estimate. Importantly, this area has very little overburden and outcrops significantly, making for easier access and lower mining costs than other areas of the current pit. This coupled with the higher grade and strike length should positively impact future mineral resource updates on our West Zone and our future project economics."
As detailed in a press release dated March 2nd, 2017, the present pit-constrained Mineral Resource Estimate for the West Zone, not including the drill hole intercepts presented today, stands at 32.9 Mt @ 4.5 % Cg in the Indicated Category and 0.2 Mt @ 4.84 % Cg in the Inferred Category.
Following authorization from Hydro-Quebec, four NQ size boreholes totalling 760.6 m were drilled in the newly expanded claims during Fall 2016. The significant results are presented in the following table (Table 1):
Table 1. Significant results from drilling over the expanded claims.
 
 
 
 
 
 
Section
Hole
From (m)
To (m)
Mineralized Length (m)*
Grade (Cg)**
W-0200
TO-16-98
72.2
204
131.8
4.8
250.45
284.1
33.65
4.67
TO-16-115
44.5
71.9
27.4
4.16
74
105.4
31.4
4.99
W-0100
TO-16-116
50.4
79.5
29.1
3.72
128.1
147.5
19.4
4.41
*Mineralized length represents the length along the drill hole and is not indicative of the true width of the mineralization which needs additional drilling for proper interpretation.
** Graphitic carbon (Cg), was measured using a LECO analyser (ALS code; C-IR18) at the ALS Minerals laboratory in North Vancouver (BC), Canada.
The following files can be downloaded in support to this press release:
West Zone close up location map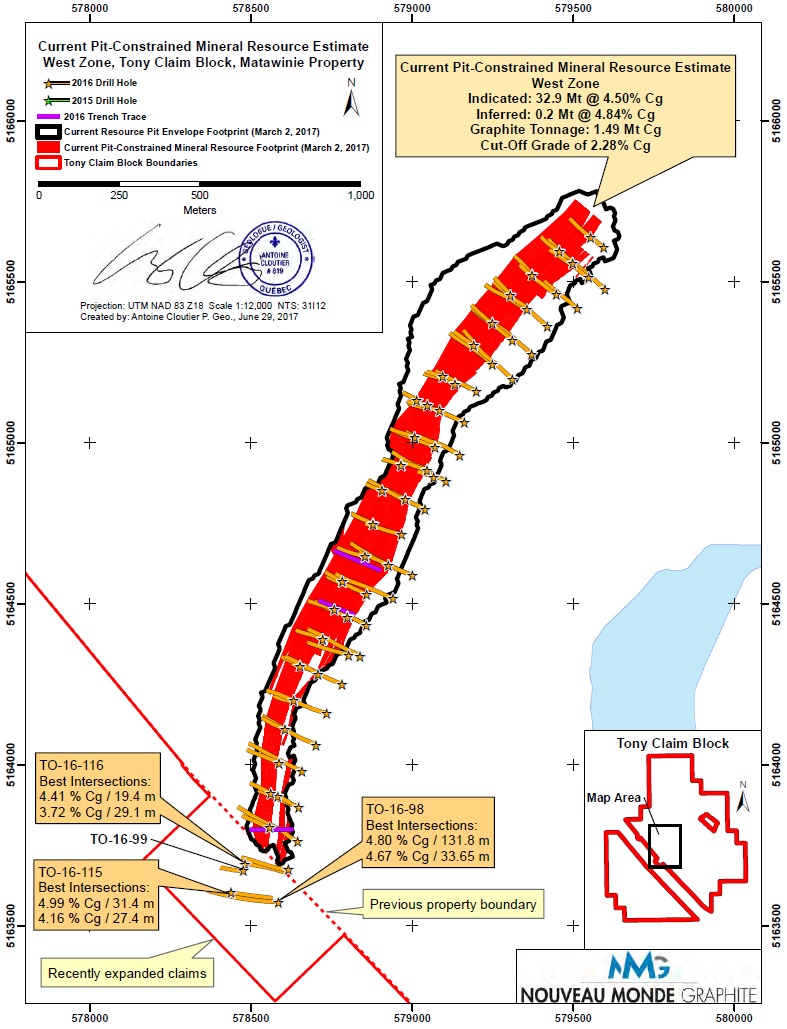 Other Developments
Nouveau Monde is aggressively advancing its Matawinie graphite Property on numerous fronts. It has completed a first round of geotechnical drilling in June. This was required to further optimize its mine plan. A hydrogeology field program is scheduled to start on July 3rd, it aims to characterize groundwater movement within the proposed pit. Results from environmental geochemistry test work have been received and will be incorporated in its prefeasibility study due for release in September 2017.
Desaulniers continued, "I am looking forward to publishing our new economic numbers in September which will highlight the value of our exceptional graphite deposit. Though the new mineralized zone will not be included in that study it will be included in future studies and is blue sky for our investors looking to see continuous improvements in future project economics."
Quality Control and Quality Assurance
The drilling program discussed in this Press Release was supervised by Bernard-Olivier Martel, P.Geo. (Québec), B.Sc. A strict protocol, including the insertion of duplicate and blank samples within the sample stream was adopted as part of a quality assurance and quality control (QA/QC) program. Graphite standards were also included within the core sampling protocol. Duplicate, blank and graphite standard sample results returned values within acceptable limits.
Mineralized core samples were chosen for analysis by Mr. Bernard-Olivier Martel. The mineralized drill core was split into quarters using a rock saw. The quarter core samples were then individually bagged and sent for analysis, and the remaining core was kept as a reference and for possible metallurgical testing. Samples were analyzed for graphitic carbon (Cg) content by a LECO analyzer (ALS code; C-IR18) at the ALS Minerals laboratory in North Vancouver (BC), Canada. This laboratory is ISO 9001:2008 and ISO 17025 accredited.
About Nouveau Monde
In 2015, Nouveau Monde discovered a graphite deposit on its Tony claim block, part of its wholly owned Matawinie graphite Property. This discovery resulted in the publishing of a Preliminary Economic Assessment, completed according to NI 43-101 guidelines, in June of 2016. This study demonstrated strong economics with a planned production of 50,000 tpy of high purity flake graphite over a period of 25.7 years which is expected to provide a solid operational margin and relatively low capital expenditures (see press release dated June 22, 2016). The Mineral Resource Estimate has since been updated, the current resource stands at 32.9 Mt grading 4.50% graphitic carbon (or "Cg") for the Indicated Category and 0.2 Mt grading 4.84 % Cg in the Inferred Category (see Press Release dated March 2, 2017). A prefeasibility study is currently underway targeting Nouveau Monde's West Zone deposit. The project is located in the Saint-Michel-des-Saints area, some 120 km north of Montreal, Quebec, Canada. It has direct access to all needed infrastructure, labour as well as green and affordable hydroelectricity. Nouveau Monde is developing its project with the highest corporate social responsibility standards while targeting a low environmental footprint (targeting a net zero carbon emission operation).
Follow the link below to subscribe to our stakeholder news feed: http://nouveaumonde.us12.list-manage.com/subscribe?u=f5e3304c32bfb54992fd9acce&id=603de466df
The technical information presented in this news release was prepared by Antoine Cloutier, P. Geo., Chief Geologist of Nouveau Monde Graphite and Qualified Person as defined by NI 43-101.