TORONTO, ONTARIO--(Marketwired - Feb. 13, 2017) - Torex Gold Resources Inc. (the "Company" or "Torex") (TSX:TXG) is pleased to announce the results of the first round of its step out drilling program for its Sub-Sill target. Highlighted intercepts from this program include 112.7 g/t Au over 3.9m and 23.9 g/t Au over 5.8m in borehole SST-15, 33.7 g/t Au over 2.9m in borehole SST-06, 23.0 g/t Au over 7.4m and 19.4 g/t Au over 16.0m in borehole ST-07, and 23.2 g/t Au over 4.1m in borehole SST-09.
Fred Stanford, President & CEO of Torex stated: "These encouraging high grade results indicate that the Sub-Sill mineralization is open to the north, south, and east, and is also open at depth. A resource estimate that includes today's results is expected to be completed in Q2/17. Another step out drill program is being planned and drilling is expected to commence this quarter. This program will also seek to probe the extension of mineralization at greater depths, and to identify the source of the magnetism that past studies have indicated is present." He added: "The 600 meter ramp to access the Sub-Sill has now advanced more than 250 meters and remains on schedule for completion by mid-year. The ramp will also continue to advance toward the El Limon Deep target that is under the El Limon pit, and above the ''Sill'. Mine planning is underway, and it is expected that processing of Sub-Sill material will commence before the end of the year."
Highlights from the step-out exploration drilling at the El Limon Sub-Sill
BH ID
Interval (m)
Interval Length (m)
Au (g/t)
Ag (g/t)
Cu (%)
Lithology
From
To
SST-06
68.15
71.06
2.9
33.7
12.1
0.3
Skarn
SST-07
140.78
148.13
7.4
23.0
31.9
1.2
Skarn
SST-07
256.76
272.80
16.0
19.4
28.2
1.0
Skarn
SST-09
118.39
122.50
4.1
23.2
25.6
1.2
Skarn
SST-10
64.50
80.00
15.5
14.9
2.4
0.0
Skarn
SST-15
114.65
120.45
5.8
23.9
4.2
0.1
Skarn
SST-15
134.58
138.49
3.9
112.7
39.2
1.3
Skarn
SST-36
274.53
285.12
10.6
9.1
36.2
3.4
Skarn
Note: True thickness of the mineralized zone is unknown and is reported as drill hole length
Please refer to Table 1 for a complete list and expanded description of the borehole intercepts reported in this press release. Refer to Figure 1 for general borehole location.
Figure 1. General Borehole Location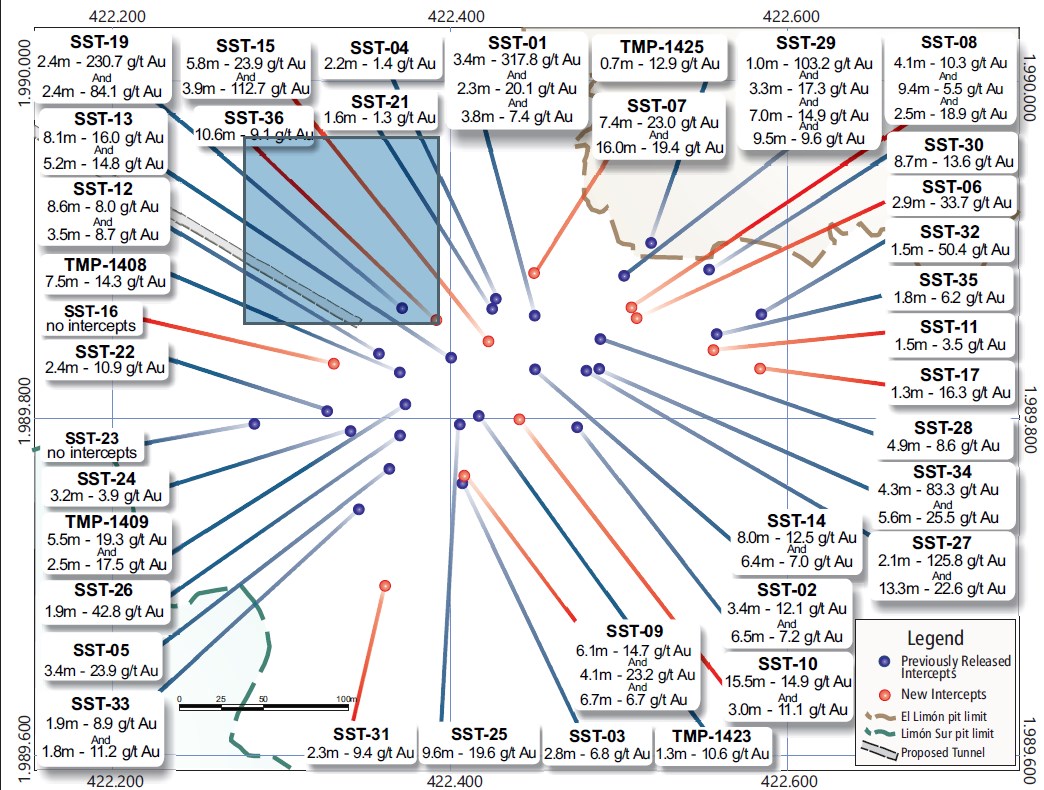 These are the final 11 holes of an initial 34 hole, 7,727 meter, diamond drill program to explore the high-grade mineralized area located between the El Limon and El Limon Sur ore deposits and under the El Limon Sill. This 34 hole program tested an area of approximately 350 meters by 150 meters. The positive results of the later holes of the initial drill program, confirm the continuity of the mineralization and the strength of the system as reported in the previous 23 holes. This new information indicates that the system remains open along strike, down-dip to the northwest and up-dip to the southeast. It also confirms the existence of high-grade mineralized skarns at greater depths. The mineralized areas are located between 30 and 285 meters below surface.
The El Limon Sill area occurs in the Mesozoic carbonate-rich Morelos Platform, which has been intruded by Paleocene granodiorite stocks, sills and dikes. Skarn-hosted gold mineralization is developed along the contacts of the intrusive rocks and the enclosing carbonate-rich sedimentary rocks. Structurally, the El Limon Sill target area as well as El Limon and El Limon Sur ore deposits are hosted in a graben bounded by La Flaca fault to the west and the Antena fault to the east, and both are considered to be potential feeders for the mineralization. At the El Limon Sill area, several skarn zones have been identified along the contacts of the carbonate rich sediments and marbles of the Cuautla and Morelos formations and sills fingering out from the main granodiorite stock. Individual high grade ore zones have been intercepted in all the different skarn horizons. Within the skarn zones individual ore shoots vary in strike length from approximately 50 meters up to 200 meters, with apparent widths varying from 2 meters to 27 meters.
Mineralization at the El Limon Sill area is primarily gold, associated with variable contents of silver and copper. Gold occurs in low and high sulfidized pyrrhotite rich skarns, while silver and copper mineralization is primarily determined by the degree of sulfidation of the host skarn. Mineralization is strongly associated with a late stage retrograde alteration characterized by amphiboles, chlorite, calcite ± quartz ± epidote, affecting pyroxene-garnet marble related exoskarn and granodiorite porphyry related endoskarn. Locally mineralization occurs in narrow lenses of massive sulfides.
QA/QC and Qualified Person
At the Morelos Gold Project, all of the El Limon Sill target analytical work is performed by SGS de Mexico S.A. de C.V. ("SGS") in Durango, Mexico and at SGS Mineral Services in Vancouver, British Columbia, Canada and ALS Chemex de Mexico S.A. de C.V.
Sample preparation is done at SGS sample preparation laboratory in Durango, Mexico. The gold analyses (fire assay with an atomic absorption or gravimetric finish) are completed at SGS analytical laboratory in Durango, Mexico and multi-element geochemical analyses are Copper Sequential Leaching are completed at their analytical facilities in Vancouver, British Columbia, Canada. Check assays samples are analyzed at ALS Chemex Vancouver, BC, Canada. SGS and ALS Chemex are independent of the Company.
The Company has a Quality Assurance/Quality Control ("QA/QC") program in place that includes 5% of each of the certified reference materials, blanks and field duplicates. 10% of pulp samples are analyzed at a second laboratory as part of the QA/QC program to ensure the batch to batch relative bias remains constant and that absolute accuracy at anomalous to near cut-off grades is measured and acceptable. The QA/QC program as designed has been approved by Bureau Veritas and is currently overseen by Carlo Nasi, Chief Mine Geologist for the Morelos Gold Project.
The scientific and technical data contained in this news release pertaining to the Morelos Project has been reviewed and approved by Mr. Mark P. Hertel as a Qualified Person under NI 43-101. Mr. Hertel is a Registered Member of the Society for Mining, Metallurgy & Exploration, has experience relevant to the style of mineralization under consideration and is an independent consultant. Mr. Hertel has verified the data disclosed, including sampling, analytical, and test data underlying the drill results and he consents to the inclusion in this release of said data in the form and context in which it appears.
Additional information on the El Limon deposit and analytical labs is available in the Company's most recent annual information form filed on SEDAR at www.sedar.com and the Company's website at www.torexgold.com.
Torex is an emerging intermediate gold producer based in Canada, engaged in the exploration, development and operation of its 100% owned Morelos Gold Property, an area of 29,000 hectares in the highly prospective Guerrero Gold Belt located 180 kilometers southwest of Mexico City. Within this property, Torex has the El Limón Guajes Mine, which announced commercial production in March of 2016 and the Media Luna Project, which is in an advanced stage of exploration, and for which the Company issued a preliminary economic assessment (PEA) in 2015. The property remains 75% unexplored.