Wealth Minerals Signs LOI to Acquire Laguna Verde Lithium Project
Wealth Minerals Ltd. (TSX.V: WML) (the "Company" or "Wealth") announces its wholly-owned Chilean subsidiary ("Wealth Chile") has entered into a letter of intent dated December 12, 2016 with arm's length vendors (the "Vendors"), whereby it has been given the exclusive right and option (the "Option") to acquire a 100% royalty-free interest in the mining concessions (the "Concessions") referred to as the Laguna Verde project ("Laguna Verde" or the "Project"). The Project comprises 23 Concessions for a total of 2,438 hectares and is located in Region III, northern Chile, 193 km east of the regional capital city of Copiapo, adjacent to Highway 60 and 15 km west of the border with Argentina (Figure 1).
Historical Inferred Resource
Previous operators have conducted exploration and sampling programs on the Project, including, sampling programs conducted in 2009 and 2010, which were used as the basis for a technical report dated May 5, 2010 prepared by John Hiner, Licensed Geologist and Registered Member of SME, for Pan American Lithium Corp. under National Instrument 43-101 ("NI 43-101"). The 2010 technical report includes disclosure of an inferred resource of 512,960 tonnes of lithium carbonate equivalent and 4,223,123 tonnes of potassium chloride equivalent (the "Historical Inferred Resource").
The Historical Inferred Resource is considered relevant because it was completed using standards consistent with current CIM guidelines as such relate to lithium brine resource estimation. In order to verify the Historical Inferred Resource, the Company has retained the author of the 2010 technical report to conduct a site visit to the Project in the first quarter of 2017 and thereafter to prepare a technical report under N1 43-101 addressed to the Company. The Company cautions that the Historical Inferred Resource is historical in nature and the Company is not treating such resources as a current mineral resource under NI 43-101. Investors are further cautioned that a qualified person has not yet completed sufficient work to be able to verify the Historical Inferred Resource as a current mineral resource, and therefore it should not be relied upon.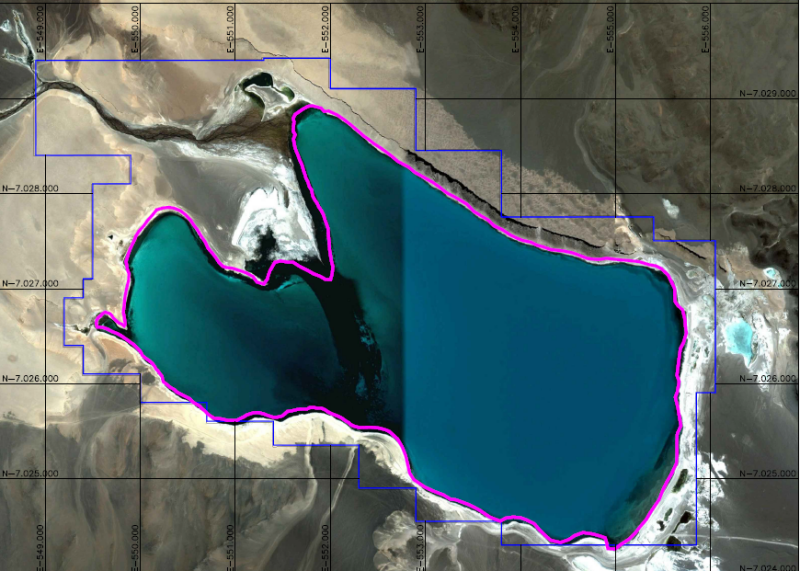 Figure 1: Laguna Verde Project Area (Blue Outline; 2,438 hectares).
Laguna Verde Details
Lithium brines, such as those produced from the Salar de Atacama, located in Region II of Antofagasta, northern Chile and in respect of which the Company currently has the exclusive right and option to acquire a 100% royalty-free interest in 144 exploration concessions thereon (see news release of November 23, 2016), generally occur in surface and sub-surface brines as well as in deeper brine aquifers. At Laguna Verde (translates to 'Green Lake') the principle target is the lake itself and the lake brines contain highly elevated lithium and potassium. Laguna Verde is in a similar geological setting to other lithium-bearing salars in Chile in that it is in a closed basin, surrounded by volcanic cones. The difference is that inflow of lithium-enriched brine is sufficient to maintain standing water. The lake is fed by active hot springs that appear to be the primary source of lithium, potassium and other metallic salts. Water depths vary from 0.5m to more than 60m, with an average depth of 33m calculated from bathymetric measurements.
The majority of sampling was undertaken in 2010 when detailed brine lake samples were collected from surface and from various depths on a pre-established grid of 500m or less (Figure 2). Surface water samples were collected using standard techniques whereas water samples taken at depth were collected using a Van Dorn Vertical Water Sampling Bottle allowing collection of undisturbed water samples from specific depths. A total of 78 samples were collected. The deepest sample was collected at 15m and extrapolation of resources was limited to 33m depth. Density of lake brines was found to be constant from surface to depth. The sample chemistry was also found to be consistent with a single data population and a standard deviation of only 6%. Average grades of 213 mg/l for lithium and 4,881 mg/l were used in calculation of the volumetric Historical Inferred Resource.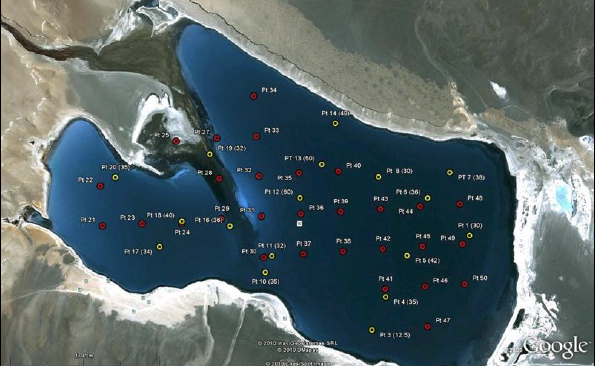 Figure 2: Map of brine sampling locations on Laguna Verde.
Commercial Terms
Subject to satisfactory completion of due diligence by the Company, Wealth Chile and the Vendors will enter into and execute a formal property option agreement (the "Option Agreement") whereby the Vendor will grant (the "Option Grant") to Wealth Chile the exclusive right and option to acquire one hundred (100%) percent legal and beneficial interest in and to the Concessions, free and clear of all liens charges and encumbrances in consideration of the payment of an aggregate of USD 5,000,000 and the delivery of an aggregate of 7,000,000 common shares of Wealth, to be paid and delivered as follows:
| | | |
| --- | --- | --- |
| Date | Cash | Wealth Common Shares |
| Signing | USD 700,000 | 1,000,000 shares |
| 12 months | USD 1,000,000 | 1,000,000 shares |
| 24 months | USD 1,000,000 | 1,000,000 shares |
| 36 months | USD 1,000,000 | 2,000,000 shares |
| 48 months | USD 1,300,000 | 2,000,000 shares |
| Total | USD 5,000,000 | 7,000,000 shares |

During the Option period, Wealth Chile will be responsible for maintaining the Concessions in good standing, and paying all fees and assessments, and taking such other steps, required in order to do so. There will be no other work commitments, and any work carried out on the Concessions will be at the sole discretion of Wealth Chile. Finder's fees in an amount equal to up to 5% of the aggregate value of the earn-in consideration for the Option to be paid and delivered by Wealth Chile are payable in connection with the Option Grant, which fees are payable in common shares of Wealth.
All Wealth common shares issued in connection with the Option will be subject to a hold period in Canada of 4 months and one day from the date of issuance.
Qualified Person
John Hiner, Licensed Geologist and Registered Member of SME, a qualified person as defined by NI 43-101, has reviewed the scientific and technical information that forms the basis for this news release and has approved the disclosure herein. Mr. Hiner is independent of the Company.
Private Placement
Wealth also announces that it has arranged a non-brokered private placement (the "Placement") of up to 909,090 common shares of the Company at a price of $1.10 per share for gross proceeds of up to $1,000,000. All shares issued in the Placement will have a hold period in Canada of four months and one day from the closing of the Placement. Cash finder's fees are payable on a portion of the Placement.
The net proceeds from the Placement are intended to be used to fund the Laguna Verde payments and for general and administrative expenses and working capital.
Completion of the Option Grant and the Placement and the payment of finder's fees in connection therewith are subject to the acceptance for filing thereof by the TSX Venture Exchange (the "TSX-V").
This news release does not constitute an offer of sale of any of the foregoing securities in the United States. None of the foregoing securities have been and will not be registered under the U.S. Securities Act of 1933, as amended (the "1933 Act") or any applicable state securities laws and may not be offered or sold in the United States or to, or for the account or benefit of, U.S. persons (as defined in Regulation S under the 1933 Act) or persons in the United States absent registration or an applicable exemption from such registration requirements. This news release does not constitute an offer to sell or the solicitation of an offer to buy nor will there be any sale of the foregoing securities in any jurisdiction in which such offer, solicitation or sale would be unlawful.
Option Grant
Pursuant to the Company's 2004 Incentive Stock Option Plan, the Company has granted incentive stock options to directors, officers, employees and consultants of the Company and its affiliates to purchase up to an aggregate of 1.5 million common shares in the capital stock of the Company. The options are exercisable on or before December 19, 2018 at a price of $1.12 per share.
About Wealth Minerals Ltd.
Wealth is a mineral resource company with interests in Canada, Mexico, Peru and Chile. The Company's main focus is the acquisition of lithium projects in South America. To date, the Company has positioned itself to develop the Aguas Calientes Norte, Pujsa and Quisquiro Salars in Chile (the Trinity Project), as well as to work alongside existing producers in the prolific Atacama Salar. The Company continues to aggressively pursue new acquisitions in the region. Lithium market dynamics and a rapidly increasing metal price are the result of profound structural issues with the industry meeting anticipated future demand. Wealth is positioning itself to be a major beneficiary of this future mismatch of supply and demand. The Company also maintains and continues to evaluate a portfolio of precious and base metal exploration-stage projects.
Source: Wealth Minerals