Endeavour Mining and Randgold Resources Form Joint Venture to Explore Sissedougou and Mankono Properties in Côte d'Ivoire
Abidjan, November 2, 2017 - Endeavour Mining (TSX:EDV) (OTCQX:EDVMF) and Randgold Resources Ltd (LSE:RRS) are pleased to announce that they have established a joint venture covering their adjacent Sissedougou and Mankono exploration properties located in the northern region of Côte d'Ivoire.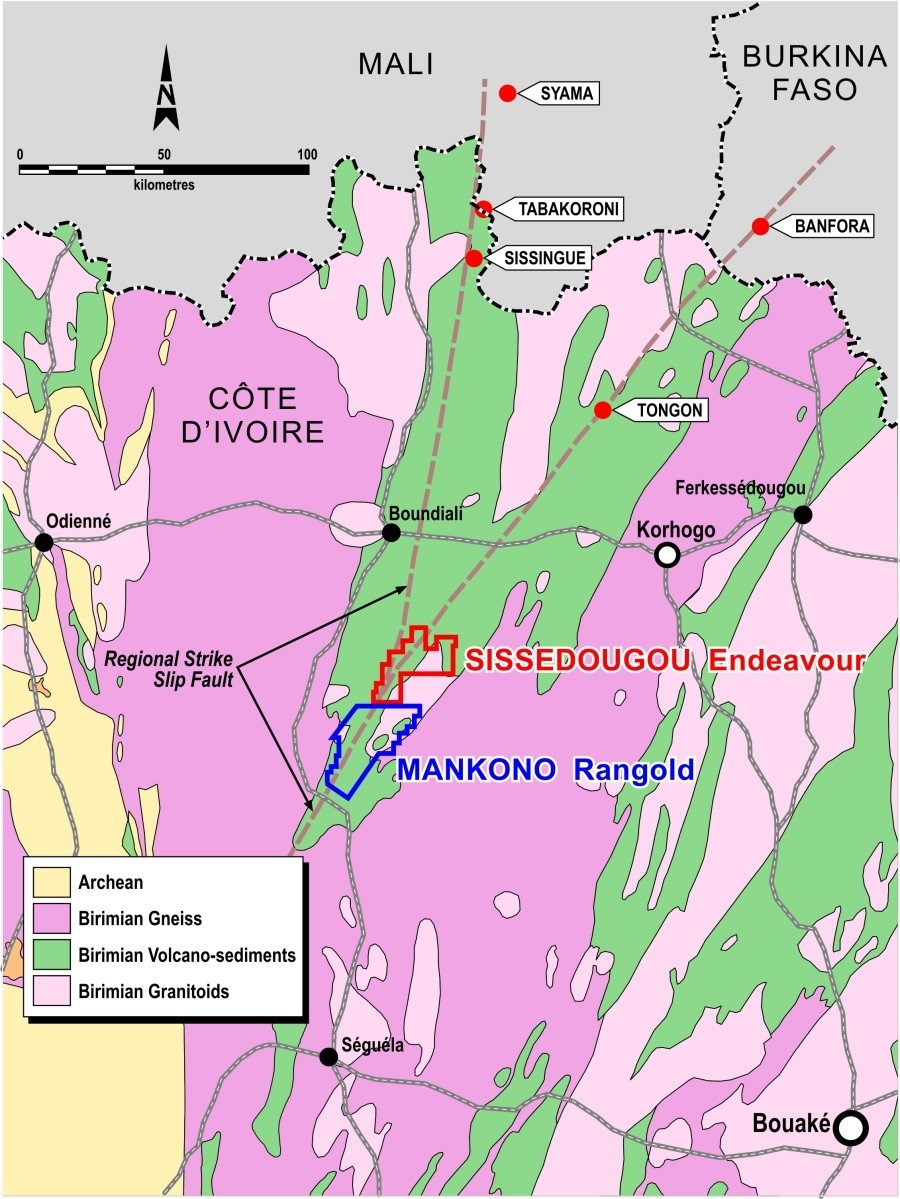 Sébastien de Montessus, President & CEO, stated: "As the two largest producers in Côte d'Ivoire, with a strong presence in West Africa, both companies welcome the opportunity to increase their cooperation. This JV will allow us to accelerate exploration on our Sissedougou property while we continue to focus our efforts on our 100%-controlled 80km corridor along our Ity mine, which our exploration strategic review identified as our highest priority."
Under the terms of the agreement, Randgold and Endeavour will hold respectively a 70% and 30% interest in the newly formed joint venture. Randgold will be the joint venture operator and both parties will contribute to the annual exploration budget in accordance with their shareholdings. A $3.8 million exploration campaign has been approved for the remainder of 2017 and 2018.
ABOUT THE EXPLORATION JV PROPERTIES
The adjacent Sissedougou and Mankono exploration properties are located in the northern region of Côte d'Ivoire, at the contact of the shear zone hosting the Tongon mine and the shear zone hosting the Sissingue project and Syama mine.
The Sissedougou property was transferred from La Mancha to Endeavour in late 2015. After nearly 4 years of exploration inactivity, Endeavour re-initiated exploration in 2017 as part of its greenfield program. Sissedougou's potential was initially confirmed with a first 3,378-metre drilling program carried out by La Mancha in 2011, as drill results suggested the presence of an 800-metre mineralized structure.
Selected best drill results at Sissedougou, as published by La Mancha in 2012 (click here to view the press release), were[1]:
34.6 m @ 2.08 g/t Au at 74.6 m, including 1.0 m @ 31.52 g/t Au
18.8 m @ 2.30 g/t Au at 26.1 m
23.0 m @ 2.14 g/t Au at 112.6 m, including 2.0 m @ 10.70 g/t Au
Randgold confirmed the exploration potential of the Mankono property as its trenching program intercepted a mineralised system over a 300m wide corridor and 1km strike.[2]
QUALIFIED PERSONS
The scientific and technical content of this news release has been reviewed, verified and compiled by Gérard de Hert, EurGeol, Senior Vice President Exploration West Africa for Endeavour Mining. Gérard de Hert has more than 19 years of mineral exploration and mining experience, and is a "Qualified Person" as defined by National Instrument 43-101 - Standards of Disclosure for Mineral Projects ("NI 43-101").
ABOUT ENDEAVOUR MINING CORPORATION
Endeavour Mining is a TSX listed intermediate African gold producer with a solid track record of operational excellence, project development and exploration in the highly prospective Birimian greenstone belt in West Africa. Endeavour is focused on offering both near-term and long-term growth opportunities with its project pipeline and its exploration strategy, while generating immediate cash flow from its operations.
Endeavour operates 5 mines across Côte d'Ivoire (Agbaou and Ity), Burkina Faso (Karma), Mali (Tabakoto), and Ghana (Nzema) which are expected to produce 600-640koz of gold at an AISC of US$860-905/oz in 2017. Endeavour's high quality development projects (Hounde, Ity CIL and Kalana) have the combined potential to deliver an additional 600koz per year at an AISC well below $700/oz between 2018 and 2020. In addition, its exploration program aims to discover 10-15Moz of gold by 2021 which represents more than twice the reserve depletion during the period.