Canada's Golden Triangle is Back and the Rush is on
International Samuel Exploration (TSX.V: ISS / OTC: ISSFF / FKT: RFC2) establishes itself as the most exciting new explorer in the region with the acquisition of a district-scale land position.
Already host to multiple multi-million ounce gold deposits, the Golden Triangle region in northern British Columbia is in the midst of a good ol' fashion junior miner staking rush.
Underpinned by the GT Gold Saddle South discovery this summer, along with recent high-grade drill results from Colorado Resources, junior miners with a Golden Triangle zip code are the current market darlings of the TSX Venture. GT Gold has gained more than 600% inside of three months on the back of just a single round of drill results.
Figure 1. GT Gold Stock Chart (+646%)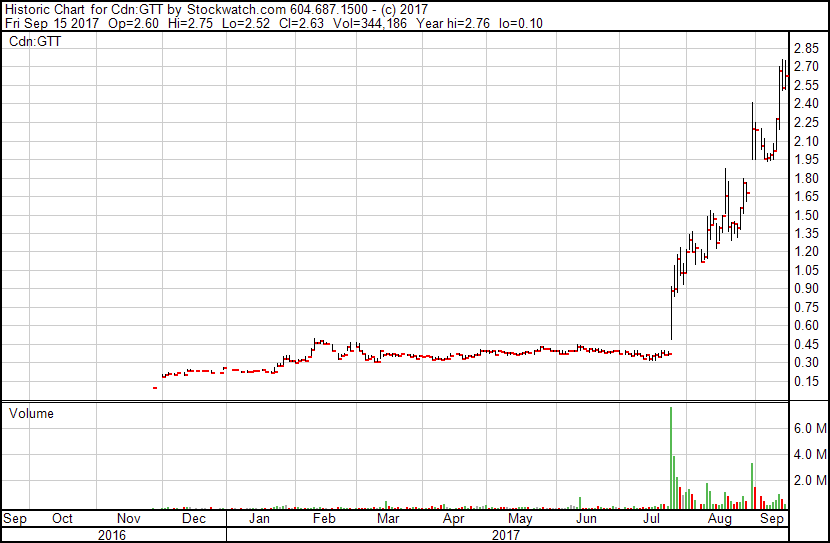 The renewed optimism is exciting for a variety of reasons, the biggest of which is the proven mineral endowment of the region. It's not as if the Golden Triangle is a greenfield discovery.
In fact, the region is already home to numerous past and currently producing mines, including the historic Eskay Creek camp along with the high-grade Brucejack mine operated by Pretium Resources (PVG.TO), which announced commercial production in July.
Additionally, numerous advanced stage projects are maneuvering their way through permitting, including the KSM Project being developed by Seabridge Gold and the Galore Creek project being advanced through a joint venture between NovaGold and Teck Resources.
Figure 2. BC's Golden Triangle Map (Photo courtesy of International Samuel Exploration)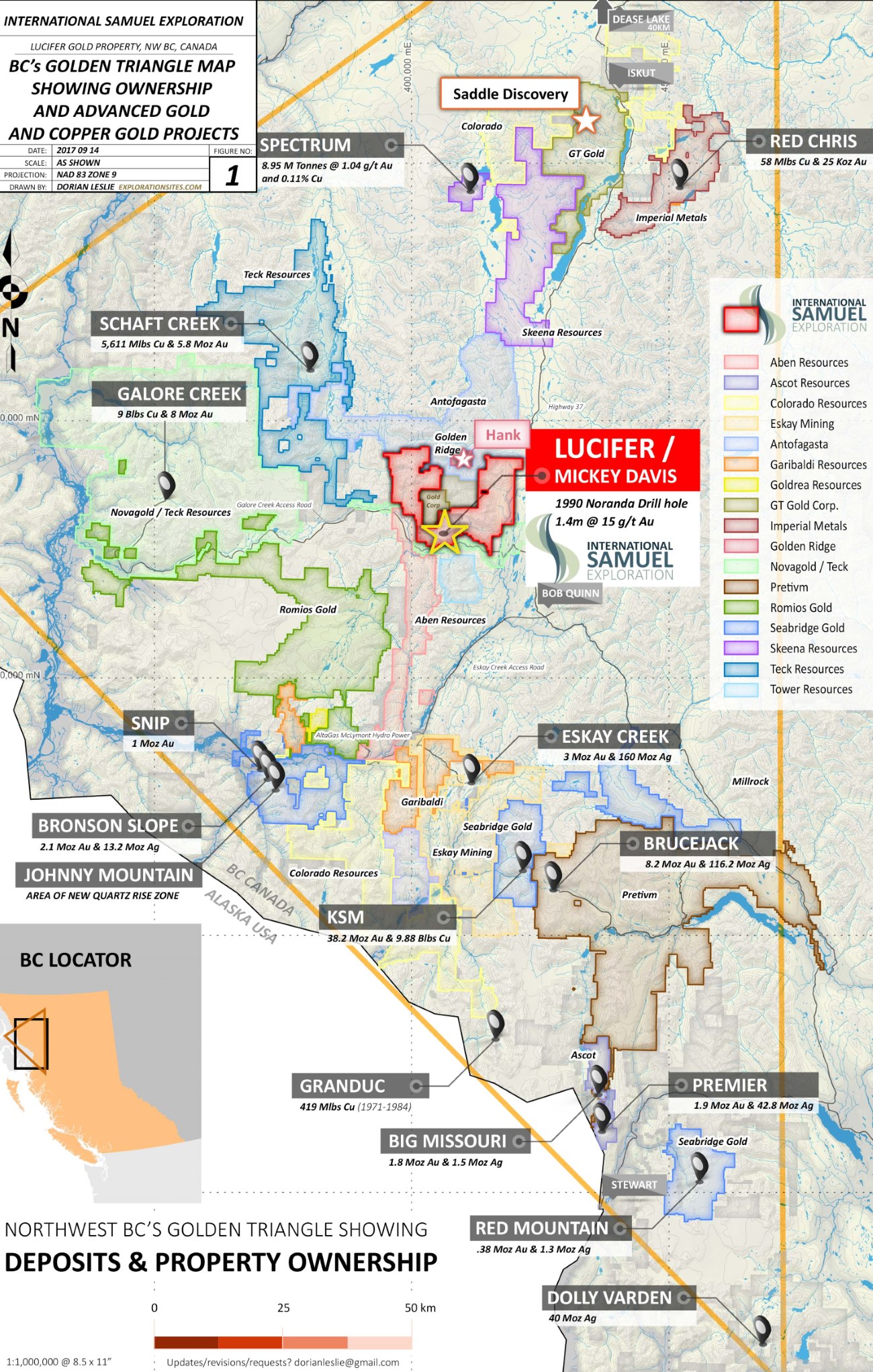 But all of the recent excitement in the Golden Triangle is coming from grassroots exploration efforts. In response, a slurry of junior miners have begun acquiring large land positions and putting drill rigs to work. Below are some of the hottest Golden Triangle plays:
Garibaldi Resources is drilling near the Eskay Creek camp at its 100% owned E&L project. The company says it has intersected two long intervals of nickel-copper sulphide mineralization totaling 176 meters in its first drill hole at E&L. Assay results are still waiting, but investors aren't. The stock has risen in value by more than 800% inside of two months.
Figure 3. Garibaldi Resources Stock Chart (+822%)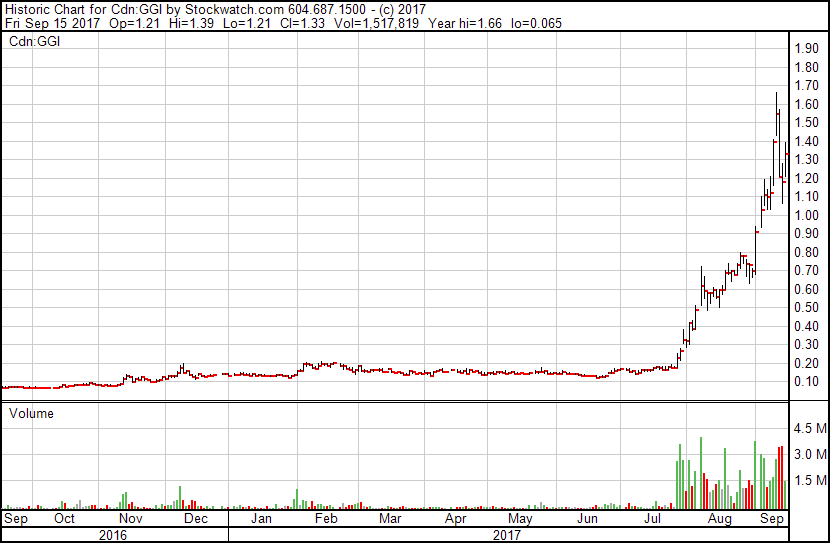 Metallis Resources is also active in the Golden Triangle. The company is currently drilling the Cliff porphyry target at its 100% owned Kirkham property. Metallis has reported that initial examination of drill core intersected mineralized monzonite throughout. Core has been split and sent to the assay lab for analysis. The company also recently reported that field reconnaissance has identified several outcropping gabbroic units across an 800 meter strike length. Assays results are pending.
Figure 4. Metallis Resources: Up 450% inside of 2 months

Core drilling is also underway at the Pyramid project in northern British Columbia, where OK2 Minerals plans to complete 2,000 meters of diamond drilling before year end. Having already finished a small reverse-circulation program earlier this year, OK2 has high hopes to drill a discovery hole on its refined porphyry targets at Pyramid.
Aben Resources is exploring its 23,000-hectare Forrest Kerr project in the Golden Triangle. The company recently expanded its 2017 drill program and is also awaiting assay results from what it noted was several intersections of discrete zones of massive quartz veins and quartz-sulphide vein breccias, both of which have historically been associated with high grade gold mineralization in the region. The Forest Kerr project is located adjacent to the historic Eskay Creek camp.
Investors are also paying attention to drill results just released by Colorado Resources, which assayed an eye-whopping 4,470 g/t gold over a half meter at its KSP project.
Other junior miners exploring the Golden Triangle include:
Ascot Resources
Auryn Resources
Decade Resources
Dolly Varden Silver
Eskay Mining
IDM Mining
Jaxon Mining
Millrock Resources
Tower Resources
Tudor Gold
Think you missed the Golden Triangle boat? Think again.
The newest junior moving into the Golden Triangle zip code is International Samuel Exploration (TSX.V: ISS / OTC: ISSFF / FKT: RFC2). The company just announced that it has consolidated a district-scale land position in the heart of the region. The acquisition immediately positions the company as one of the most compelling stories in the Golden Triangle.
With a contiguous land package now spanning over 24,000 hectares, including 35 kilometers bordering the Ball Creek project where mining giant Antofagasta plc (ANTO.L) is spending US$31 million to earn in, ISS.V is sitting on premium ground that could host the Golden Triangle's next big discovery.
The consolidated land package combines two exploration projects where numerous gold and copper occurrences were identified throughout the 1990's.
According to historic reports, at one of the projects Noranda identified a 400-meter wide, 1.2-kilometer northeast trending mineralized zone. Follow up drilling by Noranda on this zone delivered promising early-stage results as well. No company has since conducted any serious exploration to follow up on these hits.
Understanding the significant exploration potential of this key ground, ISS isn't wasting any time getting to work. The company has already dispatched a field crew to conduct field reconnaissance and geophysical surveys, which will help to identify high priority drill targets and prepare the company to complete an initial phase of exploration drilling.
Leading the charge is Chairman of the Board Conrad Swanson. Previously, Mr. Swanson was a part of the Richfield Ventures' Blackwater discovery, which was acquired by New Gold (NGD.TO) in 2011 for C$550 million. He is now looking to replicate similar success at ISS, where he hopes to make an exciting new discovery in a region where major mining companies are moving in quickly.
"We are once again tremendously excited by the early prospects of another emerging exploration camp within British Columbia. The land positions International Samuel Exploration Corp. has acquired position us as an upcoming exploration leader in the world-class Golden Triangle district," says Swanson. "We believe that the Company is well positioned among the contenders for the next large gold discovery in the region."
GT Gold was trading at less than $0.30 per share this summer before announcing the Saddle South discovery. It now trades closer to $3.00 per share. Garibaldi Resources, which has yet to even release assay results from its drill program, has increased in price from $0.18 to $1.66 per share inside of two months. Early investors in these stocks have enjoyed spectacular returns to date.
With just 27 million shares outstanding and its share price around $0.14, ISS could represent a low-cost way for investors to gain early-stage exposure within the Golden Triangle.