Berkwood Resources Completes Phase I Drilling at Lac Gueret Project
October 17th, 2017 / TheNewswire / VANCOUVER, B.C. Berkwood Resources Ltd. (TSX-V: BKR, FSE: BR2N, WKN: A110N3) ("Berkwood" or the "Company") is pleased to announce that it has completed Phase 1 of the drill program on its Lac Gueret Project (the "Project").
A total of 13 planned diamond drill holes were completed from nine (9) separate drill sites for a total of 1,806.54m drilled. Targeted graphite ("Cgr") was intersected in every hole drilled. The project, which includes extensions, announced on September 6th, totals 19,884Ha covered by 368 claims surrounding a planned-to-be producing graphite deposit.
Shareholders can view two videos, one of them in virtual reality, shot on location during Phase 1 of the drill program by visiting the Company's website. Both videos are located on Berkwood's home page at the bottom: www.berkwoodresources.com.
This release documents significant intervals and ideas arising from work on Section 3300E, the easternmost section drilled thus far. The final three drill holes were each drilled from a separate prepared drill site located about 100m apart: each hole was aligned on a 360? azimuth and inclined at about -45?. Hole BK1-11-17 (144.78m in length to End of Hole ("EOH") intersected 2 short graphite schist intercepts between 19.88 and 24.17m (4.29m) and 86.27 - 89.06m (2.84m). Hole BK1-12-17 (150.88m to EOH) returned five Cgr intercepts between 25.32 - 33.93m (8.61m), 54.71 - 56.39m (1.68m), 83.38 - 84.74m (1.35m), 97.22 - 98.96m (1.74m) and 137.59 - 144.23m (11.67m). Hole BK1-13-17 (150.88 m to EOH) returned five Cgr intercepts between 7.47 - 8.29m (0.82m), 37.47 - 49.91m (12.44m), 97.76 - 109.38m (11.62m), 117.60 - 124.38m (11.78m) and 124.38 - 141.79m (17.41m). Drilling on Section 3300E is of lower hole density than on Sections 3200E and 3100E previously reported, with drilling being undertaken subject to two current drilling permits issued by regulators in Quebec.
The Company has submitted 381 samples (comprising 263 graphite samples, 98 bracket samples, and 10 each of duplicate core samples and field blank QA/QC material) to MS Analytical Laboratories in Langley, BC. The samples were shipped as a single shipment comprising two batches under a single chain of custody protocol.
The Lac Gueret Project is located in Cote-Nord, Quebec, a three hour drive from Baie-Comeau in an area of very good infrastructure. The Project directly borders Mason Graphite's (TSX-LLG) advanced Lac Gueret Project to the South. Berkwood is targeting airborne and ground conductive anomalies at the Lac Gueret South's Zone 1 location as part of this initial program, where two distinct electromagnetic conductors appear to occur over a two kilometer strike length. The extent of the conductors and certain historic grab samples that returned visible graphite corroborated by laboratory assays motivated the present drilling program. The Company also has well developed targets at Lac Gueret South's Zone 2, which is located immediately south of the Mason Graphite claim boundary and along strike from the graphite zones of Mason Graphite. Zone 2 has not been drilled yet but is fully permitted and drilling is planned for the upcoming Phase 2 drill program. Shareholders can view the Company's entire land position in relation to Mason Graphite and other landholders at the Company's website, (refer http://berkwoodresources.com/wp-content/uploads/2017/08/2017-Berkwood-Location-and-Neighbours-Map-Topo.pdf ).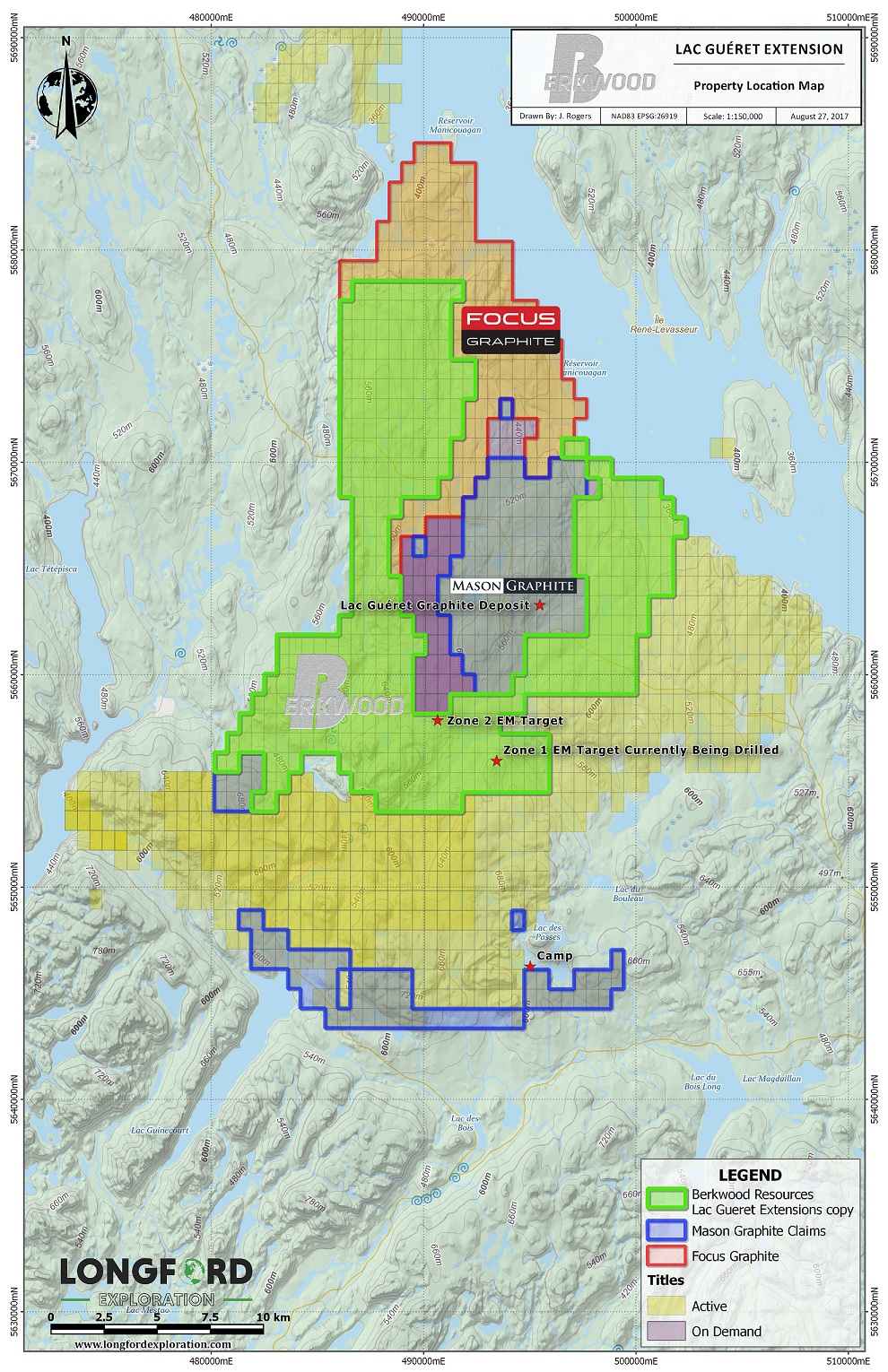 Edward Lyons PGeo (BC, QC, NL) is a Qualified Person under the definition of Canadian National Instrument 43-101, and has approved the technical information in this news release.
Tom Yingling, President and CEO states, "I am pleased to provide confirmation that we have intersected graphite in all of the thirteen holes in our first drill program. The electromagnetic conductors have proven very effective in identifying mineralized targets for drilling, and I would like to again recognise the discovery team, including Ed Lyons (our project lead and QP), James Rogers (Longford Exploration) and our advisor Mr. Michel Robert. I look forward to moving the drill over to our Zone 2 target and commencing drilling on it. In addition I look forward to our team developing an effective exploration strategy on Berkwood's recently acquired Vanadium property as well as continuing work on our Cobalt and Lithium projects as well."
About the Company: Berkwood is engaged in exploration for the commodities that enable the modern revolution in essential technologies. These technologies are dependent upon the ethical mining and supply of naturally occurring elements and minerals that enhance the performance of energy storage systems and permit the development and miniaturization of new electronics and structural components for the new suite of innovative tools. The Company is led by a team with collectively over 100 years experience and have been involved with numerous discoveries of producing mines.