Probe Metals Increases Gold Resource to 682,400 ounces Indicated at 2.35 g/t gold and 722,100 ounces Inferred at 2.41 g/t gold at the Val-d'Or East Project, Quebec
Highlights:
Significant increase in the Mineral Resource Estimate
Open Pit-Constrained resource at 0.5 grams of gold per tonne ("g/t Au") cut-off:

535,900 ounces of gold averaging 2.16 g/t Au in the Indicated Resource category
247,400 ounces of gold averaging 1.46 g/t Au in the Inferred Resource category

Underground resource at 1.95 g/t Au cut-off:

146,500 ounces of gold averaging 3.44 g/t Au in the Indicated Resource category
474,700 ounces of gold averaging 3.65 g/t Au in the Inferred Resource category
Five drill rigs currently in operation focused on resource expansion and the discovery of new gold deposits
TORONTO, Feb. 20, 2018 (GLOBE NEWSWIRE) -- Probe Metals Inc. (TSX-V: PRB) (OTCQB:PROBF) ("Probe" or the "Company") is pleased to announce the release of an Updated Resource Estimate for its 100% owned Val-d'Or East project (the "Project") located near Val-d'Or, Quebec. This resource estimate was independently prepared by GéoPointCom in accordance with National Instrument 43-101 ("NI 43-101") and is dated February 20, 2018. The deposits have shown significant improvement over the previous resource estimate and remain open in all directions for future expansion. Five drills will be active throughout 2018 on further expansion and discovery. A summary of the resource and breakdown by zones are presented in Table 1 and 2, respectively.
David Palmer, President and CEO of Probe, states "After only a year of drilling, the results of the Updated Resource are very encouraging, returning not only a significant increase in gold ounces but also a higher confidence in the deposit through the upgrade of Inferred ounces to Indicated, which now represents half of the current resources. The Updated Resource also indicates an attractive growth profile for the New Beliveau deposit and suggests the potential for the project to achieve a stand-alone scale in the future. With this goal in mind, we are already working towards the next updated resource estimate, with five drill rigs turning on the project during 2018, and will keep investors updated on our progress."
Table 1: February 2018 Summary of Resources – Val-d'Or East Property
Deposit / Category
Open Pit-Constrained
Underground
Total
Tonnes
Grade
(Au g/t)
Gold
(oz.)
Tonnes
Grade
(Au g/t)
Gold
(oz.)
Tonnes
Grade
(Au g/t)
Gold
(oz.)
Indicated
7,710,300
2.16
535,900
1,325,900
3.44
146,500
9,036,200
2.35
682,400
Inferred
5,259,500
1.46
247,400
4,044,400
3.65
474,700
9,303,900
2.41
722,100
The Updated Resource Estimate comprises resources found within a surface expression of 2.5 km in length and 1 km in width to a vertical depth, locally, of 1 km along the Pascalis Gold Trend (See Figure 1 and 2). The resource estimate includes four deposits: New Beliveau (including the former L.C. Beliveau mine), North Zone, Highway and the newly discovered South Zone. The majority of the new resource estimate occurs within the central New Beliveau deposit, which totals 600,000 ounces of gold in the Indicated category and 531,500 ounces of gold in the Inferred category. As part of the resource estimation process, the Company and GeoPointCom compiled, verified and modelled all technical information available from the Project, including 1,361 drill holes consisting of 105,221 gold assays, which represented 210,163 metres of drilling, and 634 surface channel samples. A 3D geological model was also built for the North-South sub-vertical dykes and East-West shallow dipping to the south veins and included two key structures hosting gold mineralization along the Pascalis Gold Trend (See Figure 3). An economic pit shell at 0.5 g/t Au cut-off grade was used to determine the pit constrained mineral resource (See Figure 4).
Table 2: February 2018 Detailed Resources – Val-d'Or East Property
Deposit / Category
Open Pit-Constrained
Underground
Total
Tonnes
Grade
(Au g/t)
Gold
(oz.)
Tonnes
Grade
(Au g/t)
Gold
(oz.)
Tonnes
Grade
(Au g/t)
Gold
(oz.)
New Beliveau Deposit
Indicated
6,284,000
2.29
463,600
1,226,700
3.46
136,400
7,510,700
2.48
600,000
Inferred
3,114,100
1.57
156,700
3,101,600
3.76
374,800
6,215,700
2.66
531,500
North Deposit
Indicated
805,700
1.49
38,700
32,000
2.62
2,700
837,700
1.54
41,400
Inferred
1,516,000
1.39
68,000
304,000
3.16
30,900
1,820,000
1.69
98,900
Highway Deposit
Indicated
620,600
1.68
33,600
67,200
3.43
7,400
687,800
1.85
41,000
Inferred
523,200
1.08
18,100
225,600
3.32
24,100
748,800
1.75
42,200
South Deposit
Indicated
--
--
--
--
--
--
--
--
--
Inferred
106,200
1.35
4,600
413,200
3.38
44,900
519,400
2.97
49,500
Notes:
Mineral Resources are reported at a cut-off grade of 0.5 g/t Au for the open pit-constrained and 1.95 g/t Au for the underground scenarios. These cut-offs were calculated at a gold price of US$1,316 per troy ounce and an exchange rate of USD/CAD of 1.25 (long term analysts' consensus prices).
The resource is supported by statistical analysis with high-grade capping at 100 g/t applied on one (1) meter composites.
The mineral resource presented here were estimated with a block size of 7m X 7m X10m. The cells are estimated by Ordinary Kriging using the appropriate variogram model of each structure as well as a 60X60X20 search ellipsoid lying on the best fit of each structure.
The mineral resources presented here were estimated using the Canadian Institute of Mining, Metallurgy and Petroleum (CIM) standards on Mineral Resources and Reserves definitions and guidelines.
Mineral resources which are not mineral reserves do not have demonstrated economic viability. The estimate of mineral resources may be materially affected by environmental, permitting, legal, title, market or other relevant issues.
The quantity and grade of reported Inferred Resources are uncertain in nature and there has not been sufficient work to define these Inferred Resources as Indicated or Measured Resources.
Underground voids (shaft, ramp and drifts) were modeled from historical mine plans and adjusted according to positions of drill intersections in stopes and drifts. Historical underground production has been subtracted from the resource estimate.
Tonnage estimates are based on rock densities of 2.8 tonnes per cubic metre. Results are presented undiluted and in situ.
This mineral resource estimate is dated February 20, 2018 and the effective date for the drillhole database used to produce this updated mineral resource estimate is December 16th, 2017. Tonnages and ounces in the tables are rounded to nearest hundred. Numbers may not total due to rounding.
Additional details will be provided in the technical report.
To view the surface map, a longitudinal section, the current geological model and the updated resource block model of the Pascalis Gold Trend mineral deposits please follow the links below:
Figure 1: Surface Map – Pascalis Gold Trend Area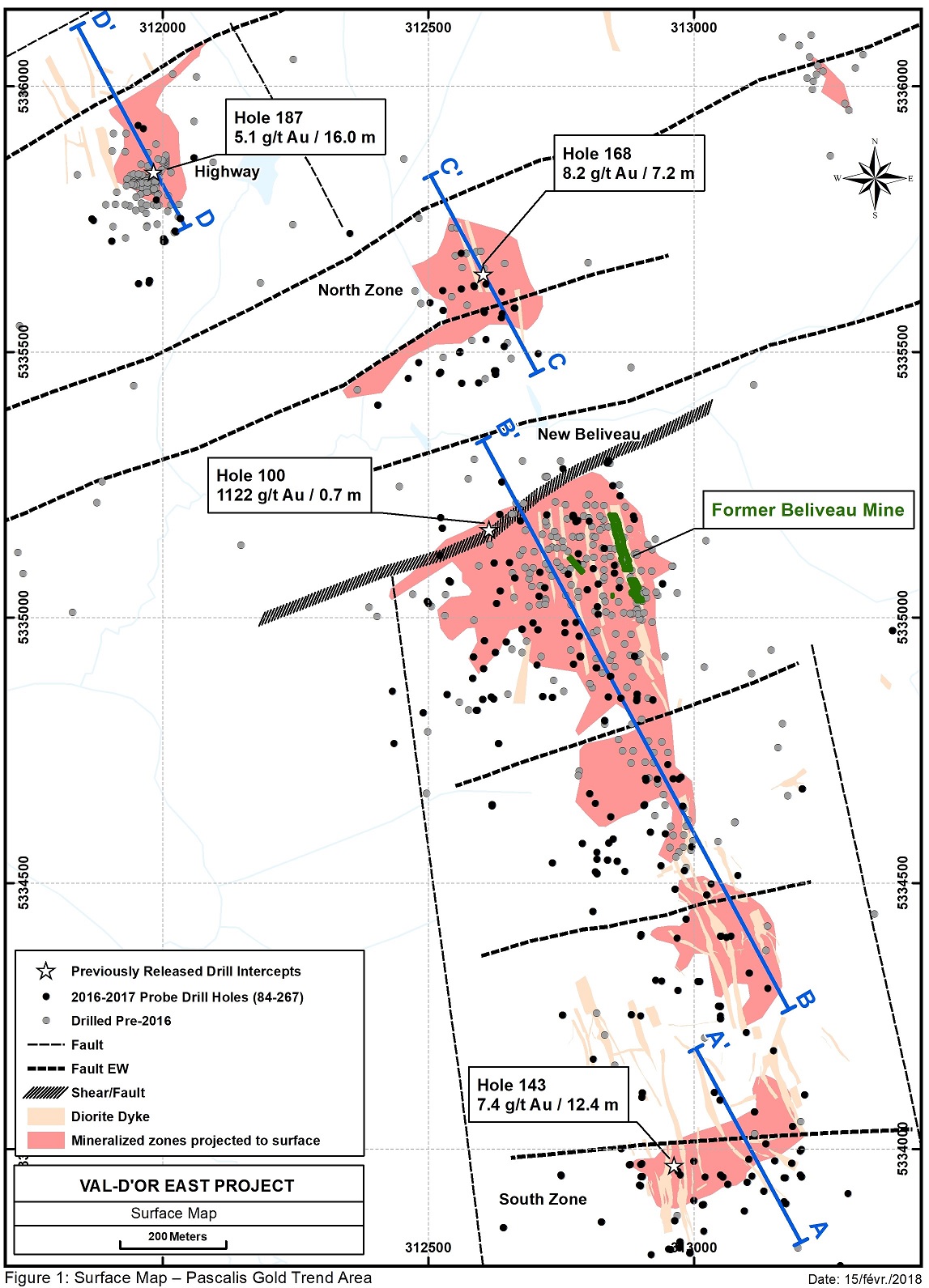 Figure 2: Longitudinal Section – Pascalis Gold Trend Area

Figure 3: Geological Model – Pascalis Gold Trend Area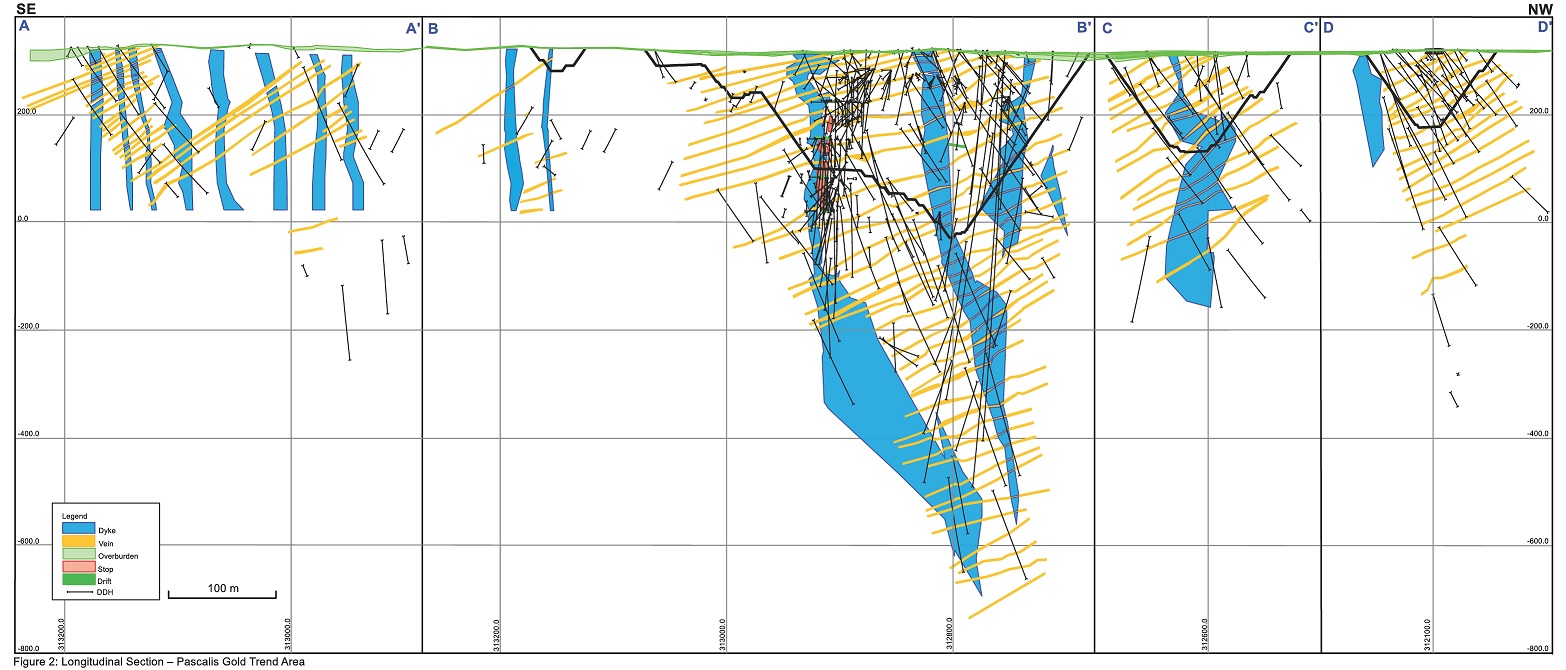 Figure 4: Block Model – Pascalis Gold Trend Area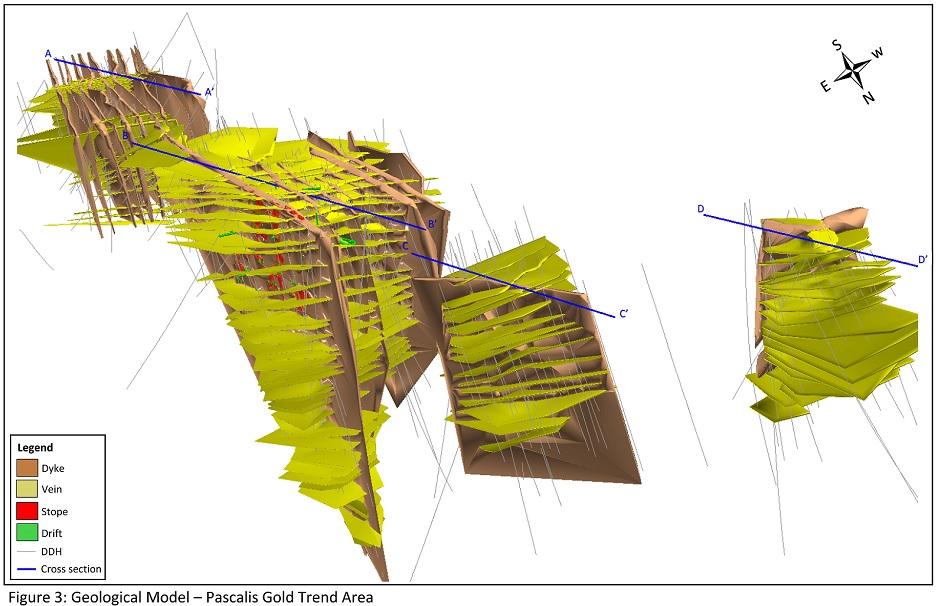 For the complete 2016-2017 drilling results used for this resource estimate, click link below:
https://www.probemetals.com/site/assets/files/1383/table_assay_results_pr_-_february2018_-ni43-101_1.pdf

The following sensitivity table presents the Resource Estimate at different cut-offs.
Table 3: February 2018 Resource Sensitivity by Cut-Off Grades - Val-d'Or East Property
Cut-Off Grade
Tonnes
Grade
(Au g/t)
Ounces (oz.)
Tonnes
Grade
(Au g/t)
Ounces (oz.)
Open Pit-Constrained

0.3
Indicated
10,418,300
1.70
569,900
Inferred
7,032,300
1.19
269,600
0.5
7,710,300
2.16
535,900
5,259,500
1.46
247,400
0.7
6,147,600
2.56
506,100
3,804,300
1.80
220,000
1
4,786,000
3.05
469,600
2,524,100
2.29
185,500
Underground

1.75
Indicated
1,528,000
3.23
158,600
Inferred
4,675,000
3.41
512,200
1.95
1,325,900
3.44
146,500
4,044,400
3.65
474,700
2.15
1,169,700
3.62
136,200
3,546,800
3.88
442,100
2.45
954,600
3.92
120,300
2,967,800
4.19
399,800
Comparison with November 2012 Resource Estimate
In 2012, a first NI 43-101 resource estimate was completed on the Project over the New Beliveau, North and Highway deposits. This resource was reported at variable cut-offs: open-pit prospect with cut-off grade of 1.0 g/t Au above 350m depth and underground mining perspective with cut-off grade of 1.5 g/t Au below 350m depth (Table 4). The following tables have been prepared to show the variance in tonnage, grade and ounces since the last resource estimate was completed.
Table 4: Val-d'Or East Property - 2012 Detailed Resource Estimate
Category
Deposit
Tonnes
Grade
(Au g/t)
Gold
(oz.)
Inferred
New Beliveau
7,240,000
2.87
668,000
Highway
780,000
1.84
45,000
North
1,110,000
1.61
57,000
Total
9,130,000
2.63
770,000
Table 5: Val-d'Or East Property –
2018 Resource Estimate Compared to 2012 Resource Estimate
Category

Resource Year

Open Pit-Constrained
Underground
Total
Cut-off Grade
Tonnes
Grade
(Au g/t)
Gold
(oz.)
Cut-off Grade
Tonnes
Grade
(Au g/t)
Gold
(oz.)
Tonnes
Grade
(Au g/t)
Gold
(oz.)
Indicated
2012
n/a
n/a
n/a
n/a
n/a
n/a
n/a
n/a
n/a
n/a
n/a
2018
0.5
7,710,300
2.16
535,900
1.95
1,325,900
3.44
146,500
9,036,200
2.35
682,400
Inferred
2012
0.7
4,340,000
2.38
332,400
1.50
3,910,000
3.13
394,000
8,250,000
2.63
726,400
2018
0.5
5,259,500
1.46
247,400
1.95
4,044,400
3.65
474,700
9,301,900
2.41
722,100
* The reader is cautioned that the quantities and grade estimates in the Table 5 should not be misconstrued with a Mineral Resource Statement. The figures are presented only to show the variance between the November 2012 and February 2018 estimates.
Qualified Persons
The following people have reviewed this press release and approved the technical content and are deemed qualified persons as defined by National Instrument 43-101 - Standards of Disclosure for Mineral Projects ("NI 43-101"): Mr. Christian D'Amour, P.Geo., from GeoPointCom and Mr. Marco Gagnon, P.Geo., Executive Vice President of Probe Metals Inc. Mr. Christian D'Amours is responsible for the completion of this mineral resource estimation.
Quality Control
During the 2016 and 2017 drilling program, assay samples were taken from the NQ core and sawed in half, with one-half sent to a certified commercial laboratory and the other half retained for future reference. A strict QA/QC program was applied to all samples; which includes insertion of mineralized standards and blank samples for each batch of 20 samples. The gold analyses were completed by fire-assayed with an atomic absorption finish on 50 grams of materials. Repeats were carried out by fire-assay followed by gravimetric testing on each sample containing 5.0 g/t gold or more. Total gold analyses (Metallic Sieve) were carried out on the samples which presented a great variation of their gold contents or the presence of visible gold. Historical drilling program assay sampling procedures are disclosed in the NI 43-101 technical report: Mineral Resource Val-d'Or East Property - January 4, 2013.
About Probe Metals:
Probe Metals Inc. is a leading Canadian gold exploration company focused on the acquisition, exploration and development of highly prospective gold properties. The Company is committed to discovering and developing high-quality gold projects, including its key asset the Val-d'Or East Gold Project, Quebec. The Company is well-funded and controls a strategic land package of approximately 1,000-square-kilometres of exploration ground within some of the most prolific gold belts. The Company was formed as a result of the sale of Probe Mines Limited to Goldcorp in March 2015. Goldcorp currently owns approximately 13.7 % stake in the Company.
On behalf of Probe Metals Inc.,

Dr. David Palmer,
President & Chief Executive Officer
For further information:
Please visit our website at www.probemetals.com or contact:
Seema Sindwani
Director of Investor Relations
This email address is being protected from spambots. You need JavaScript enabled to view it.
+1.416.777.9467
Forward-Looking Statements
Neither TSX Venture Exchange nor its Regulation Services Provider (as that term is defined in the policies of the TSX Venture Exchange) accepts responsibility for the adequacy or accuracy of this release. This News Release includes certain "forward-looking statements" which are not comprised of historical facts. Forward-looking statements include estimates and statements that describe the Company's future plans, objectives or goals, including words to the effect that the Company or management expects a stated condition or result to occur. Forward-looking statements may be identified by such terms as "believes", "anticipates", "expects", "estimates", "may", "could", "would", "will", or "plan". Since forward-looking statements are based on assumptions and address future events and conditions, by their very nature they involve inherent risks and uncertainties. Although these statements are based on information currently available to the Company, the Company provides no assurance that actual results will meet management's expectations. Risks, uncertainties and other factors involved with forward-looking information could cause actual events, results, performance, prospects and opportunities to differ materially from those expressed or implied by such forward-looking information. Forward looking information in this news release includes, but is not limited to, the Company's objectives, goals or future plans, statements, exploration results, potential mineralization, the estimation of mineral resources, exploration and mine development plans, timing of the commencement of operations and estimates of market conditions. Factors that could cause actual results to differ materially from such forward-looking information include, but are not limited to failure to identify mineral resources, failure to convert estimated mineral resources to reserves, the inability to complete a feasibility study which recommends a production decision, the preliminary nature of metallurgical test results, delays in obtaining or failures to obtain required governmental, environmental or other project approvals, political risks, inability to fulfill the duty to accommodate First Nations and other indigenous peoples, uncertainties relating to the availability and costs of financing needed in the future, changes in equity markets, inflation, changes in exchange rates, fluctuations in commodity prices, delays in the development of projects, capital and operating costs varying significantly from estimates and the other risks involved in the mineral exploration and development industry, and those risks set out in the Company's public documents filed on SEDAR. Although the Company believes that the assumptions and factors used in preparing the forward-looking information in this news release are reasonable, undue reliance should not be placed on such information, which only applies as of the date of this news release, and no assurance can be given that such events will occur in the disclosed time frames or at all. The Company disclaims any intention or obligation to update or revise any forward-looking information, whether as a result of new information, future events or otherwise, other than as required by law.