Nova Minerals Enhances Lithium Targets with Soil Results
Melbourne, VIC / January 2, 2018 / JMN Wire / The directors of Nova Minerals Limited (Nova or Company) (ASX: NVA) are pleased to provide an update on regional sampling activities at its Thompson Brothers Lithium Project in Manitoba Canada. Outcomes of recent geochemical sampling have identified a pipeline of exciting new Lithium exploration opportunities across the project area.
Results from all geochemical samples taken during 2017 have been received and modelling has defined additional lithium exploration targets and the potential to extend existing known deposits, unlocking a potentially new lithium system in the Snow Lake, Manitoba district (Figure 1).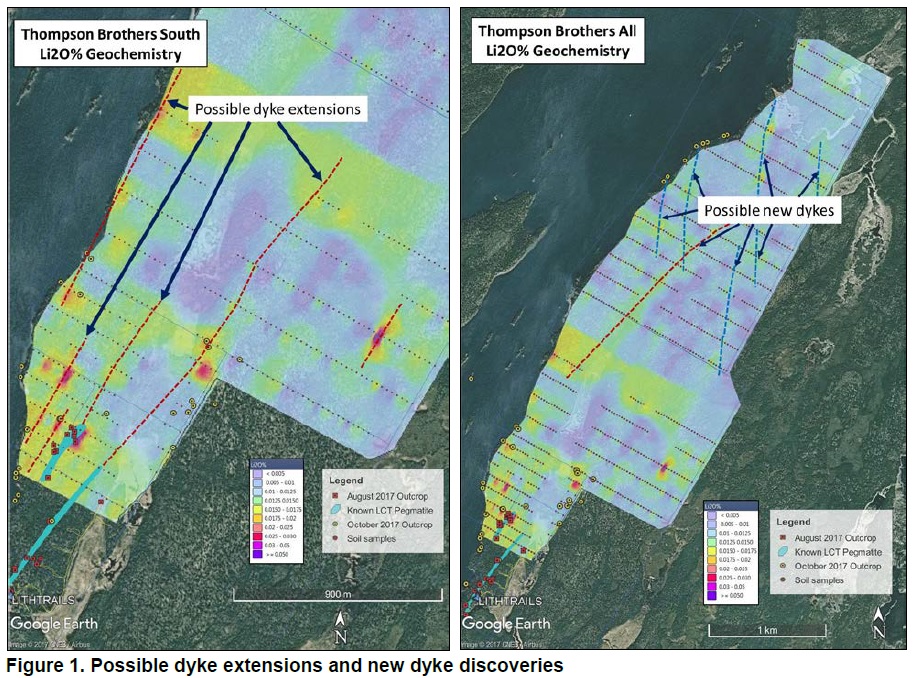 A series of soil samples were taken on a grid approximately perpendicular to the strike of known lithium bearing pegmatites in the southern half of the Thompson Brothers project. Samples were spaced 25m apart across strike and 100m to 200m between lines. Initial sampling in the area of known pegmatite was spaced 100m apart to enable referencing of grades. Further sampling in the north was reduced to 200m spaced lines to manage expenditure and cover a greater amount of area in the limited weather window available before the onset of the winter snows. Approximately 100g of soil was taken for each sample from between 15cm and 20cm below surface where in-situ soils were intersected. Samples were then bagged and sent to ALS Vancouver for analysis using a sodium peroxide fusion followed by ICP-MS to determine grades.
Once all the results were received, the data was compiled and processed using square 2D cells and a circular search ellipse within an inverse distance algorithm to assign values into the colour map shown (Figure 1). This was done to minimise directional bias in the 2 dimensional estimation and allow natural trends in elevated mineral values to become evident.
The results show anomalism for LiO2% in a number of trends that both follow or continue on from known pegmatite dykes as well as indicate potentially new dykes in the north on a different orientation that are more closely aligned with dykes identified in the Far Resources tenements to the east.
Project Highlights
The Company remains optimistic for discovery of further lithium bearing pegmatite dykes in its Thompson Brothers project. The location of the Project gives it key competitive strengths over other potential lithium locations worldwide:
High quality spodumene project strategically located in North America
Proximity to major downstream lithium processing facilities
Proximity to major US battery customers (GM, BMW, Nissan, Mercedes, Tesla, etc)
Closely located to established low cost power infrastructure, within 1km
Strong, large and low cost local workforce with experience in lithium sector
Proximity to major transportation infrastructure including 11km to highway, 34km to rail and 11km from airport.
Manitoba is a mining and development friendly state
Forthcoming Exploration Program
Based on these results combined with existing outcrop mapping, the company looks forward to extending the drilling previously announced to further advance the project. The drill holes will be planned with an initial focus on definition of likely extensions of the mineralised system to the north, the parallel northwest structure and subsequent drill targets from the geochemical sample program. The program 'subject to final approvals' is expected to commence during the current winter drilling season.
Strategy to Unlock Value for Shareholders
The Nova Minerals board are undergoing a strategic review in relation to its Thompson Brothers lithium project, consistent with its objective of maximising value for shareholders. The initiative focuses on the potential to capture currently unrecognised value in the project through a range of different corporate opportunities and working together with project partners.
The key driver of this initiative is to demonstrate and capture the significant valuation gap, which has arisen between the value attributed to Nova Minerals and its direct peers listed on the TSX and CSE.
Nova CEO, Avi Kimelman commented: "We are extremely pleased with results from the recent geochemical program which give us further targets to potentially grow our resource and now move the project into an advanced exploration phase. The historic resource is a small portion of our overall tenement package, and leaves considerable upside as we broaden our drill horizons and continue to expand our exploration program.
Given the numerous advantages inherent in our location in Manitoba, including outstanding infrastructure, a strong local work force, and proximity to important lithium processing facilities and other downstream customers, we are keen to advance the project with a view to establishing a potentially strategic high value long life battery materials operation to take advantage of the developing north American market.
In relation to our strategic review of the Thompson Brothers lithium project, the Nova Minerals board acknowledges the asset is undervalued in comparison to our neighbours and peer group listed on the TSX and CSE and is working through options available to unlock the inherent value in the project through this review process."
About Nova Minerals Limited (ASX: NVA):
Thompson Bros. Lithium Project
Nova Minerals Limited own the rights to earn up to 80% ownership interest of the Thompson Bros. Lithium Project from Ashburton Ventures Inc. by financing their commitments relating to their Option Agreement with Strider Resources Ltd.
The Thompson Bros. Lithium Project, located in Manitoba, Canada contains a historical (NON-JORC COMPLIANT) resource estimate of 4,305,000 tonnes of 1.3% Li2O, open at depth and along strike. These estimates are historical estimates and are not reported in accordance with the JORC Code. A competent person has not done sufficient work to classify the historical estimates as mineral resources and/or reserves in accordance with the JORC Code. It is uncertain that following evaluation and/or further exploration work that the historical estimates will be able to be reported as mineral resources or ore reserves in accordance with the JORC Code.