Rock Tech Lithium Commences Trenching Program at Georgia Lake Property
VANCOUVER, Nov. 13, 2017 /CNW/ - Rock Tech Lithium Inc. (the "Company" or "Rock Tech") (TSX-V: RCK; Frankfurt: RJIB) is pleased to announce the start of a trenching and channel sampling program at its 100%-owned Georgia Lake lithium property in the Thunder Bay Mining District of Northwest Ontario, Canada.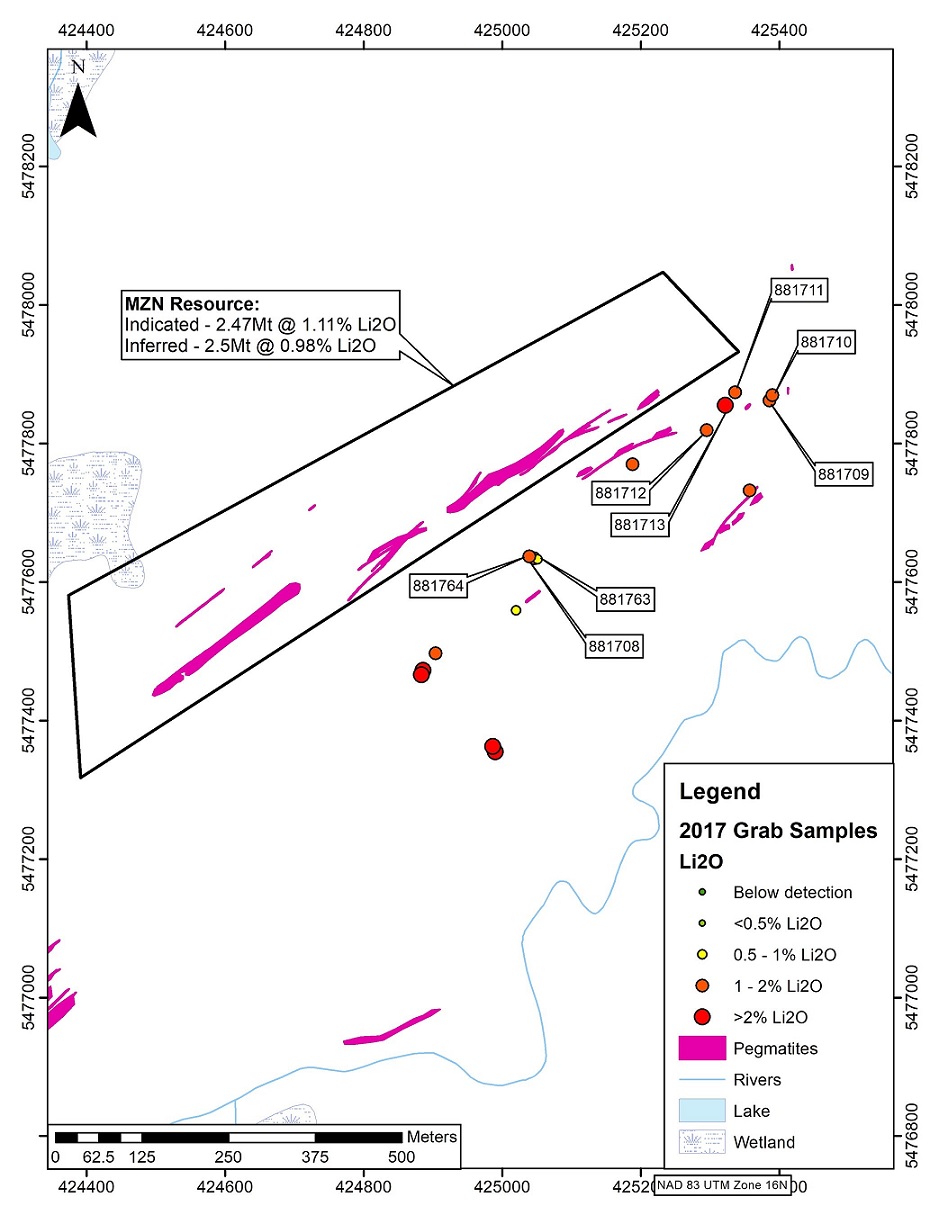 This program will target areas located adjacent to the main resource zone of the Georgia Lake property, an area that hosts an NI 43-101 indicated resource of 2.47 million tonnes grading 1.11% lithium oxide ("Li2O") and an inferred resource of 2.50 million tonnes grading 0.98% Li2O.
Martin Stephan, Chief Executive Officer of Rock Tech, commented, "During the recent field sampling program, several samples collected confirmed the presence of previously-unknown lithium-bearing pegmatites adjacent to the main resource zone. These pegmatites will be the primary targets of the trenching and channel sampling program the results of which will form the basis of a winter drill program."
All samples will be analyzed by Actlabs, an ISO 9001:2008 certified analytical laboratory located in Geraldton, Ontario.
The field program will be carried out by Pleson Geoscience, an exploration consulting company dedicated to providing its clients with experienced personnel and efficient services. The company's focus is on low-impact, high resolution data collection from grass-roots prospecting to preliminary economic evaluations.
All scientific and technical information in this news release concerning the Georgia Lake lithium property was reviewed and prepared under the supervision of Locke B. Goldsmith, P.Eng., P.Geo., an independent Qualified Person to Rock Tech.
About Rock Tech Lithium:
Rock Tech Lithium is an exploration company focused on acquiring and exploring properties in the field of lithium and other selected battery metals.
Rock Tech is the only exploration company in the Georgia Lake region with an NI 43-101 resource estimate. The resource estimate shows an indicated resource estimate of 3.19 million tonnes grading 1.10% lithium oxide in addition to an inferred resource estimate of 6.31 million tonnes grading 1.00% lithium oxide. Further, the Company has completed metallurgical testing on a bulk sample demonstrating the ability to produce both a high-grade spodumene concentrate and battery-grade lithium carbonate ("Li2CO3"). The spodumene-bearing pegmatites of the Georgia Lake area were originally discovered in 1955.
To view photos, videos and maps from the ongoing exploration program, please use the following link: http://rocktechlithium.com/ongoing-exploration-program/