Barkerville Gold Mines Intersects 39.05 g/t Au Over 8.25 Metres at Shaft Zone
TSX VENTURE: BGM
www.barkervillegold.com

Mr. Chris Lodder reports:
TORONTO, May 18, 2017 /CNW/ - Barkerville Gold Mines Ltd. (TSXV: BGM) (the "Company" or "Barkerville") is pleased to announce additional drilling results from the ongoing 130,000 metre Phase II Island Mountain exploration drilling program at the Company's flagship Cariboo Gold Project. The Company is currently exploring and delineating the Valley Zone with four drill rigs. Detailed drilling results, a drill hole location plan map, level plan and longitudinal section are presented at the end of this release.
Drilling Expands Shaft Zone Mineralization to New Depth
The deepest intersection to date in the Shaft Zone, drillhole IM-17-097 intersected a 60 metre wide (core length), interval of sandstone hosted veining with subintervals grading 40.19 g/t Au over 3.10 metres, 39.05 g/t Au over 8.25 metres and 10.34 g/t Au over 4.50 metres at an average vertical depth of 480 metres below surface. No other drilling pierce points occur at this vertical level and as such this new corridor is open for expansion in all directions.
Veining at Aurum Deeps Extended
Veining intersected at a vertical depth of 400 metres below surface in the footwall sandstones of the former Aurum Mine has yielded 14.80 g/t Au over 11.30 metres in Phase II drillhole IM-17-091. This intersection is located at the same vertical depth as previously reported Phase I drillhole BGM-16-527 which intersected 10.34 g/t Au over 11.50 metres, 60 metres along vein strike to the southwest. Again, this vein system is open for expansion in all directions due to the scarcity of drilling in this area.
Natalie Cook, Senior Geologist, commented, "The results from our recent drilling in the Aurum Deeps and Shaft Zone on Island Mountain confirms the confidence in our geological model. These newly highlighted zones are open at depth, which is encouraging for the potential of discovering additional mineralization along strike of the veins."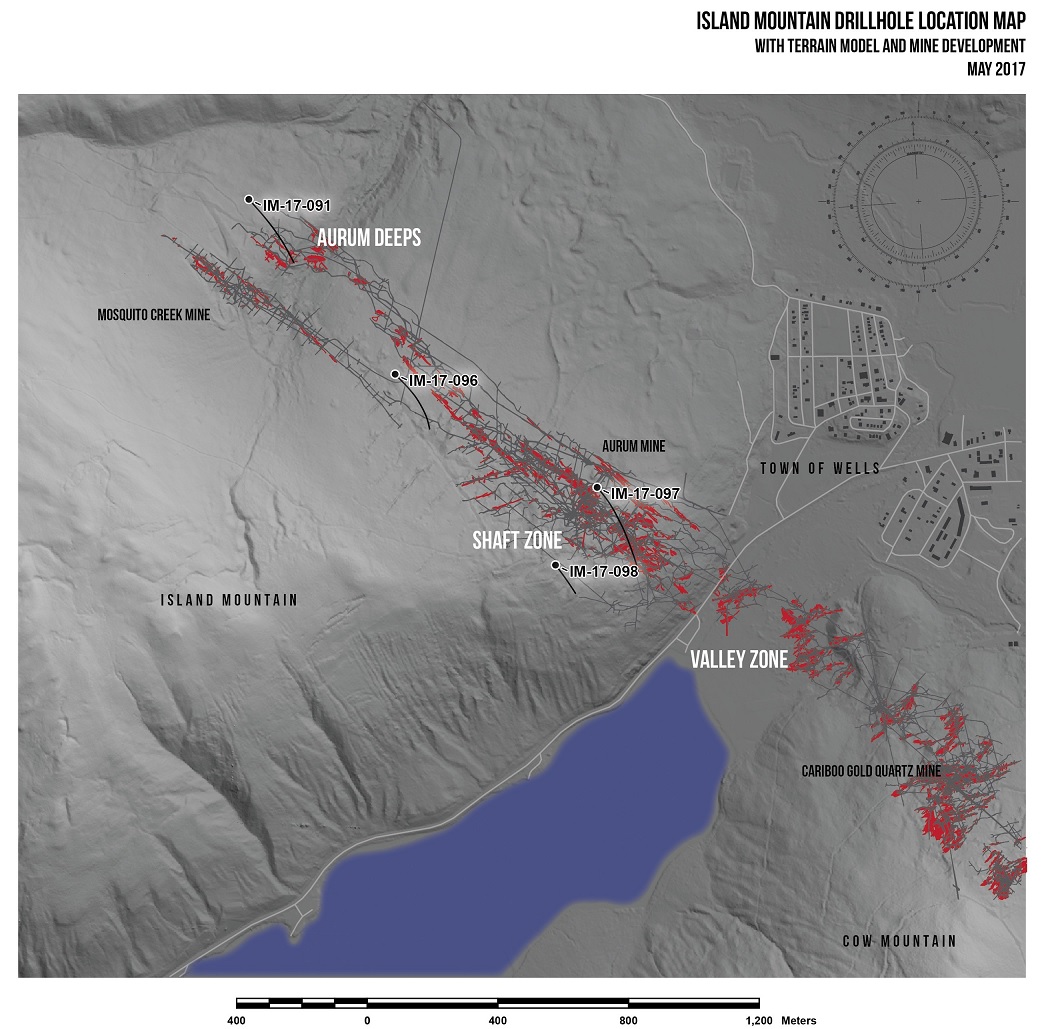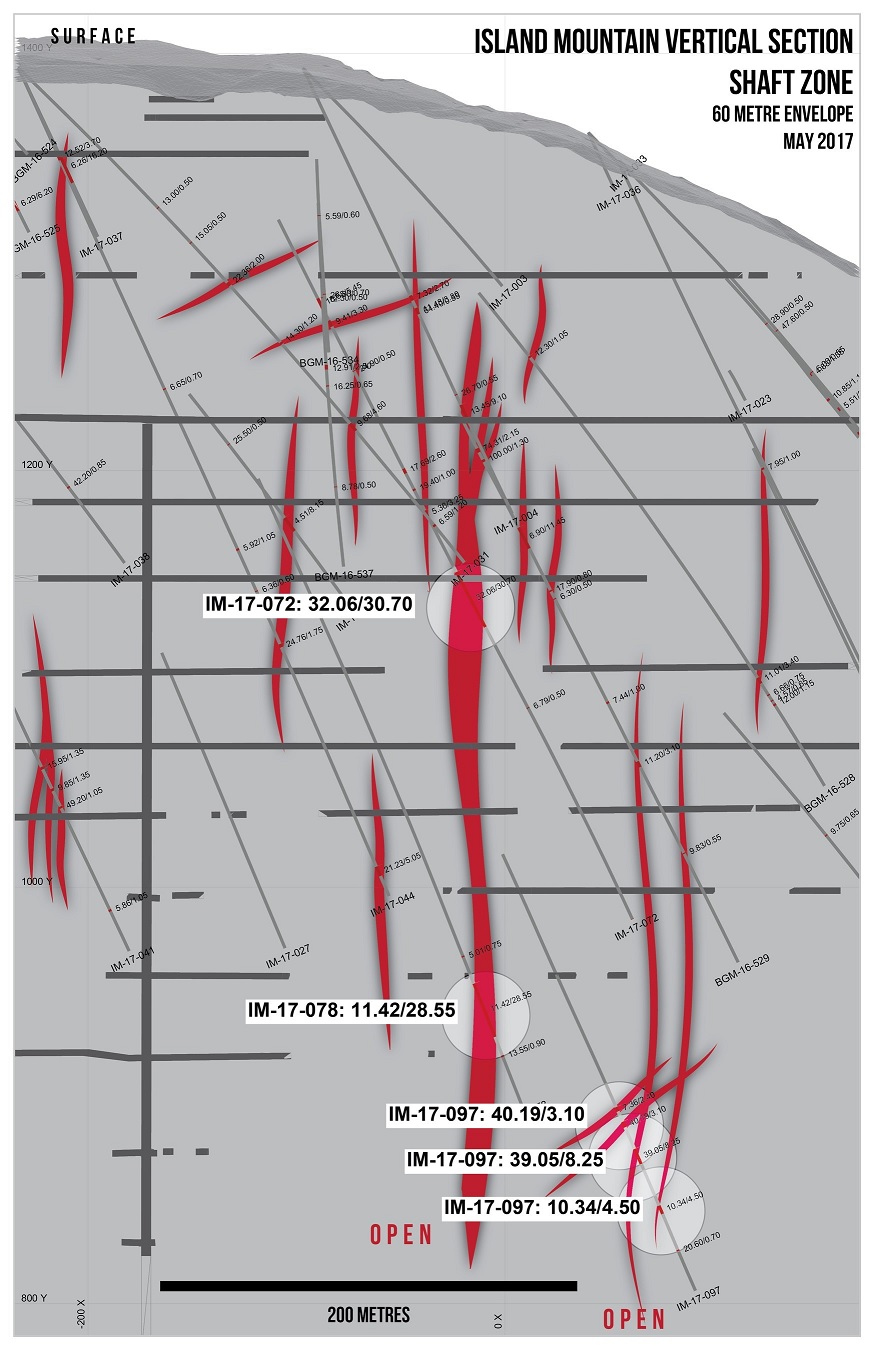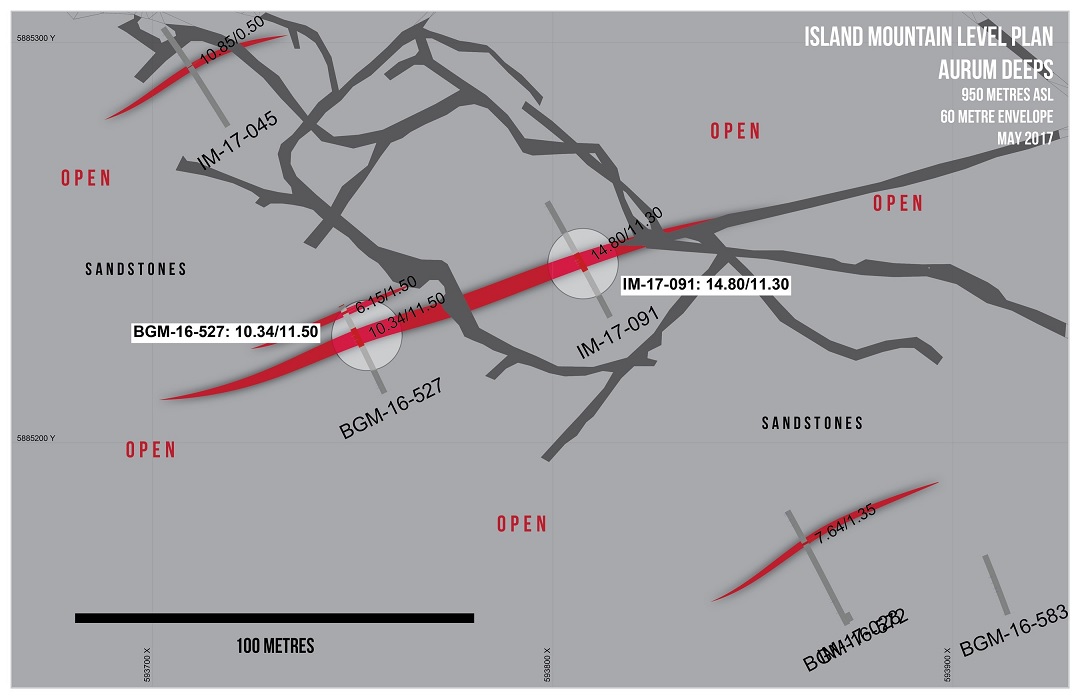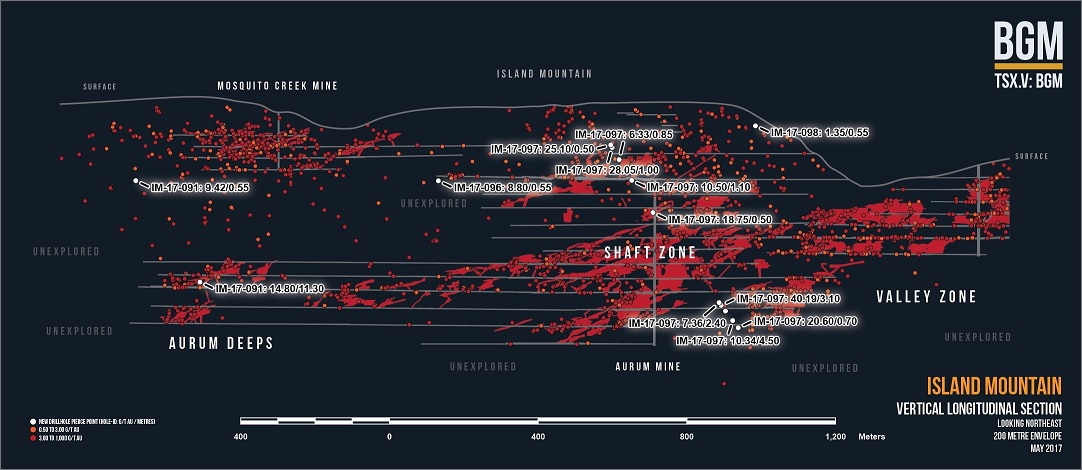 About the Phase II Program
The 130,000 metre 2017 Phase II exploratory and delineation drill program on Island Mountain is intended to determine the extent of the vein systems that were historically never explored, and is aimed at discovering new vein systems and sulphide replacement bodies that will ultimately inform a maiden resource at Island Mountain. Four drill rigs are currently delineating additional mineralization below the former Aurum and Cariboo Gold Quartz Mines which have never been explored since mining operations ceased circa 1960.
Qualified Persons
Exploration activities at the Cariboo Gold Project are administered on site by the Company's Exploration Manager, Maggie Layman, P.Geo. As per National Instrument 43-101 Standards of Disclosure for Mineral Projects, Paul Geddes, P.Geo. Vice President Exploration, is the Qualified Person for the Company and has prepared, validated and approved the technical and scientific content of this news release. The Company strictly adheres to CIM Best Practices Guidelines in conducting, documenting, and reporting its exploration activities on the Cariboo Gold Project.
Quality Assurance - Quality Control
Once received from the drill and processed, all drill core samples are sawn in half, labelled and bagged. The remaining drill core is subsequently stored on site at the Company's secure facility in Wells, BC. Numbered security tags are applied to lab shipments for chain of custody requirements. The Company inserts quality control (QC) samples at regular intervals in the sample stream, including blanks and reference materials with all sample shipments to monitor laboratory performance. The QAQC program was designed and approved by Lynda Bloom, P.Geo. of Analytical Solutions Ltd., and is overseen by the Company's Qualified Person, Paul Geddes, P.Geo, Vice President Exploration.
Drill core samples are submitted to ALS Geochemistry's analytical facility in North Vancouver, British Columbia for preparation and analysis. The ALS facility is accredited to the ISO/IEC 17025 standard for gold assays and all analytical methods include quality control materials at set frequencies with established data acceptance criteria. The entire sample is crushed and 250 grams is pulverized. Analysis for gold is by 50g fire assay fusion with atomic absorption (AAS) finish with a lower limit of 0.01 ppm and upper limit of 100 ppm. Samples with gold assays greater than 100 ppm are re-analyzed using a 1,000g screen metallic fire assay. A selected number of samples are also analyzed using a 48 multi-elemental geochemical package by a 4-acid digestion, followed by Inductively Coupled Plasma Atomic Emission Spectroscopy (ICP-AES) and Inductively Coupled Plasma Mass Spectroscopy (ICP-MS).
About Barkerville Gold Mines Ltd.
The Company is focused on developing its extensive land package located in the historical Cariboo Mining District of central British Columbia. Barkerville's mineral tenures cover 2,110 square kilometres along a strike length of 67 kilometres which includes several past producing hard rock mines of the historic Barkerville Gold Mining Camp near the town of Wells, British Columbia. The QR Project, located approximately 110 kilometres by highway and all weather road from Wells was acquired by Barkerville in 2010 and boasts a fully permitted 900 tonne/day gold milling and tailings facility. Test mining of the Bonanza Ledge open pit was completed in March of 2015 with 91,489 tonnes of material milled producing 25,464 ounces of gold. The Company has completed several drilling and exploration programs over the past 20 years and has compiled this data with all historical information in order develop geologic models which are assisting management in defining new deposits in the Cariboo Gold Project. An extensive drill program is currently underway with the goal of delineating additional high grade gold mineralization.