Vancouver, British Columbia (FSCwire) - ALIX RESOURCES CORP. ("Alix" or the "Company") (AIX-TSX:V) (37N–FRANKFURT) announces results of successful metallurgical work on Agua Fria lithium bearing clays.
HIGHLIGHTS
Acid leach at 50oC achieves 99% lithium extraction
Short leach time – only 4 hours
No roasting required
No expensive reagents required.
BACKGROUND
On May 1, 2017 Alix and partner Lithium Australia (ASX:LIT) announced preliminary results of metallurgical tests for the recovery of lithium from volcanogenic sediments at the Agua Fria prospect, part of the larger Electra project, located in Sonora County, Mexico (Figure 1).
Figure 1 Agua Fria is located due south of the giant La Ventana deposit, operated by Bacanora Minerals Ltd.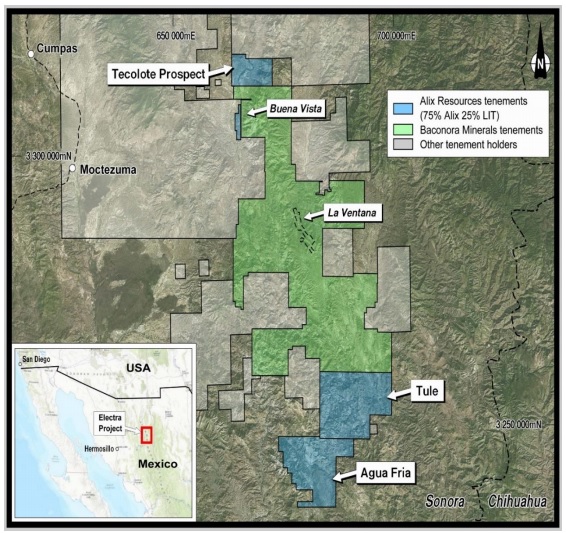 Lithium in the Agua Fria prospect occurs within volcanogenic sediments which have been the focus of significant exploration, not only by LIT and AIX but also by Bacanora Minerals Ltd., which has identified the largest documented lithium "clay" deposit within the same geological sequence. The sediments at Agua Fria contain a range of minerals, including: Quartz, K-feldspar, plagioclase, analcime, ankerite-dolomite and clays (including montmorillonite).
LITHIUM EXTRACTION INCREASED TO 99%
Metallurgical test work is being undertaken by Kappes Cassiday and Associates in Reno, Nevada (USA).
Simple four hour, sulphuric acid leach tests, carried out at "room temperature" were reported on May 1, 2017. These tests extracted up to 85% of the contained lithium.
A very modest increase in temperature to only 50o C has achieved lithium extractions of 94-99% in only 4 hours, vindicating the outcome anticipated by the announcement of May 1, 2017.
BENEFICIATION POTENTIAL
Montmorillonite is thought to be the main lithium-bearing mineral and tests have commenced to isolate this material to produce a higher-grade concentrate for further testing.
Adrian Griffin, managing director of LIT stated "We have clearly demonstrated the ease with which lithium can be recovered from the volcanogenic sediments at Agua Fria. Beneficiation of the components containing the lithium, to produce a concentrated product is the next challenge. Fortunately the characteristics of each of the minerals are very different, providing a number of avenues to achieve the desired outcome."
Mike England, President of Alix, stated: "Beneficiation is as important a step as discovering the lithium at Agua Fria. These results are extremely encouraging and we applaud the work done by our partners at Lithium Australia."
The technical contents of this release were approved by Dr. Michel Boily, PGeo, a qualified person as defined by National Instrument 43-101. The properties have not been the subject of a National Instrument 43-101 report.
About Alix Resources
Alix Resources is a project generator in the junior mining exploration business focused on seeking and acquiring world class lithium projects globally. Alix continues to evaluate suitable prospects that fit the mandate of the Company.